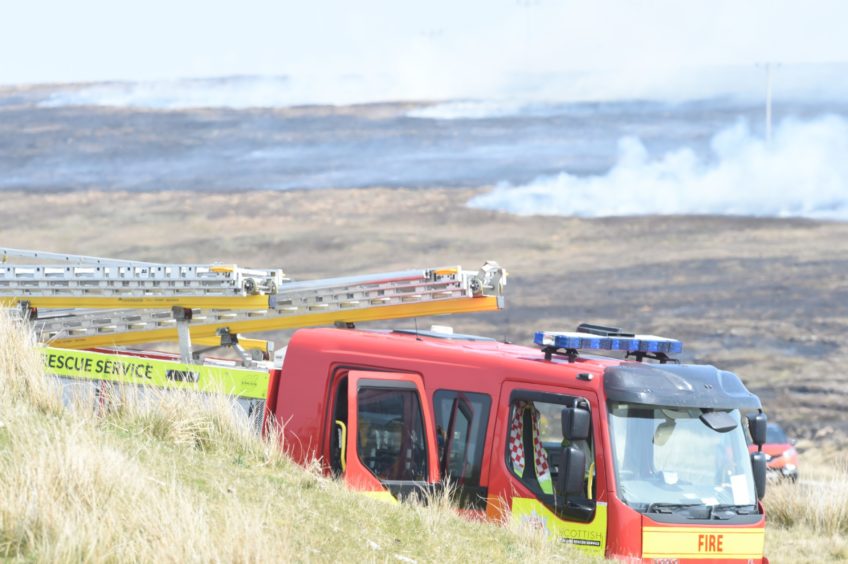 Firefighters have voiced concern about unreliable equipment, a lack of specialist training and IT problems.
A new report has revealed firefighters based in rural areas across Grampian and the Highlands have serious concerns about ageing equipment and the time taken to make repairs.
In recent weeks, crews have been drafted in from across the region to tackle wildfires in Sutherland, Ballindalloch, Cornhill and the Scotstown Nature Reserve, with landowners warned to be on high-alert as the weather continues to heat up.
Last night, ministers were urged to ensure firefighters working in rural locations are given life-saving resources.
According to the report on the centralisation of the fire service and police, the teams feel resources have been "stretched".
The need to make short-term financial savings in both services had made it challenging to develop strategies for the future.
The document, which began its evaluation in February 2015, said there had been complaints in rural areas about "ageing and unreliable" firefighting equipment and delays to repairs.
Firefighters believed there was a "barrier" to developing skills because of a lack of trainers in rural areas. And local firefighters also believe they have been left with an increased workload due to a declining number of administrative staff.
And in the Highlands, "issues" had been raised about the location and maintenance of specialist equipment.
The document also suggested there had been an "overemphasis" on theoretical, rather than practical training in the Highlands.
Problems around ICT connectivity were causing "delays and disruption" to training in the Highlands, and  The document also claimed some management were using personal computers because of the "wide variance" in IT provision at fire stations.
North East Tory MSP Liam Kerr said: "Our firefighters do a fantastic job, but it is important that staff in all parts of the country have access to the equipment they need. That has been highlighted in recent weeks with the wildfire outbreaks in Moray.
"The SNP must ensure our brave firefighters have all the resources they need to save lives."
Brian Cameron, the Fire Brigades Union Scottish chairman, said: "When the rural fire season kicks in, resources are going to be duly stretched but it is not something that we are overly concerned about at the moment."
Police Scotland officers felt a lack of clarity around career development had contributed to low morale. The reduction in civilian staff and failure to replace police officers, who were deployed to specialist units, meant local resources were "thinly spread".
The creation of larger "beat" boundaries and police officers being used to back-fill civilian staff positions contributed to the sense of "diminishing" local resources.
Martin Blunden, SFRS Chief Officer, said the merger had been "challenging and complex" and he recognised there remained areas for improvement.
Justice Secretary Humza Yousaf said:  "The people of Scotland are well-served by the officers and staff of their police and fire services, who work alongside communities and other partners to make our streets and homes safer.
"Police and fire reform was one of the most significant public-sector reforms since devolution. The final report underlines how Scotland has not been unique in facing challenges in police and fire reform."