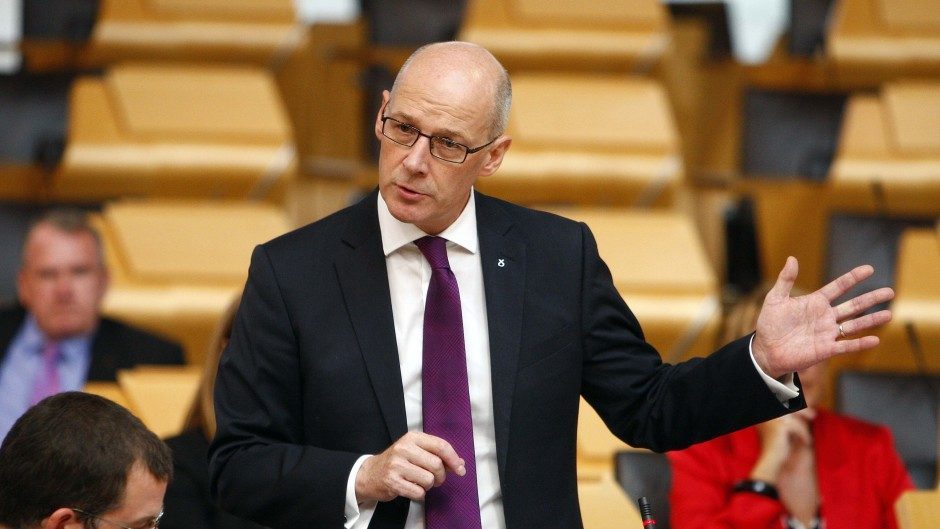 John Swinney has come under fire after it emerged 112 Scottish schools have classes where at least three different qualifications are being taught by the same teacher.
The figures were produced by Scottish Tory leader Ruth Davidson who rounded on the Education Secretary at Holyrood yesterday.
Obtained by the Scottish Tories under Freedom of Information (FOI) legislation, they revealed that 11 schools had classes where four qualifications were being taught in the same class.
Ms Davidson last night said the system was "unfair" on pupils and teachers who had to conduct up to four different lessons at the same time.
According to the FOI data, Bridge of Don Academy and Lochside Academy in Aberdeen had multiple classes where three qualifications were being taught.
Other schools identified in the north-east were The Gordon Schools in Huntly and Mintlaw Academy in Aberdeenshire.
Ms Davidson presented Mr Swinney with the figures at Holyrood's First Minister's Questions where he was standing in for Nicola Sturgeon, who was at the D-Day commemorations in Normandy.
The Scottish Conservative leader pressed Mr Swinney on the issue saying he had he previously claimed "he had never heard anybody argue educationally there was something wrong with it".
Ms Davidson quoted teaching union officials who said the issue was a "disgrace" and was creating an "intolerable workload".
She added that the EIS teaching union had warned of an "explosion" of such classes.
Mr Swinney responded by arguing that attainment was improving and more Highers were being passed and accused Ms Davidson of delivering a "moanfest" on education.
The Education Secretary said he recognised that there was a debate to be had on multi-layered teaching.
But he added: "I also want to make sure we do not lose sight of the phenomenal achievement that young people are making in our education system today."
"What matters is not the litany of complaints Ruth Davidson brings to this Parliament, what matters is what is being achieved by the young people of Scotland.
"Attainment is rising, more Highers, positive destinations improving year on year, that is what Scottish education is determined to deliver, that is what it is delivering, that is what I am happy to celebrate and I am not going to take any moanfest from Ruth Davidson on the subject."