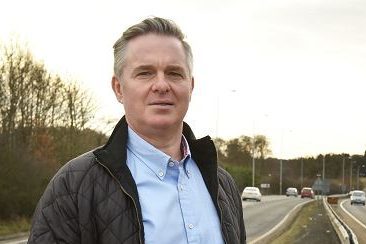 Gordon MP Colin Clark is not getting any extra pay for his work as a minister in the Scotland Office, it has emerged.
Mr Clark has been denied the extra £24,477 to which junior ministers are usually entitled, while his English Scotland Office colleague Robin Walker has been given the cash.
Mr Walker's appointment to the Scotland Office was the first time since 1886 that an English politician has held such a post. Boris Johnson was criticised over Mr Walker's appointment at a time when there are 13 Scottish Tory MPs.
Mr Clark was appointed after the row over Mr Walker's promotion.
Yesterday, a SNP spokesman said: "For all his sucking up to the new Tory leader, Colin Clark's recent promotion is in name only.
"Everyone already knew the MP for Gordon was useless, but apparently Boris Johnson thinks he's worthless.
"The appointment of the MP for Worcester as a paid minister in the Scotland Office is the ultimate snub to Ruth Davidson and her MPs."
Mr Clark was denied the cash because the number of paid ministerial posts is capped by law at 109. Mr Johnson's government has 115 ministers after his extensive reshuffle.
A Scottish Conservative party spokesman: "The SNP clearly cannot stand the thought of Scotland having more representation in the heart of government in Westminster.
"Colin's appointment will ensure that Scottish voices are heard loud and clear at the highest level."
A UK Government spokesman said: "The Prime Minister has been clear that we need to strengthen our Union, and by increasing the number of ministers in the Scotland Office he has shown that their work is vital in achieving that aim.
"The appointments will ensure that Scottish voices are heard loudly and clearly across Whitehall and that the Union is at the heart of everything we do."