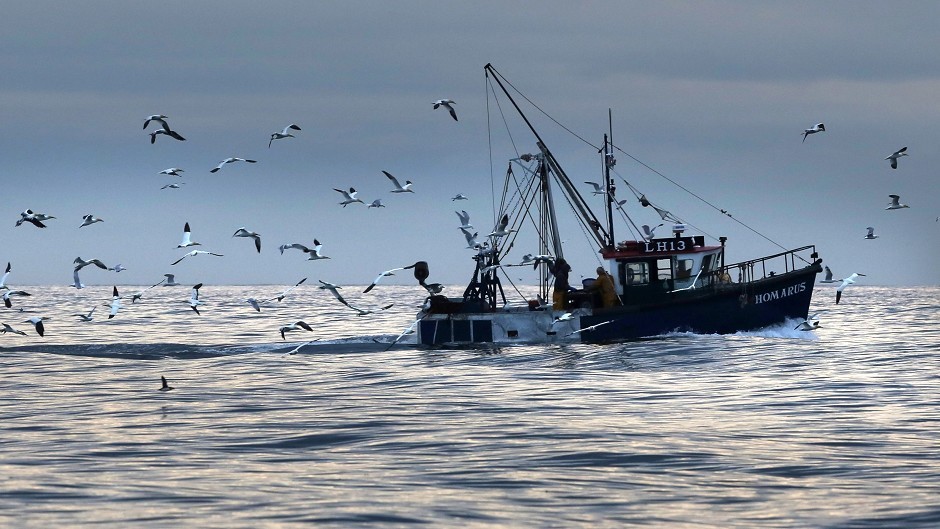 Fishing vessels operating off the north and north-east coasts are being sent more than 1,000 letters every year over potential rule breaches.
Watchdog officers in Lerwick issue the highest number of the "advisory letters" in Scotland, including a total of 243 in 2018, 431 in 2017 and 454 in 2016.
The fishery office in Peterhead was the second busiest in terms of enforcement last year, followed by Fraserburgh, Kirkwall, Ullapool and then Scrabster.
The 1,361 letters issued in Scotland in 2018 was about 9% higher than the figures for 2017 and 2016, according to official data released by the Scottish Government.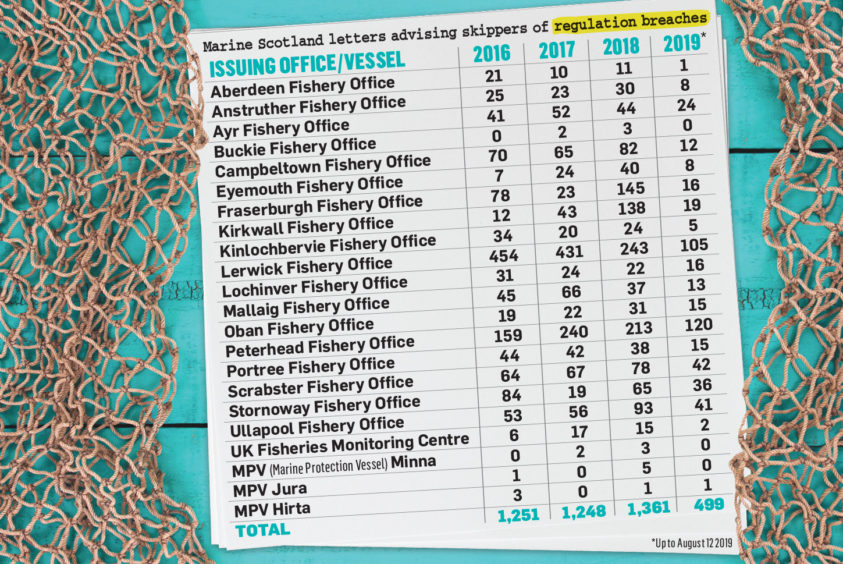 Mike Park OBE, chief executive of the Scottish White Fish Producers Association, said: "In the vast number of occasions the notes are sent out on the basis that it is obvious the issue is a clear oversight, such as not properly ensuring a landing declaration has been received by the department. This may be the result of IT issues and the like.
"Issues where law has been clearly broken are dealt with through fixed penalty notices where the person in question either pays the fixed penalty or it goes to court proceedings."
The Marine Scotland agency, which runs the fishery offices, has been criticised by environmental groups in recent months for what some have claimed is a soft touch approach to regulation infringements, including illegal fishing.
The claims followed cases of illegal scallop dredging off the west coast last year.
The incident led to fines, but campaigners have said that the culprits should be named and shamed.
Sanctions available to Marine Scotland include advisory letters and verbal re-briefs for minor issues, but more serious breaches can result in warning letters, fixed penalty notices (FPN) or referral to the Crown Office for prosecution.
As well as the 1,361 advisory letters last year, data shows that there were also 246 verbal re-briefs, 34 written warnings, 36 FPNs and two referrals to the Crown Office.
Peter Chapman, Scottish Conservative shadow rural economy secretary, said: "The vast majority of our fishermen abide by the laws of the sea and take their responsibilities very seriously.
"However, it is only right that there are penalties in place for those who commit crimes.
"We know that illegal scallop dredging took place in Gairloch, for example, and fines were duly issued.
"It is up to Marine Scotland to enforce the law and make a judgement on whether a fixed penalty notice or a warning should be issued."
A Scottish Government spokesperson said: "One of Marine Scotland enforcement officers' key roles is providing information to help people comply with legislation, particularly where it is complicated.
"Officers have discretion in terms of how to deal with offences. Minor offences may attract a verbal rebrief, followed by written confirmation.
"More serious sanctions are used when it is clear that a stronger message needs to be given and the nature and gravity of the offence suggest a less serious sanction might not have the desired effect of making someone comply."