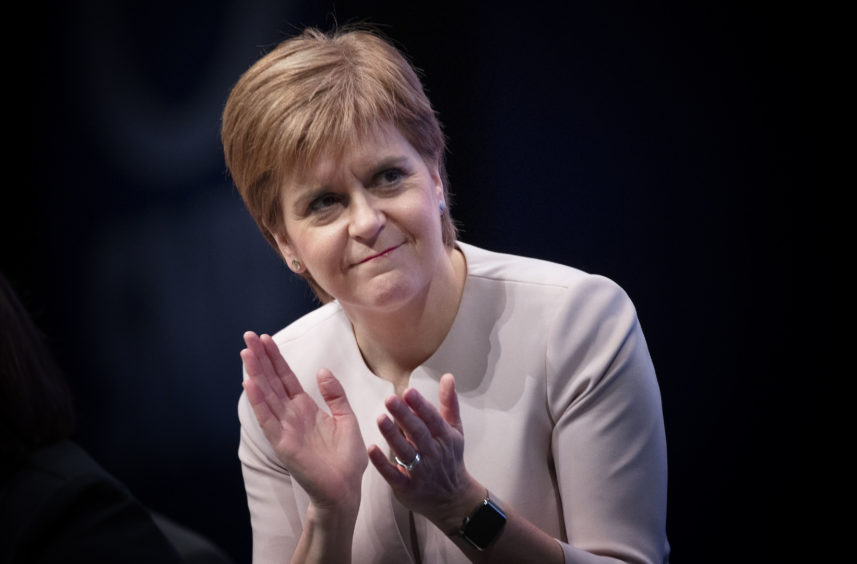 Nicola Sturgeon yesterday claimed it was her "duty" to hold a legal independence referendum to protect Scotland against Westminster and declared it must be held next year.
The SNP leader confirmed she would submit a request for a vote before the end of this year, despite the UK Government's insistence that it will not grant the transfer of powers necessary to hold a second poll.
In her keynote address to the SNP conference in Aberdeen, Ms Sturgeon also unveiled policy announcements including new powers to evict domestic abusers from the family home and holiday childcare for children from the poorest families.
Also announced during her address to delegates at P&J Live was the allocation of a £27 million fund for walking and cycling projects, including one in Aberdeen.
With her party growing increasingly frustrated over Boris Johnson's refusal to grant the Scottish Government a second vote, Ms Sturgeon argued Scotland was in a unique position in relation to Brexit.
She said Mr Johnson's agreement that there should be a process to allow Northern Ireland to decide if and how long it will stay aligned to the single market and customs union meant Scotland was the only UK country being taken out of the EU against its will.
England and Wales had voted to Leave, she said, while Northern Ireland was to be given a say over its future.
Ms Sturgeon claimed the Westminster system was "broken utterly beyond repair" adding that she had a "cast iron mandate" for a referendum.
"We don't just have a right to offer the people of Scotland a choice over their future," the first minister said.
"In the circumstances Scotland now faces, we have a duty to do so.
"My call is that the referendum must happen next year and we are getting ready.
"By the New Year, we will have completed our legislative preparations. We are already working to update the independence prospectus."
She added: "I can confirm today that before the end of this year, I will demand the transfer of power that puts the legality of a referendum beyond any doubt."
Ms Sturgeon also asked what "right" the Westminster parties had to deny her another vote.
Her policy announcements included the construction of the Maidencraig Active Travel Links in Aberdeen – one of 207 projects to benefit from a £27 million fund to encourage cycling and walking.
The project will upgrade existing paths and create new routes linking Skene Road, Bressay Brae, Samphrey Road and Maidencraig Way.
Local schools, Lang Stracht Road, Woodend General Hospital and the Den of Maidencraig Nature Reserve will also be included in the project.
But Ms Sturgeon's attempt to present herself as a champion of green travel was criticised by the Greens after the SNP gave away a five-door Peugeot 208 in the party raffle.
Last night Green co-leader Patrick Harvie said he wasn't surprised that the car, which was won by a Falkirk delegate, was on offer.
"Michael Matheson (Transport Secretary) has said he wants to cut car use, but we know the vast distance between what the SNP says and what it actually does to address the climate emergency," Mr Harvie said.
To protect abuse victims, Ms Sturgeon announced new powers for police and the courts to remove domestic abusers from the family home.
A Bill creating "emergency protective orders" will be introduced to Holyrood in the current parliamentary term.
The orders would enable the eviction of abusers.
In contrast with existing civil measures such as Non-Harassment Orders and Exclusion Orders, protective orders would not require the person at risk to make the application to the court themselves.
Police would be able to impose a short-term order directly and to apply to a court to put in place a longer-term order.
Up to 130,000 primary school children from the poorest families would be entitled to her proposal for childcare in the school holidays.
Officials said the policy, which would include free meals, would cost up to £70 million.
Ms Sturgeon said the policy would free up parents to work so they could "lift their families out of poverty".
Last night, Tory MSP for the Highlands Jamie Halcro-Johnson said: "We are worried about the downgrading of our hospitals, falling standards in our schools, and failing ferry services, which are all subjects she chose to ignore.
"Instead Nicola Sturgeon chose to play to the hall and her own supporters, desperate to keep them on side, and focus on endless references to a second divisive independence referendum."