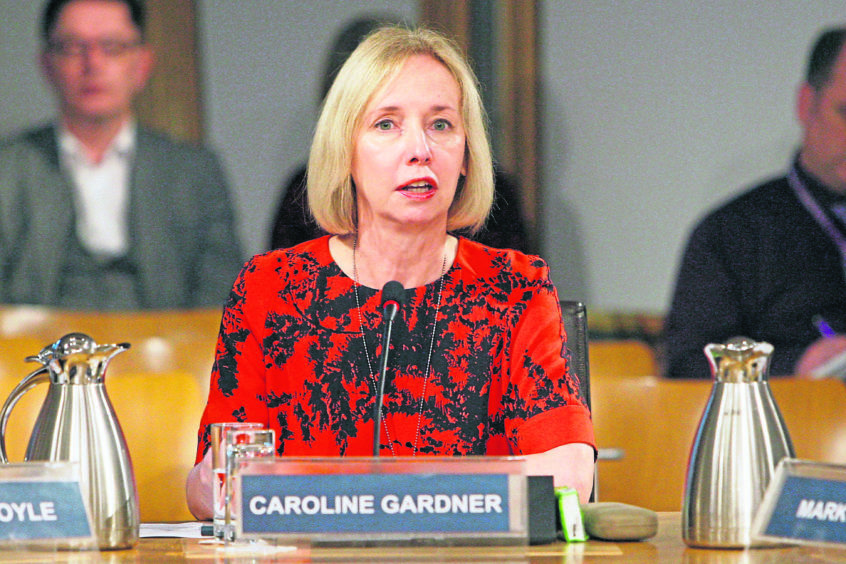 Scotland's public spending watchdog said she understood concerns over NHS Highland's decision to spend £1 million on consultants in a bid to sort out its troubled finances.
Auditor General Caroline Gardner said the amount spent on financial experts from PricewaterhouseCoopers (PWC) was "clearly a lot of money" when quizzed by MSPs.
Ms Gardner expressed her view when she was asked about her recent report into the health board, which highlighted its failure to make multi-million pound savings and control its rising locum bill.
Published earlier this month, Ms Gardner's 2018/19 audit of NHS Highland found the board had identified savings of £50.5 million in 2018/19, but had only realised £26.6 million.
The report said the board had to make urgent changes to overcome its financial challenges but cast doubt on its ability to do so.
At a meeting of Holyrood's Public Audit Committee, Tory MSP Edward Mountain expressed concern that the £989,000 plus VAT spent on PWC represented 10% of the board's overspend this year.
And Mr Mountain said workers "on the ground" were "less than enthusiastic" by what PWC had achieved so far.
The financial experts were brought in to restore the health board's finances.
Ms Gardner replied: "It is clearly a lot of money and I can absolutely understand the concern in Highland about the amount being spent on the project management office and management of the changes rather than on healthcare services."
The Auditor General added it was too early to say whether the amount spent represented value for money, but it was something that would be looked at in next year's annual audit report.
Mr Mountain claimed NHS Highland was not good at finding "recurring savings" but was "very good" at "cutting with a sharp knife for one year and then not following it through".
Ms Gardner agreed, saying there were already signs that 2019/20 savings would not be met because action to cut costs were planned for the end of the year.
She said: "For auditors that is always a warning sign. You expect people to have a steady plan during the year for how they are going to achieve savings."
Labour MSP Anas Sarwar drew attention to rising locum costs, which went up from £14.9 million in 2017/18 to £15.6 million in 2018/19.
MSPs also heard that recruitment was still a challenge, with NHS Highland still trying to find a director of finance.
A NHS Highland spokesman said: "PricewaterhouseCoopers worked closely with NHS Highland staff and contributed directly to identifying a risk adjusted savings pipeline of £17.2 million which, once delivered, will represent a substantial return on investment.
"The financial savings programme continues to perform well and the emphasis remains on identifying sustainable, recurrent savings."