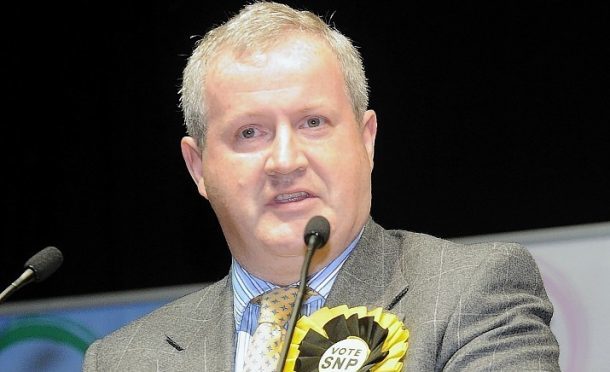 Ian Blackford's election rivals have threatened to "empty chair" the SNP Westminster leader unless he agrees to take part in Ross, Skye and Lochaber constituency hustings.
Liberal Democrat Craig Harrow, Tory Gavin Berkenheger, and Labour's John Erskine have put their names to a statement calling on Mr Blackford to attend local debates.
And they have threatened to go ahead with an empty chair in his place should he be unable to participate.
The statement was issued after the nationalist was unavailable for a hustings event that Dingwall Community Council had hoped to organise.
The Ross, Skye and Lochaber candidates were approached by Dingwall Community Council, as members had hoped to hold an event next Thursday, December 5.
If that date was impossible, candidates were also offered five other options across this week and next week.
Last night, Nigel Greenwood of Dingwall Community Council said the event had been cancelled because it had proved too difficult to get candidates to appear.
"We have been unable to get a date for which all the candidates are available. So I'm afraid we had to cancel it," Mr Greenwood said.
Mr Greenwood said Mr Harrow of the Lib Dems had indicated that he would take part. But Mr Blackford's agent said the SNP politician was unable to commit to any of the dates.
Mr Greenwood added: "I was told by his agent that he was tied up and his whole campaign was organised. Therefore he didn't have any spare time. His agent said he didn't have any spare availability at all."
The statement from Mr Harrow, Mr Berkenheger, Mr Erskine and Richard Lucas of the Scottish Family Party said: "As candidates we consider constituency hustings are an important part of the democratic process.
"We understand the SNP candidate has other jobs but we would ask that he focuses on constituency interests and attends hustings.
"We are willing to participate without him and 'empty chair' the SNP candidate."
A SNP spokesman said: "Ian is an incredibly hard-working and dedicated representative for Ross, Skye and Lochaber.
"Ian is holding a large number of public meetings throughout the constituency including a well attended public meeting in Dingwall last Friday.
"He will also be taking part in the all-candidate hustings for the BBC next Tuesday."