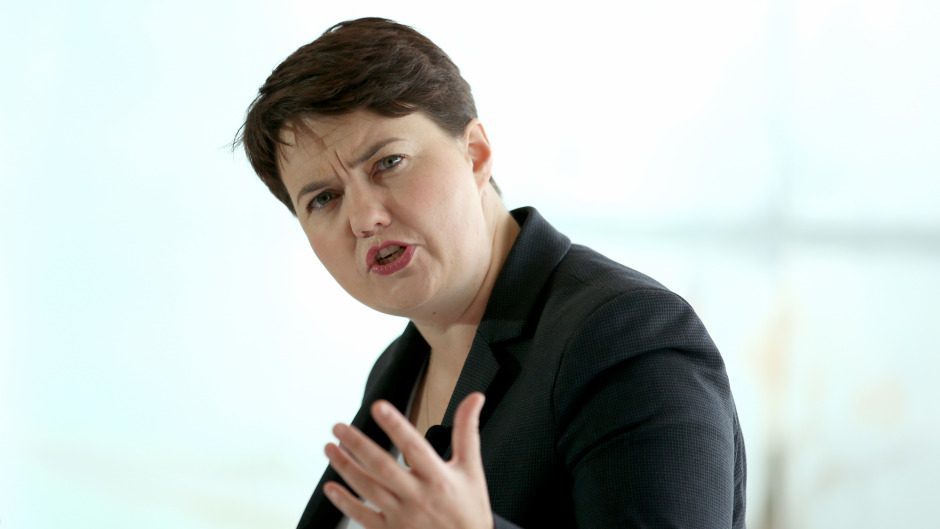 Ruth Davidson yesterday criticised the SNP's Gordon candidate for telling voters a vote for him is not one for Scottish independence.
The former Tory leader cited a social media video made by Richard Thomson as an example of SNP candidates trying to play down the issue during the election.
Ms Davidson said SNP campaign literature deliberately avoided mentioning independence but warned that Nicola Sturgeon would use every SNP vote to campaign to break up the UK.
Mr Thomson has posted a video in which he said: "I understand there's a lot of people in Gordon who don't want Scottish independence or who remain unsure and I absolutely understand and respect that.
"What a vote for me in this election will be is a vote to stop Brexit.
"It is a vote to deprive Boris Johnson of a majority and to curtail what he and his party are able to do in government.
"What it absolutely is not is a vote for Scottish independence and I will never, ever, try and claim it as such."
Ms Davidson drew attention to Mr Thomson's post at a Tory rally in Edinburgh where she argued that voting Conservative would stop independence.
Ms Davidson said: "You've now got some of her (Nicola Sturgeon's) candidates making social media videos saying I promise that I will not use any votes that I get to say it is for independence.
"And you know damn fine the next morning she is going to do exactly that.
"The candidate up in Gordon has actually explicitly said vote for me, it's not for indy, honest lads.
"And you have literature going out in Joanna Cherry's seat in Edinburgh South West and in Perth and North Perthshire with Pete Wishart where independence is not mentioned.
"None of these things are mentioned. And you just know that afterwards they are going to claim every vote for that anyway."
Earlier in the day, Ms Davidson pledged to go skinny dipping in Loch Ness if the SNP were to win 50 seats at the General Election.
Writing in the Daily Telegraph, she said she was pledging to undertake the Hogmanay wild swimming session safe in the knowledge "that my modesty (and others' eyeballs) will remain unmolested" as she does not believe that will happen.
Mr Thomson said: "This is desperate stuff from Tory backbencher Ruth Davidson at the end of what's been a dire campaign for her party.
"A vote for the SNP at this election is a vote to lock Boris Johnson out of Downing Street, escape Brexit and put Scotland's future in Scotland's hands.
"Over the last 72 hours, we've seen increasing evidence that voters in Gordon have been responding positively to that message, with many now pledging to vote SNP for the very first time. It's no secret that the SNP supports independence and we've been clear that Scotland has the right to determine its own future – before Boris Johnson does it for us."