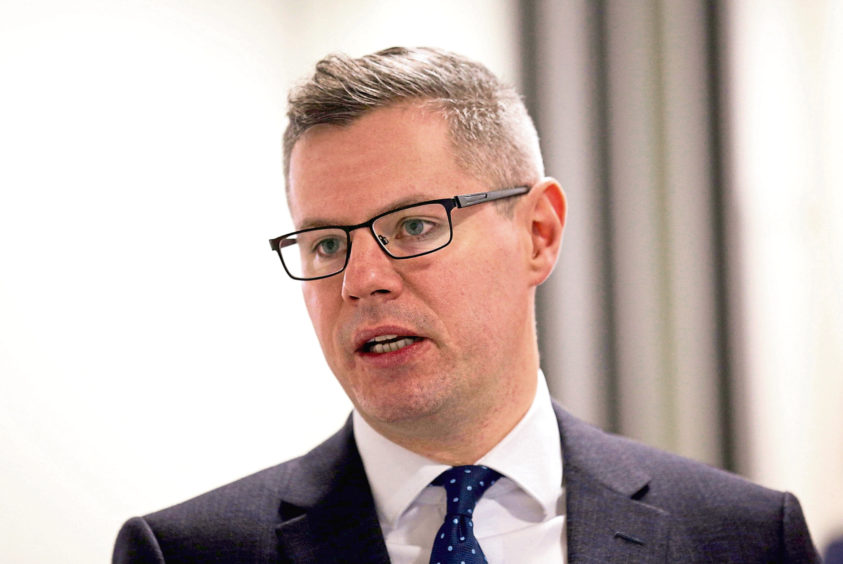 Taxpayers will have to fork out around £100 million extra to complete two delayed CalMac ferries, Finance Secretary Derek Mackay has confirmed.
The cost of building the two vessels for Hebridean and Clyde routes at the newly-nationalised Ferguson Marine shipyard has doubled.
Mr Mackay blamed the "disastrous" impact of the "failing" previous management for the cost over-run and a delay of three and half to four years for the vessels.
But his opponents accused ministers of presiding over a "fiasco".
The Finance Secretary published a report into the ferries, commissioned by the Scottish Government, which outlined defects and damage to the unfinished vessels.
The first ship, Glen Sannox 801, destined for the Arran route, will not be ready until the last three months of 2021.
The second vessel – known as Hull 802 for the Skye, Harris and North Uist route – will not be ready until July or August in 2022. Both were originally supposed to be in service by mid 2018 at a cost of £97m, of which £83m has been paid.
In a Holyrood statement Mr Mackay said that including the outstanding £15m a further £32.8m would be spent on the Glen Sannox and £45.9m on Hull  802.
In addition another £31.6m will be needed for overheads, such as yard running costs and staff.
Mr Matheson claimed the problems were only uncovered during the process which led to the  Clyde-based yard being taken into public ownership.
"It's difficult to over emphasise the disastrous impact the absence of proper management processes had on the yard," the Transport Secretary said.
"This had implications for the condition and progress on ferries being constructed there and the scale of the challenge that lies ahead to put right the failures of the previous management team."
The report into the ferries found a lack of project management which meant no one person fully understood the complex construction of the vessels. Poor care had led to equipment damage in the Glen Sannox. Rain had got into Hull 802 and affected its paint protection.
Ferguson Marine was brought into public ownership by Scottish ministers earlier this year to save 350 jobs and secure the ferries.
Previously the yard had been rescued by business man Jim McColl of Clyde Blowers in 2014.   The business then landed the £97m deal for the ferries.
But the contract was beset by design changes, delays and spiraling costs.
Eventually Clyde Blowers put the business into administration and the yard was nationalised.
Tory transport spokesman Jamie Greene accused ministers of "recklessly mismanaging" the yard.
"It's becoming increasingly clear that a full independent inquiry is the only way to get to the bottom of this fiasco, the SNP Ministers simply must be held to account over this."