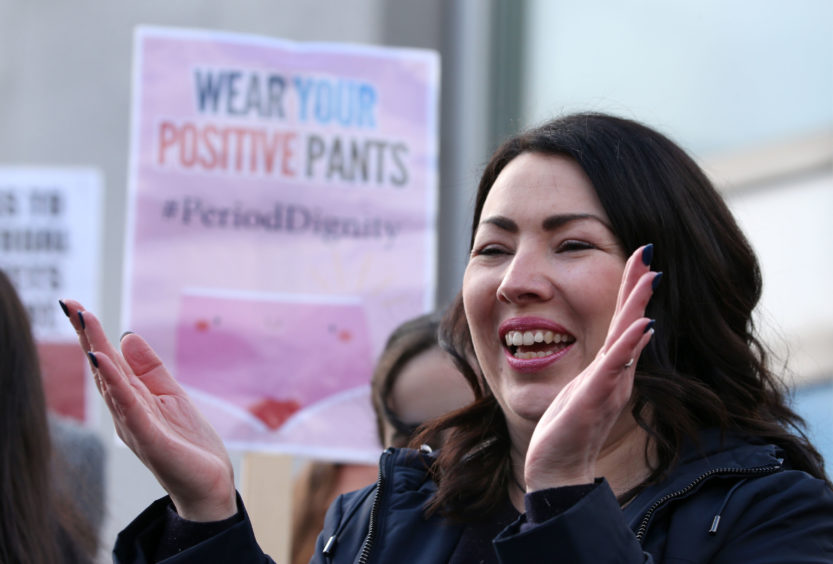 Scotland has moved one step closer to becoming the first country in the world to make period products freely available to all.
MSPs voted 112 to 0, with one abstention, in favour of endorsing the general principles of a member's bill from Labour's Monica Lennon, which she described as an "amazing victory" for everyone who has campaigned for universal access.
Communities Secretary Aileen Campbell spoke about the need to "rise above party politics" to get the bill into shape as it moves towards stage two.
It comes following a U-turn from the Scottish Government, which announced last week that it would change its position and back the Period Products (Free Provision) (Scotland) Bill.
But Ms Campbell said ministers still had "concerns", particularly around the costs and design of the scheme.
The proposed legislation would introduce a legal right of access to free products such as tampons and sanitary pads on a universal basis.
The Scottish Government has already provided £5.2 million to provide tampons, pads and some reusable products in schools, colleges and universities.
Discrepancy in costs?
Ms Lennon had originally estimated the bill would cost £9.7 million a year, based on information provided from the Scottish Government.
The Scottish Government estimated the annual bill would be substantially higher at £24 million.
Speaking in the chamber, Ms Campbell said the proposed costs have been "significantly under-estimated", at over two and a half times the initial estimated cost.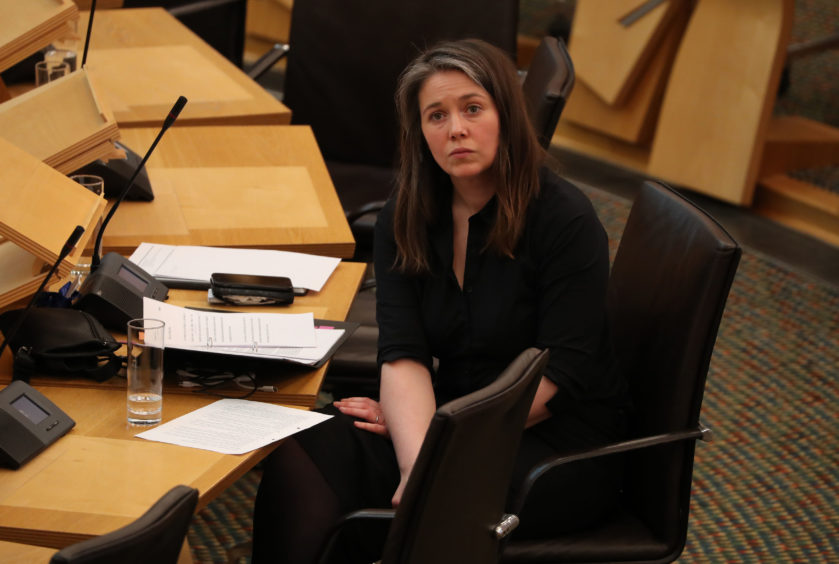 Speaking ahead of the vote, she acknowledged that ministers would have to bring forward a "financial resolution" to allow the bill to move to stage two.
Members seemed to broadly agree on the general principles of the legislation but  SNP MSP James Dornan, who abstained from the vote, claimed the bill contained a lack of detail", particularly around the finances.
He added he had "no doubt" that it would be subject to a "number of amendments" to make it "anything like workable".
Meanwhile, Conservative MSP Graham Simpson told the chamber he "remained to be convinced" of the proposals, adding that party leader Jackson Carlaw had been "ambushed on Facebook and here we are".
But others like Green MSP Andy Wightman questioned the argument made by the Local Government and Communities Committee, who scrutinised the proposals, that the legislation was not required because the Scottish Government is already delivering in that area.
He added: "On the face of it that is a reasonable argument but this bill is fundamentally about the creation of a statutory right.
"The Greens believe it should be a right enshrined in law."
Pioneering legislation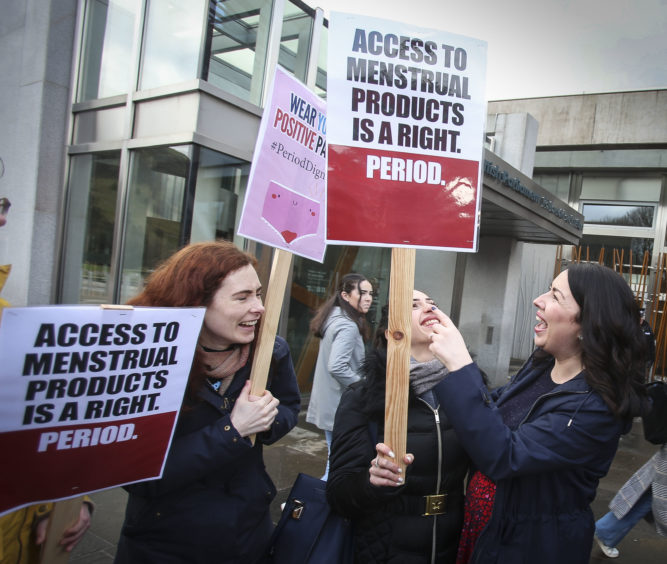 Ms Lennon, who has pursued the issue since entering the Scottish Parliament in 2016, said women and girls are "too often left out of the political process".
She added: "This is a chance to put them first and do something truly groundbreaking on gender equality."
Ms Lennon was joined by campaigners at a public rally outside the Scottish Parliament.
Speaking after the vote, Ms Lennon said: "This is an amazing victory for everyone who has campaigned for free universal access to period products and who has convinced the Scottish Government to back this groundbreaking bill.
"Scotland has already taken important steps towards improving access to period products and tackling stigma but legislation will guarantee rights, ensure that current initiatives continue in future on a universal basis, and will help us achieve period dignity for all.
"Parliament backing the principles of this pioneering legislation at the first stage is a huge step forward, and I hope that all parties will continue to listen to those who would benefit from the Bill as it continues to proceed through Parliament."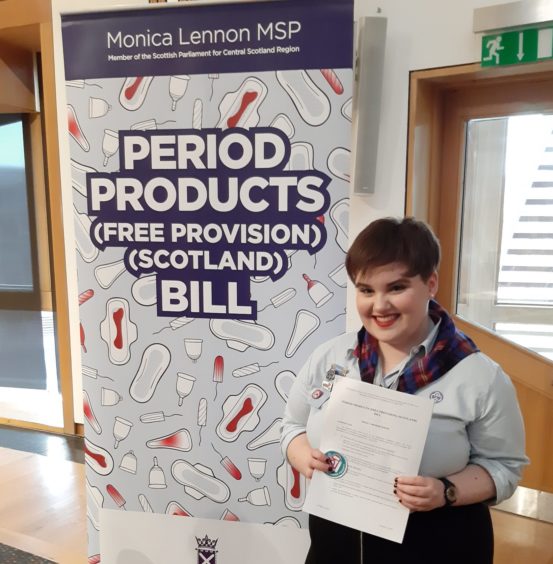 Katie Young, Girlguiding Scotland Speak Out Champion, who was at the public rally, said the organisation was "so pleased" to see the bill pass stage one.
The 21-year-old added: "We're proud to be part of the campaign to end period poverty and it's been amazing to see so many MSPs back this Bill.
This is an amazing victory for everyone who has campaigned for free universal access to period products and who has convinced the Scottish Government to back this groundbreaking bill.

Monica Lennon
"We believe making free period products easily available to everyone who needs them will not only bring economic benefits, but will also support girls and young women's participation in education and extracurricular activities, as well as helping to end the stigma around periods.
"Girlguiding Scotland wants to see Scotland become a leader in gender equality, and passing the Bill is a great step towards this.
"We know there is some way to go before the Bill becomes law and we'll keep calling on MSPs and those in Government to create a legal right to access period products."
---
ANALYSIS: A welcome step in normalising menstruation
The Scottish Government has taken a pioneering step in moving to make period products freely available to all in Scotland.
Labour MSP Monica Lennon has pursued the cause since first entering parliament in 2016 and in the process has attracted the admiration of campaigners and colleagues from across the political spectrum for her doggedness at getting the bill to this stage.
IT PASSED! What a day – the Period Product Free Provision (Scotland) Bill is through to Stage 2 and we couldn't be happier! One step closer to achieving dignity for menstruators everywhere! @Period_Poverty #PeriodPoverty #FreePeriodProducts #PeriodDignity #EndPeriodPoverty pic.twitter.com/TKE7lwibNv

— YWCA Scotland (@youngwomenscot) February 25, 2020
As Scottish Liberal Democrat MSP Alex Cole-Hamilton said in the chamber, the laws that govern us are "mostly totally silent" on this aspect of everyday life for those who menstruate and today marked a historic first step on the journey to passing groundbreaking new legislation.
But it is clear that a lot of work will be needed to get the bill through its next stage, not least on clarifying the finances required in order to deliver the scheme and the means in which it will be delivered.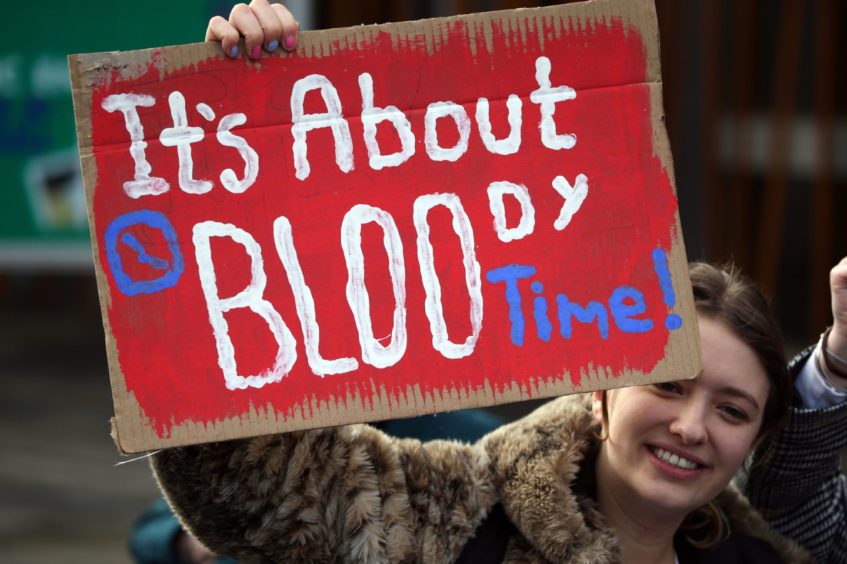 Others have criticised the move for not targeting the products specifically at those who need them most but campaigners argue this would be difficult to implement.
The bill will be subject to amendments and further scrutiny if it is to get past its next hurdle.
But it was striking, and indeed welcome, to witness parliamentarians, both male and female, readily discussing "blood" and "periods" and not shying away from discussing a subject long considered taboo.
It is only by normalising that language within the walls of the institutions that govern us that the issue of period poverty can be tackled once and for all.