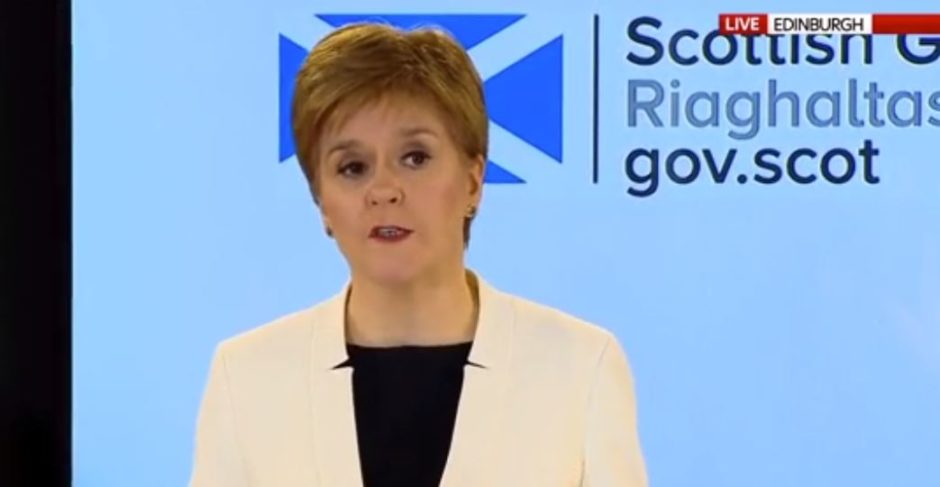 Tourists travelling north to take refuge from the coronavirus outbreak have been told they risk bringing a "death sentence" to locals.
Dozens of vehicles were turned away from the Nevis Range Centre in Fort William over the weekend, while similar fraught scenes took place at campgrounds across the Highlands and north-east.
Ballater was "flooded" with visitors looking to escape more populated areas, and wild campers were even spotted at Dunnet Head in Caithness – the most northerly point of the British mainland.
First Minister Nicola Sturgeon was forced to issue a direct appeal.
She said: "It may well be an understandable human instinct to think we can outrun a virus, but the fact is we can't.
"What we do is risk taking it to the places we go. In our remote and rural communities, that means extra pressure on essential services and on health services that are already more distant from people.
"Scotland is a warm and a welcoming country and I fervently hope it's not too long before we are opening our arms and our countryside to visitors again.
"But right now our priority must be to protect people from this virus, protect our NHS and protect Scotland."
She added that she "would not hesitate" to use any emergency powers required to ensure people comply with social distancing.
This could include potentially sealing off areas of outbreak, if required.
The first minister also ordered ferry operators not to allow non-essential passengers to board to help protect island communities.
Journeys will be restricted to island residents who require to visit the mainland and anyone who has travelled over and needs to return home.
It came after one Calmac employee, who posted on social media anonymously, said the continuous ferrying of passengers would impose a "death sentence" upon the most vulnerable.
Some parts of the country are more than 100 miles away from the nearest hospital, with very limited access to emergency medical care – prompting concerns that visitors who become sick will overwhelm services.
The Scottish Government also told hotels and B&Bs to provide accommodation for staff but to no longer accept visitors.
Rural Economy Secretary Fergus Ewing said he was "furious" at the "reckless and irresponsible behaviour" of people looking to outrun the virus by flocking to the Highlands.
He said: "They are endangering lives."
Meanwhile photographer Amy Muir said she was becoming increasingly concerned by the number of people out in the village of Ballater.
She said: "These tourists are putting the Ballater community at risk, which has a high population of elderly people."
North-east Labour MSP Lewis Macdonald added: "Infections spread when people from a highly-populated area travel to an area where it is yet to strike.
"It's important that we reduce, wherever possible, the demands that are being placed on the emergency services – especially in rural and remote areas where it's a lot harder to recover someone and take them to hospital."
Road to the Isles, which represents more than 100 accommodation and tourism businesses, said organisations and visitors have a "social responsibility" to stay away.
Chairwoman Sine MacKellaig-Davis said: "Covid-19 has changed all our lives as we know it. We now face a difficult road ahead and have a social responsibility to protect our communities."
Castlebay and Vatersay Community Council, on Barra, issued a plea to travel and holiday operators to cancel any upcoming bookings they have for trips to the Outer Hebrides.
A spokesman said: "We realise this is a big ask as we all rely on the tourism income, but this act may save lives.
"The island does not have the medical resources for its own community in the event Covid-19 comes to Barra and Vatersay, let alone any visitors who may become ill."
Meanwhile, Judy Murray, mother of tennis stars Andy and Jamie Murray, tweeted a simple message to "those relocating to the countryside" – a picture of a car and trailer with "go home idiots" and "Covid-19" painted on the side.
Paula Hawkins, the chief executive of NHS Highland, said: "We are currently in a situation that has never been experienced before and, for the first time, we are making a plea for you to stay away.
"We have heard that there are many people using camper vans and motorhomes to make their way to the Highlands and Argyll and Bute as a way to self-isolate during this period. Please don't."