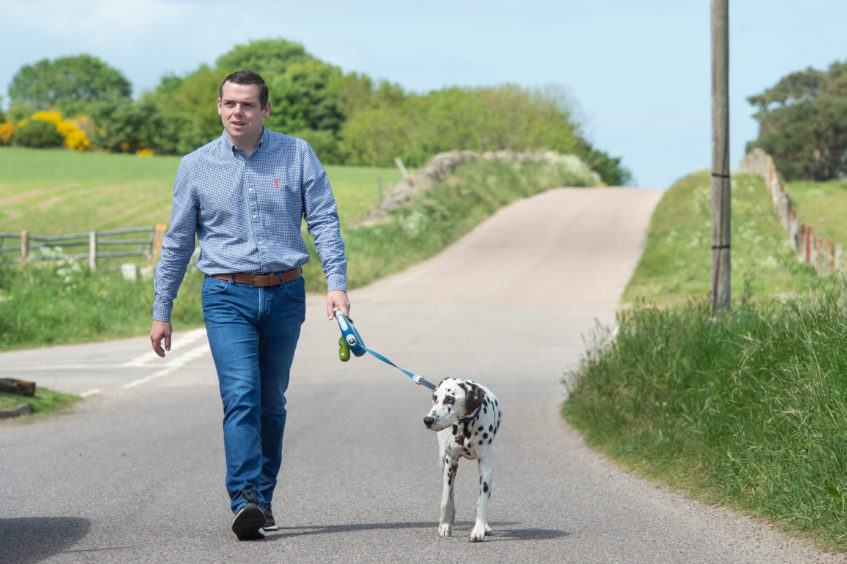 Moray MP Douglas Ross has quit as a UK Government minister in protest at Dominic Cummings' controversial trips to County Durham – branding the explanations of Boris Johnson's chief advisor as "indefensible".
The Conservative had served in the Scotland Office since last year's general election but stepped down from the position during a phone call with the prime minister just hours after his aide defended himself to the nation.
Yesterday Mr Ross said he felt Mr Cummings' decision to travel 260 miles to his family's home had "stretched" the lockdown rules and given the public the impression there was "no equality" in adherence to public health guidelines.
But he stopped short of calling for the advisor to go – insisting it was a matter for the prime minister to decide.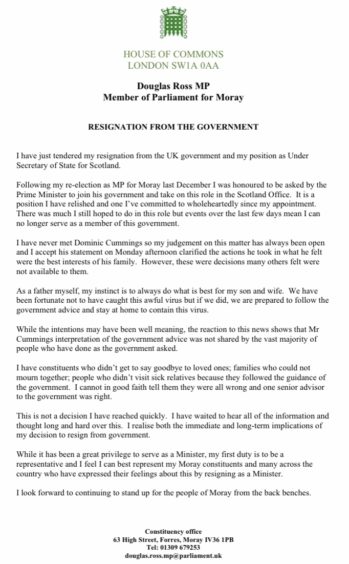 Anger about Mr Cummings' trips to his family home continued yesterday with the SNP and Liberal Democrats writing to Mr Johnson to urge him to sack his advisor.
The influential aide argues he acted "reasonably" by travelling to a family farm in County Durham to self-isolate while he and his wife had Covid-19 symptoms – revealing that he later made a further 30-mile drive to test his eyesight before travelling back to London.
However, Mr Ross believes his actions did not follow the guidance to the "letter of the law" at a time many were making "huge sacrifices"
He told the P&J: "What I think was wrong is that people thought those were actions that they didn't think were open to them – whether it was a loophole or stretching the guidance, many other people thought they couldn't do that.
"I think there should be more understanding of the upset and anger this has caused.
"Ultimately it came down to me thinking how can I defend to anyone asking me if it's OKto go for a drive if you don't think your eyesight's good enough.
"To say that's a good enough reason to take an unauthorised journey, I think, is wrong."
Mr Ross said he had spoken to several people before taking the decision to resign from the position but said he had no knowledge whether more resignations would follow.
Backbench MPs have however also voiced their opposition to the way the saga has been handled.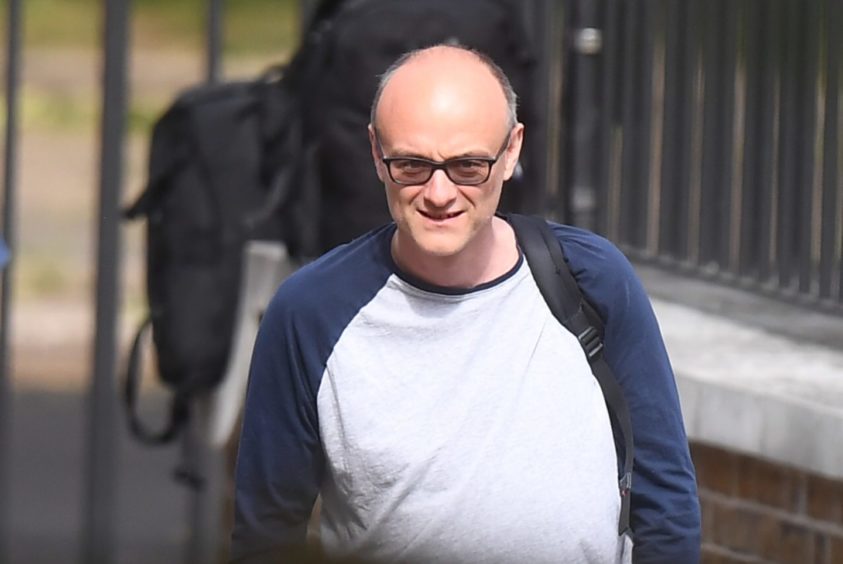 Mr Ross said he had no opinion of Mr Cummings ahead of the lockdown revelations.
The father-of-one said: "I've never met him, never seen him, never spoken to him and he will undoubtedly not know who I am.
"That's why I think I could take an impartial view on this, to look at what he had to say but consider it with what constituents were saying to me about the sacrifices they have been making.
"They felt they could have been supporting their families more if they had taken the same decisions he had made. If they were within the guidelines then that should have been clear – the government message at UK and Scottish level at the time was 'stay at home'.
"I think people feel there was no equality with what they were doing by staying at home while he was travelling 260 miles."
A Downing Street statement released following the resignation thanked Mr Ross for his service and said the prime minister "regretted" the decision.
SNP Westminster leader Ian Blackford said: "This will have been a difficult decision to make and I respect Douglas Ross for taking it. This issue transcends politics. It is about protecting trust and confidence in the public health advice.
"It is staggering that a Tory minister has had to resign over this before the unelected adviser who broke the rules in the first place."
Labour's shadow Scottish secretary Ian Murray said: "Douglas was a fair and reasonable minister who has done the decent thing and resigned from a government that is out of control.
"Integrity has been sadly lacking from this government, especially over the last 72 hours, so I commend him for making this difficult decision."