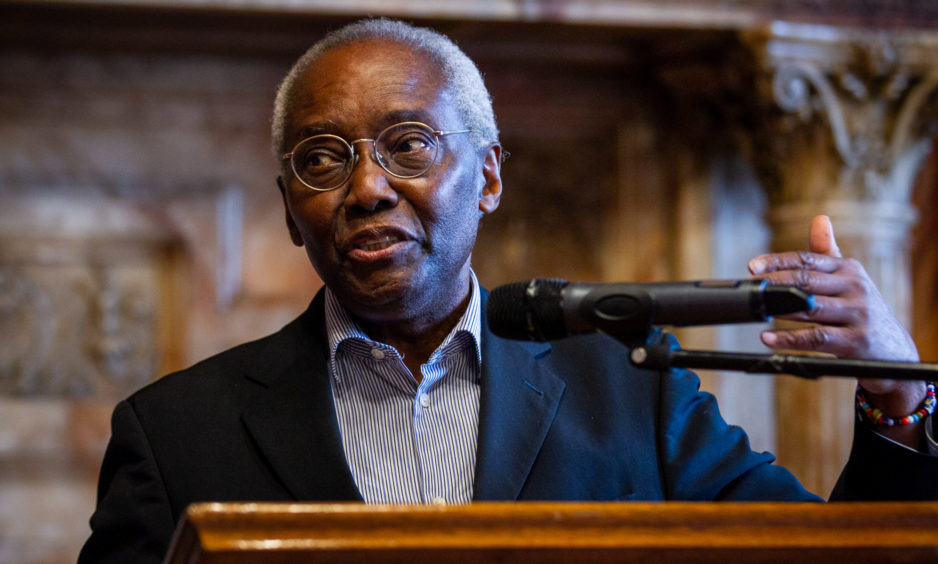 Scotland's historical links to slavery should be taught to school children, according to the country's first black professor.
Professor Sir Geoff Palmer said making slave history a mainstream school subject was the way to change racist attitudes in the wake of the death of George Floyd, the black man who died after being pinned down by a white US police officer in Minneapolis.
Speaking after taking part in the weekend's Black Lives Matter protests, Sir Geoff also argued against the demolition of slave traders' statues — arguing their destruction meant atrocities of the past would be forgotten.
Ultimately, however, the academic — who was knighted for his services to academia and human rights – said education lay at the heart of challenging racism.
"Slave history has to be done properly in the curriculum and it has got to be examinable so that it changes attitudes. That's what we need. It has got to be like maths and physics and all our other mainstream subjects," he said.
Only then would long-held racist attitudes be understood and overcome.
He argued today's racism could be traced to the treatment of black people as property and the sense of entitlement felt by slave owners.
"This was the epitome of entitlement and derived from people who were racist and who actually believe that black people were inferior to white people. The consequence of that is Minneapolis," Sir Geoff said.
At the weekend thousands of people, horrified by the death of George Floyd, took part in anti-racist protests across the UK.
The moment a statue of slave trader Edward Colston toppled into Bristol's harbour. 'It's what he deserves. I've been waiting all my life for this moment' someone told me in the moments after. pic.twitter.com/6juqVrsJ6V

— Sarah Turnnidge (@sarah_turnnidge) June 7, 2020
They included demonstrators who threw a bronze statue of Edward Colston into Bristol harbour at the weekend. Colston was a prominent 17th century slave trader and the presence of his statue has been the source of much controversy for many years.
Sir Geoff said he sympathised with those who were frustrated by the lack of progress when it came to tackling racism, but indicated that he did not agree with taking down statues.
This happened a few moments ago.
The Edward Colston statue has been pulled down. pic.twitter.com/E0BUxVHonc

— BBC Radio Bristol (@bbcrb) June 7, 2020
Rather than removing monuments to those who exploited slaves, the emeritus life science professor at Heriot Watt University said plaques should be erected beside the monuments explaining the human cost of their behaviour.
"I feel that if you remove the evidence you remove the deed. That's what I'm worried about – removing and altering the past," Sir Geoff said.
"But I can see the point of some people that they get quite frustrated and I think that frustration is brought about because politically serious changes are not seen, which is very sad. If removing a statue is a frustration because nothing is being done, it will still not get anything done.
"People are going to demand that these things should come down if there is no significant social change. So, for example, the Covid-19 situation where blacks and Asians have got the highest death rate per proportion of the population – that is a frustration. But what we are seeing is people taking out their frustrations on sometimes the wrong thing."
In the Highlands, there have been repeated calls to take down the 100ft statue of the Duke of Sutherland which overlooks Golspie from the top of Ben Bhraggie because of his role in the Clearances.
Slaver Colstons statue being toppled in Bristol poses the question why on earth was it up in the first place. Similarly in Scotland we have a massive statue of the Duke of Sutherland towering over Golspie that really should come down. He played a pivotal role in the Clearances.

— Michael Stewart (@mstewart_23) June 7, 2020
Sir Geoff believes a similar approach should be taken with a plaque putting the statue into context being put up beside the statue known locally as "The Mannie".
The academic, whose mother Ivy came to the UK as part of the Windrush generation, said a "detailed plaque saying exactly what he did with no fudge" should be erected on the summit.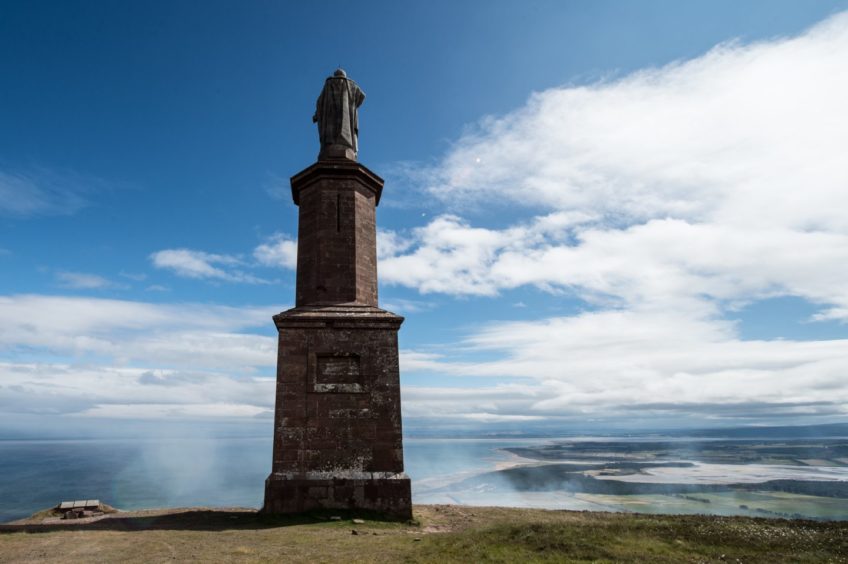 "I think the concept is the same. The past has consequences and if we take the past down we may forget the consequences," he said.
Sir Geoff has been a member of a group charged with coming up with a form of words for a plaque to go alongside the statue of Henry Dundas, First Viscount Melville, in St Andrews Square, Edinburgh.
Melville, a former Home Secretary nicknamed the Great Tyrant, has been blamed for costing thousands of lives through his insistence at the end of the 18th century that the slave trade should be abolished gradually over a decade.
Civil rights campaigners have demanded the removal of the 150ft monument on the grounds that it "glorifies" the slave trade. For two years Sir Geoff, Melville's biographer Michael Fry and the politician's descendants have struggled to agree on a form of words.
Thanks @SirGeoffPalmer for your work on this. I'll be speaking with Council colleagues tomorrow about where things stand & try to get things resolved. https://t.co/Pp6uPg7sjM

— Cllr Adam McVey (@adamrmcvey) June 7, 2020
But Edinburgh Council leader Adam McVey of the SNP has promised to try and resolve the issue.