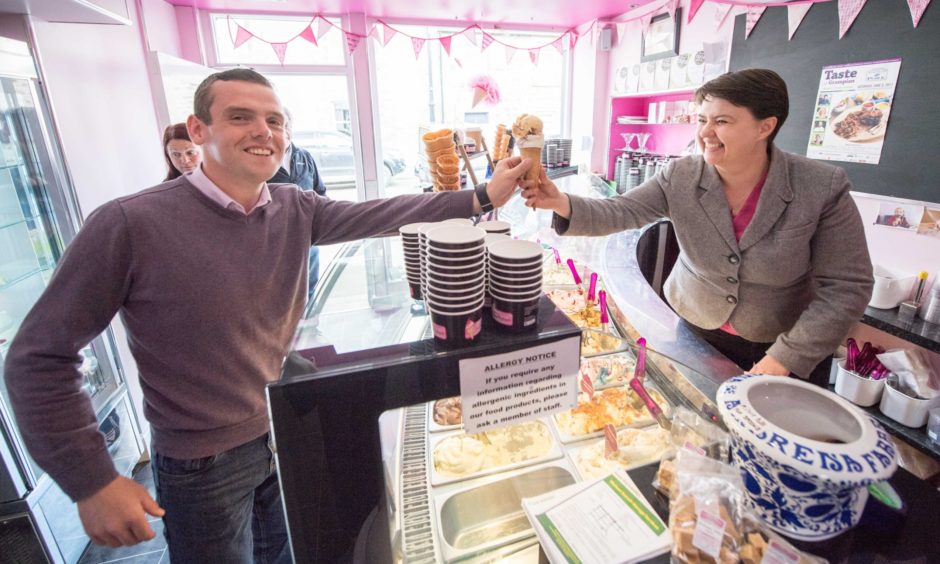 Ruth Davidson told Douglas Ross he would be "an absolute pain in the arse" to work with when they were discussing his takeover of the Scottish Conservative Party.
Ms Davidson made the remark to Mr Ross when they were talking about their plans to replace Jackson Carlaw as Scottish Tory leader.
Despite sounding otherwise, her candid assessment of the favourite to replace Mr Carlaw was meant "in a good way", as a reflection of his "thrawn" and "independent-minded" approach to politics.
According to Ms Davidson, Mr Ross's reputation as his own man will enable him to put "clear blue water" between the Scottish Conservatives and Boris Johnson, whose unpopularity in Scotland is hindering the party north of the border.
The sudden resignation of Mr Carlaw last week – after he was confronted with internal party polling suggesting he was not cutting through with voters – has resulted in Mr Ross standing for the leadership with Ms Davidson as his right hand woman.
Given that the Moray MP is based at Westminster, the plan is for Ms Davidson to take on Nicola Sturgeon at First Minister's Questions until Mr Ross can win a Holyrood seat.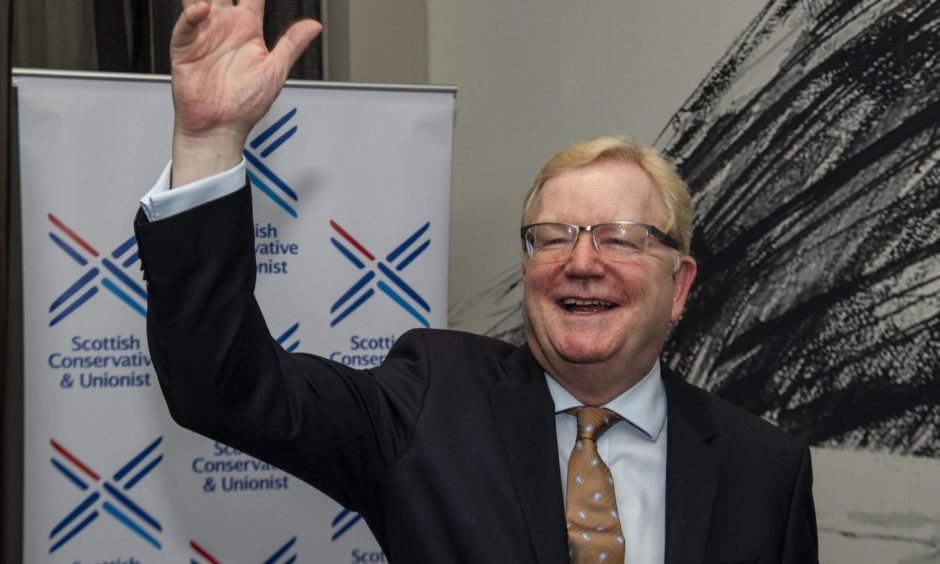 Acknowledging that pro-UK voters had become increasingly pessimistic about the future of the Union, Ms Davidson promised that she and Mr Ross were determined to fight the SNP "every step of the way" and reach out across party boundaries to ensure independence is not inevitable.
I did actually tell him when we first talked about this that he would be 'an absolute pain in the arse' as a leader, but in a good way and I absolutely expect that to be true. The thing about Douglas is – and I am going to enjoy working with him – but I know it is not going to be easy. But that's good, though. That's really healthy."

Ruth Davidson on Douglas Ross
Contemplating her return to front-line politics, Ms Davidson said her working relationship with Mr Ross was not going to be easy. But she claimed it would be healthy given his determination to pursue his own agenda.
"I did actually tell him when we first talked about this that he would be 'an absolute pain in the arse' as a leader, but in a good way and I absolutely expect that to be true," Ms Davidson said. "The thing about Douglas is – and I am going to enjoy working with him – but I know it is not going to be easy. But that's good, though. That's really healthy."
With the prime minister regarded as an electoral liability north of the border, Ms Davidson suggested that Mr Ross's willingness to plough his own furrow would be an advantage during May's Scottish election.
The impact of Douglas Ross's resignation over Dominic Cummings lockdown journey
Ms Davidson, the Edinburgh Central MSP, argued that Mr Ross's refusal to toe Boris Johnson's line by defending Dominic Cummings after the adviser's controversial 260-mile trip during lockdown illustrated his independent spirit.
Mr Ross resigned as a Scottish Office minister on the grounds that he was unable to tell constituents who were unable to visit sick relatives that "they were all wrong and one senior adviser to the government was right".
She also pointed out that, as Scottish leader, Mr Ross would have responsibility for campaigns, policy, fundraising and candidates.
When asked if Mr Ross would have to make a conscious effort to distance the Scottish Tories from Mr Johnson, Ms Davidson said: "He is a man who knows his own mind. He's demonstrated it amply over the years, not least by quitting Boris Johnson's government on a point of principle.
"In terms of clear blue water and being his own man, you will not find a single person that's ever met Douglas Ross that does not say that about him. He is definitely thrawn and he's definitely independent minded."
With a Panelbase poll suggesting that support for independence now stands at 54%, Mr Ross has a fight on his hands to reinvigorate the Scottish Conservatives. Other polls have put SNP support at 55% and the Conservatives in the doldrums at around 20%.
Overcoming pessimism and melancholy to fight for UK
Ms Davidson, who led the Scottish party for the eight years before Mr Carlaw's election six months ago, said a sense of fatalism had entered the fight for the UK with some people beginning to think independence is inevitable.
"There seems to me have been, at least in the last three or four months, a pessimism, inevitability or melancholy set into people that believe in Scotland staying part of the United Kingdom," she said.
"Douglas and I are going to show we are up for the fight and there is no inevitability here. There is no fatalism here. We are going to fight the SNP every step of the way and we are going to need people across Scotland to come with us and stand with us in that fight. That's what we are going to reach out across party lines to do over the next 10 months."
While Mr Ross will be keen to put his own imprint on a distinctive Scottish party, another part of his pitch to voters will be that the "broad shoulders" of the UK can help Scotland withstand the coronavirus crisis.
Chancellor Rishi Sunak is among the UK ministers expected to make a Scottish trip shortly to underline the multibillion-pound economic package that came to Scotland from the UK Treasury.
"Douglas also believes that, coming out of Covid, we are going to be facing one of the worst recessions in 300 years and actually we need two governments to work together to help Scotland," Ms Davidson said.
"He can be the bridge there. It helps nobody to have the UK Government and the Scottish Government at loggerheads and a recovering Scottish economy caught in the middle."
With Scottish Tory insiders warning that any failure to get a Brexit deal will be a gift to the SNP, Ms Davidson refused to "get into hypotheticals" about EU withdrawal. She simply said it was "important" for Scotland and everywhere else that a deal is struck.
A 'bread and butter' rather than constitutional election
But looking ahead to the crucial 2021 Scottish Election, Ms Davidson suggested Mr Ross would fight it on "bread and butter" issues like jobs, education and health rather than put opposition to independence at its heart.
A second referendum was "not on the top of anyone's agenda", she claimed, suggesting success would come from exposing the SNP's record on domestic issues and how best to recover from the pandemic.
"What is going to matter most to people is how on earth we sort out what we have lost in terms of schooling," Ms Davidson said. "That's not just lost through Covid but how standards have gone down in the last few years. How we make sure people have got the jobs they need. We don't know exactly who is going to struggle the most.
"I think this is going to be a bread and butter election. This is about how to pay bills, how to get food on the table, how to give your children opportunities and how to drag Scotland out of a recession, which is probably where we are going.
"I hope there is a V-shaped bounce. But I look around the world and I am seeing a lot of countries heading for a recession and people will want constructive champions who will reach out across party boundaries, across boundaries of sector, talking to business, public sector etc to get Scotland back on its feet. And I think this is where our election is going to be won and lost."
Davidson says she has 'no frustrated ambition'
Despite her imminent return to the front-line, Ms Davidson said there was "no frustrated ambition" on her part and she was content to leave the leadership to Mr Ross. Apart from some background advice, her most high-profile duty will be to stand in for the leader at First Minister's Questions before she leaves Holyrood for the House of Lords after May.
"I will not be the ultimate arbiter and decision maker. That will be Douglas Ross," she added.