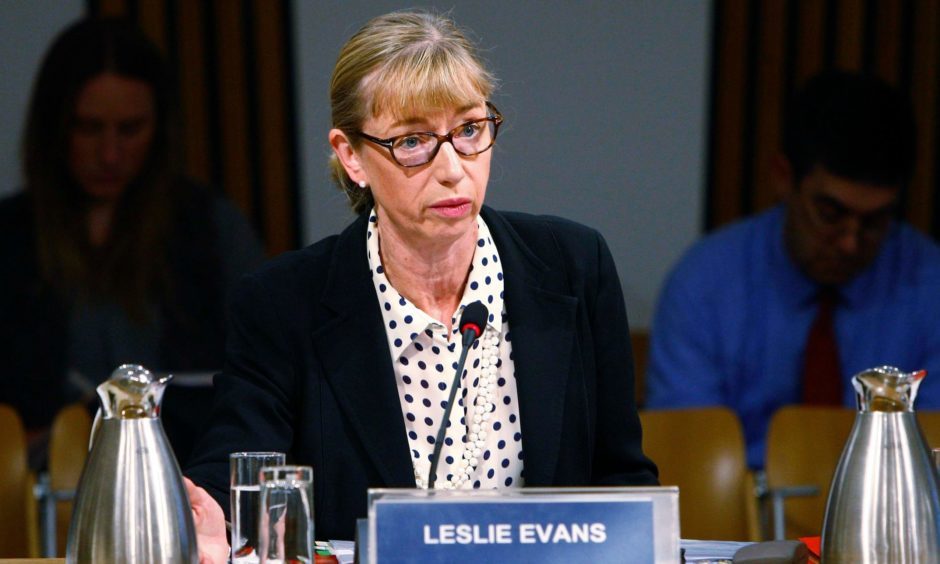 The appearance of Leslie Evans in front of a Holyrood inquiry was supposed to shed light on how the Scottish Government handled harassment complaints against Alex Salmond.
Given her status as Scotland's most senior civil servant and her position as the first witness to give oral evidence to investigating MSPs, there was a sense of expectation when she came to Holyrood.
During a two-hour session, Ms Evans gave an insight into the issues at stake including an important disclosure about when Nicola Sturgeon found out there were concerns about Mr Salmond's behaviour.
Sturgeon alerted to concerns about Salmond's behaviour before he was investigated by Scottish Government
In her evidence, Ms Evans said the question of Mr Salmond's behaviour was raised with Nicola Sturgeon in November 2017 when she learned Sky News was investigating an "incident" at Edinburgh Airport.
The Scottish Government's formal internal inquiry into the claims made by two females against Mr Salmond was not launched until January 2018.
"I was made aware of contact that had taken place between Mr Salmond and certain Scottish Government members of staff in very early November," Ms Evans said.
"He had contacted them because he wanted to talk to them about a piece of media work that was going on, which was being undertaken by Sky News.
"I was told by two different sources, one of them extremely concerned, that they had received this contact and they were a bit bewildered and unhappy about it. I didn't know what was said, I didn't ask, I didn't think it was appropriate to know."
She went on to tell Ms Sturgeon. The permanent secretary said: "I mentioned that, that Mr Salmond had been in touch with staff about an Edinburgh Airport incident that Sky News were investigating, I did mention that to the First Minister.
"I told her about that, I said I was concerned mostly because the staff were anxious about it. I was also concerned it could become a story."
The following year – in November 2018 – Sky News ran a story about female airport employees expressing concern about Mr Salmond's inappropriate behaviour to their managers a decade before – claims that were denied by the former first minister.
On January 8 2019, Ms Sturgeon told the Scottish Parliament that she heard that actual complaints had been made against Mr Salmond when he visited her home on April 2 2018. At Holyrood, she told MSPs that Ms Evans had not informed her of the complaints, which was "in line with procedure".
The revelation led to Murdo Fraser, a Tory representative on the Holyrood committee, calling on Ms Sturgeon to "come clean" about what she knew and when.
Mr Fraser said: "We now know that Nicola Sturgeon was aware of Alex Salmond contacting Scottish Government staff in November 2017.
"Are we really to believe that the First Minister didn't ask anyone what Mr Salmond was saying? She really didn't even look into this matter any further? We are genuinely meant to accept that Leslie Evans didn't even ask what the Sky News story was about – and neither did the First Minister?
"It seems that Nicola Sturgeon has been caught out by her permanent secretary and she must urgently come clean about what she knew and when."
How did Leslie Evans react when asked about reports that female civil servants were advised not to work alone with Alex Salmond?
Mr Fraser said it had been stated publicly that female civil servants were "advised not to be alone in the company of the former first minister". He asked Ms Evans if she was aware of that.
"I can't comment on that," was her reply.
Committee convener Linda Fabiani of the SNP suggested his line of question was inappropriate under the committee's remit.
Mr Fraser disagreed, arguing it was a "relevant question" in relation to the workplace culture the committee was investigating.
Lib Dem Alex Cole-Hamilton said Mr Fraser's question "was pertinent" saying the committee should be aware of "informal steps that were taken to protect complainers".
"If that is something that happened, it is absolutely something this committee deserves to know about," Mr Cole Hamilton said.
The concerns about female officials working alone with Mr Salmond emerged during his criminal trial, when he was acquitted of 13 charges of sexual assault, attempted rape and indecent assault at the High court in Edinburgh in March.
A witness claimed Mr Salmond was banned from working alone with female civil servants at his official residence, Bute House.
Leslie Evans rejected suggestion Scottish Government anti-harassment policy was 'designed to get Alex Salmond'
Ms Evans explained to the MSPs that officials drew up a new harassment complaints process in late 2017, which would eventually be used to deal with the ones made against Mr Salmond, who ceased to be first minister in 2014.
It was drawn up in response to the #MeToo movement and followed allegations of sexual misconduct at Westminster. One of the most controversial aspects of the new process was that, for the first time, it would cover allegations against former ministers as well as serving ones.
Mr Cole-Hamilton asked if officials responsible for putting together the policy were influenced by a complaint that had been made against Mr Salmond that emerged when it was being drawn up.
"Forgive me for being blunt," Mr Cole-Hamilton said. "But the optics of this are not great. Was this targeted policy which only applied to harassment complaints against former ministers engineered to fit any complaint that had been arrived at through the Scottish Government – was it designed to get Alex Salmond?"
Ms Evans replied: "Absolutely not."
During Ms Evans's evidence, it emerged that one of the individuals who was to go on to lodge a complaint against Mr Salmond had seen a draft of the new policy, which was signed off by her and Nicola Sturgeon in December 2017.
Ms Evans was asked by Labour's Jackie Baillie if information on the drafting of the policy had been "shared" with anyone who was to later lodge a complaint.
The permanent secretary said: "I believe that one of the people who went on to lodge a complaint… did offer views… was asked in terms of lived experience about the draft, as it was then. I wasn't aware of that. It is not unusual to test out new procedures or policies with people who have relevant experience. But I don't believe there were any changes made to the policy as a result of that."
An unreserved apology from Scotland's most senior civil servant
Leslie Evans apologised "unreservedly" for the failure that led to Alex Salmond successfully challenging the Scottish Government in court.
The permanent secretary claimed lessons had been learned from the mistake which resulted in the Court of Session ruling the Scottish Government's handling of the complaints against Mr Salmond were unlawful and "tainted with apparent bias".
Mr Salmond won his case and the Scottish Government was ordered to pay more than £500,000 for his legal costs in January 2019.
The court found the government had breached its own procedures by appointing an official to lead an independent investigation into claims who had previously met the complainants.
Evans said investigating harassment complaints against Mr Salmond was the "right thing to do" but apologised unreservedly for a "procedural failure" in the inquiry.
She later revealed the Scottish Government alerted Police Scotland to three historical complaints of sexual misconduct by Mr Salmond. Later the Scottish Government said this referred to "three separate matters", which were raised in the two complaints it received.