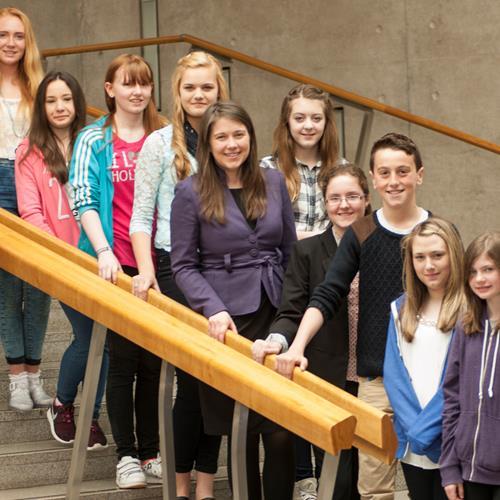 Four pupils from the north and north-east have helped develop a website to support the wellbeing of young people in Scotland.
Annabel Middleton, 14, from Banff; Emily Gray, 15, from Kintore; Kelsey Whitlow, 13, from Oban and Toby Macdonald, 13, from Nairn, were among 12 finalists in a national competition to help 11 to 15-year-olds find out more about what help is available to them and their families.
The pupils, who attend Banff Academy, Kemnay Academy, Oban High School and Nairn Academy respectively, recently visited Holyrood.
They showed the new website to the Minister for Children and Young People Aileen Campbell.
The project is connected to the government's Getting It Right For Every Child (GIRFEC) programme.
The pupils won their places on an advisory panel by submitting poetry and prose reflecting what wellbeing means for young people.
Emily said: "This project has been amazing and completely worthwhile.
"To be honest I didn't know a lot about GIRFEC before but now that we have completed the project I think I probably know more than my entire school."
The website was welcomed by the National Parent Forum of Scotland.
A spokesman said: "The descriptions of some of the challenges of growing up are a reminder to all of us of the importance of every child feeling safe, well and happy.
"We need to make sure that, in line with the Getting It Right For Every Child approach, any child who needs it can get help and support, if it is needed."
Ms Campbell said the competition finalists came up with the idea for a website rather than a leaflet or publication to ensure young people can access it any time they need to.
"The principle at the centre of all children's services is to put the interests of the child first and ensure their voice is heard," she added.
The website – www.wellbeingforyoungscots.org – provides details on the controversial named persons scheme.
Under the Children and Young People Act, which is due to be fully implemented by 2016, local authorities or NHS boards must appoint a health visitor or head teacher to maintain a child's record and details of any concerns.
But campaigners have vowed to raise £30,000 to launch a legal challenge against the scheme.
Colin Hart, director of the Christian Institute which is leading the fight, has described the move as "a monstrous invasion of family life".