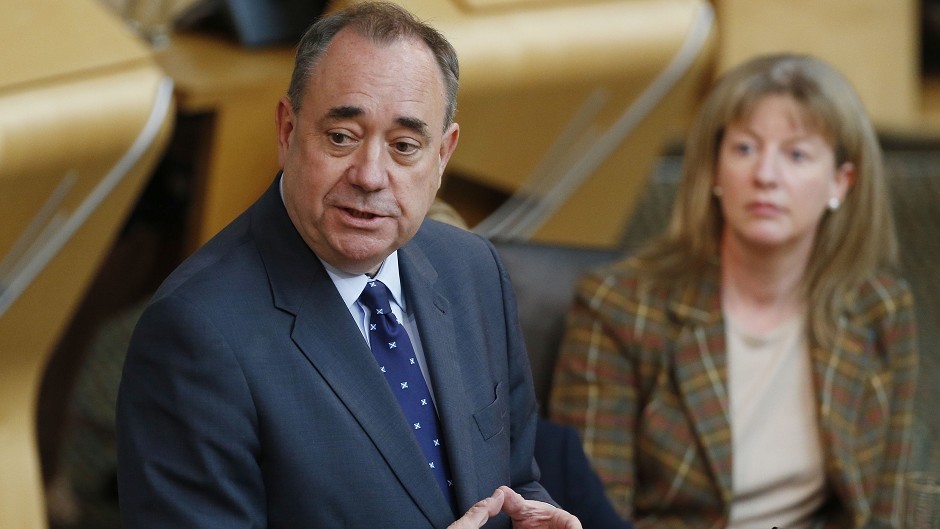 Alex Salmond has warned the UK Government that voters will "not tolerate" any delay in providing more powers to the Scottish Parliament.
In his first appearance at Holyrood since last Thursday's defeat in the independence referendum, he said the Scottish Parliament had a responsibility to ensure pledges were met.
When Mr Salmond announced his intention to stand down on Friday, he accused David Cameron of backpedaling on the timetable for further devolution.
He said the prime minister told him that further powers for the Scottish Parliament could only be introduced at the same pace as for the rest of the UK.
Mr Salmond said that would have thrown the whole devolution process being overseen by Lord Smith into "delay and confusion".
MSPs heard the situation had now changed and the UK Government recognised the importance of meeting its commitment.
Echoing his resignation speech, Mr Salmond said the Scottish Parliament must "hold Westminster's feet to the fire to ensure the pledges are met".
"But all parties should understand, that the true guardians of progress are not the political parties at Westminster, or the parties here at Holyrood, or Lord Smith – they are the energised electorate of this nation, the community of Scotland, who will not brook or tolerate any equivocation or delay," he said.
Mr Salmond insisted that Scotland was a "better nation" as a result of the referendum.
Nearly the entire Scottish electorate – 97% – registered to vote with 85% taking part in the ballot.
Mr Salmond said "Scotland now has the most politically engaged population in Western Europe and one of the most engaged of any country anywhere in the democratic world."
For the first time 16 and 17-year-olds were allowed to take part in a national ballot.
Mr Salmond said there was now an "unanswerable case" for this age right to be given the right to vote in all UK elections, as he called for the voting age to be lowered in time for next year's General Election.
"There is not a shred of evidence for arguing now 16 and 17-year-olds should not be allowed to vote," he said.
"Their engagement in this debate, this great constitutional debate, was second to none. They proved themselves to be the serious, passionate and committed citizens we always believed they should be."