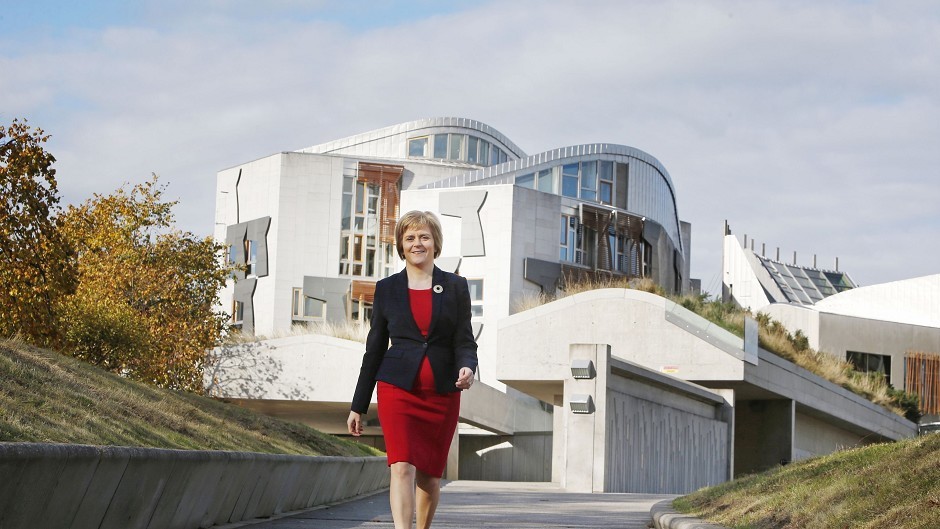 Scotland's first minister in-waiting Nicola Sturgeon has warned the public will not forgive pro-UK parties if they fail to devolve substantial new powers to Holyrood.
Ms Sturgeon said people expected control of all issues, except defence and foreign affairs, to be transferred in the wake of promises made during the lead-up to the independence referendum.
Speaking at Holyrood yesterday, she told MSPs that the timetable for any future referendum would be set by the people of Scotland.
Ms Sturgeon, who will officially take over from Alex Salmond next month, said she recognised that the Smith Commission on devolution would not deliver independence – and that this would only happen "when a majority of the people of this country vote for that in a referendum".
She added that it was not for politicians to "dictate the destination of the debate".
Ms Sturgeon said: "We have seen at least one poll since the referendum showing 66% support for devomax – devomax defined as all powers short of defence and current affairs.
"So that is where public opinion is and if that public opinion is not met in terms of what the Westminster parties are now prepared to sign up to then I think that will be unforgivable.
"I think the people of Scotland will not be prepared to forgive that."
Scottish Conservative deputy leader Jackson Carlaw claimed the deputy SNP leader was "dancing on the head of a pin with her rhetoric to keep alive the flickering hopes" of people who believe in independence.
"However, in saying that, she seems to be accepting that compromise is needed and we must all hope that will prove to be the case in the ongoing talks for more powers for the Scottish Parliament," he added.
Labour constitution spokesman Drew Smith said the party was prepared to engage with others on alternative perspectives.
"People in Scotland voted for a strengthened parliament working in partnership with the rest of Britain, not in opposition and not in competition to it," he added.
"It is also our position that the continuation of the Barnett Formula should not be put at risk by fiscal proposals that will leave Scotland worse off than it is now."