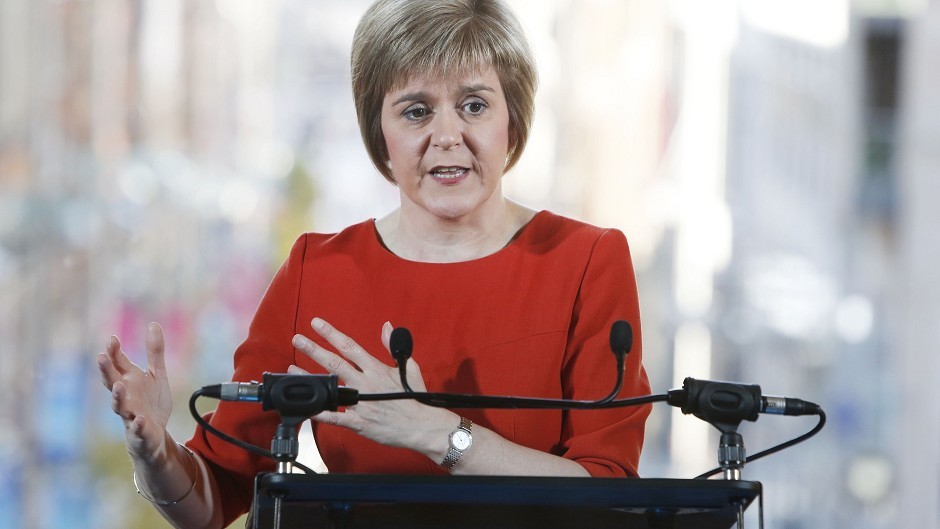 Scotland's first minister in-waiting Nicola Sturgeon last night urged supporters of independence to help elect as many SNP MPs to Westminster as possible.
She told party members that they must "always look forward, never back".
In a rallying cry to foot soldiers at the Corn Exchange in Edinburgh, Ms Sturgeon said: "We hold our future in our own hands – we have the ability to transform Scotland's circumstances.
"In just a few months, we can send a strengthened team of MPs to the Westminster parliament, possibly one where there is no overall majority.
"A team who will put Scotland first, and ensure that we cannot be ignored.
"I want the same passion and enthusiasm you showed in the Yes campaign to be put to work now in winning support in the general election.
"That is how we will ensure that Scotland's voice is heard and that the votes of Scottish MPs are not trampled over by a Westminster majority."
Election prediction organisation Electoral Calculus has forecast that the SNP – which currently has six MPs – could win as many as 23 of Scotland's 59 seats in the general election.
Politics expert Thomas Lundberg of Glasgow University said the party, which now has about 83,000 members, could hold the balance of power in a hung Westminster parliament.
Ms Sturgeon is embarking on a tour of Scotland and will address people at Eden Court Theatre in Inverness on November 10 and at Aberdeen's Music Hall on December 7.
She said it was "nonsense" for her political opponents to claim she did not accept the referendum result but claimed it was her democratic right to continue campaigning for independence.
Ms Sturgeon said she believed Scotland would one day become independent, but the timing of a second referendum depended on circumstances, events, the mood of the public and how the SNP conducted itself.
"As leader of the SNP, I want us as a party to face up to the opportunities that lie ahead," she added.
"I will work to build as much unity and common cause in our country as I can.
"For each and every day that I hold office as first minister, I will govern this country to the very best of my ability – and I will do so for all of Scotland.
"I'm in public life to make Scotland a better place for everyone who lives here – that is my guiding principle."