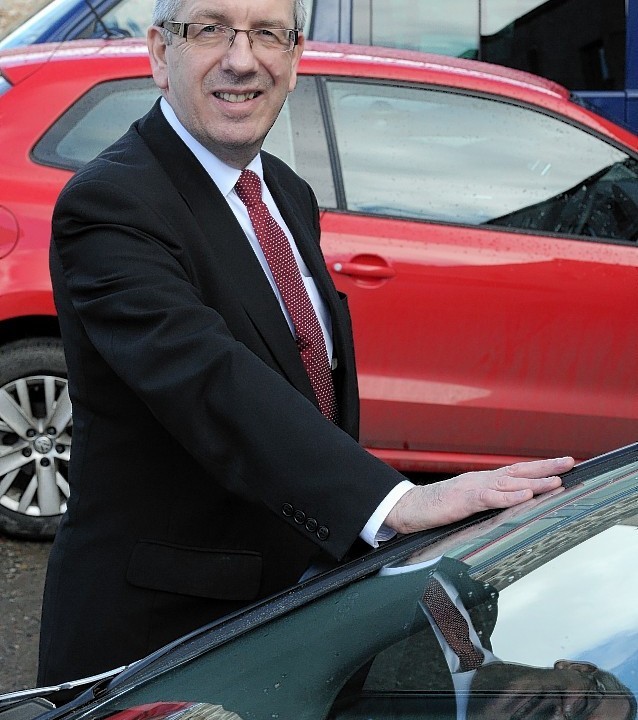 Scottish ministers were branded "penny pinchers" last night after a row erupted over the lack of progress to create new passing places on a major trunk road to ease traffic congestion.
Highland Labour MSP David Stewart clashed with government officials after they insisted they were prepared to instal more laybys on the Inverness to Aberdeen A96 route if necessary.
But the road safety campaigner insisted that the claim did not chime with comments made by Transport Minister Derek Mackay who gave him the distinct impression nothing would change until the project to upgrade the road to full dual carriageway was completed in 15 years time.
Mr Stewart described the Transport Scotland statement as "Yes Minister stuff" because not one new layby had been installed on the route in the years he had been campaigning.
HGV driver and safety campaigner Conor McKenna said it was "daft" to dismiss the call because it would provide more opportunities for slow moving traffic like tractors and lorries to pull in and speed up journey times.
The National Farmers Union Scotland said the request for more laybys was not "unreasonable" because it encouraged its members to pull in to avoid queues of traffic building up.
And Inverness Chamber of Commerce chief executive Stuart Nicol said there was merit to investing a "modest sum of money" on more stopping sites to improve connectivity because the road was "dire and not fit for purpose"
Mr Stewart wrote to the minister last month to highlight that there were insufficient laybys on the A96.
In response, Mr Mackay said engineers examine the surfacing and signage for laybys and carry out necessary repairs on a regular basis.
"The Scottish Government has set out plans to dual the A96 between Inverness and Aberdeen by 2030," he said.
"This is a significant undertaking which requires careful, in-depth planning and design to ensure we deliver the right scheme to tackle congestion and provide reduced journey times, better journey time reliability and road safety for all users.
"It is anticipated that slow moving vehicles will be less of a problem on the improved road as they may have to use parallel access roads."
Mr Stewart said he was "disappointed" that the minister merely chose to highlight plans to dual the A96 by 2030 in his letter.
"That is 15 years away so in effect there is going to be no increase in the number of laybys and if he does not support my proposal to increase the speed limit for HGV's on this route, then the public can expect little or no change soon to the frustration they experience with slow moving traffic," he added.
"All I can do now in keep highlighting this issue and remind the drivers of slow moving vehicles to pull over and let faster vehicles pass, thus preventing frustration and long tailbacks ".
Mr McKenna, who led a campaign to increase the speed limit for HGVs from 40mph to 50mph on the A9, said: "How difficult is to make a hole in the ground?
"The cost of extending the size of laybys and building news ones would not be much – it is penny pinching.
"If this road was in the central belt it would not be a question, it would just get done."
NFU Scotland's Highland regional chairman Jim Whiteford said: "If we are to improve road safety, it is a reasonable request that all busy roads, like the A96, have a ready number of suitable places for large, agricultural vehicles and trailers to pull into."
Asked to respond to Mr Stewart's claim that no new laybys would be built until the dualling work was completed, a Scottish Government spokesman said: "This is simply not true.
"If the requirement for additional laybys is identified in response to evolving needs, this would be taken forward for delivery as a matter of course.
"We are also progressing work to dual the A96 from Inverness to Aberdeen with the latest design work due to go on show later this month.
"The early development work will consider the requirements for laybys as the scheme is progressed."