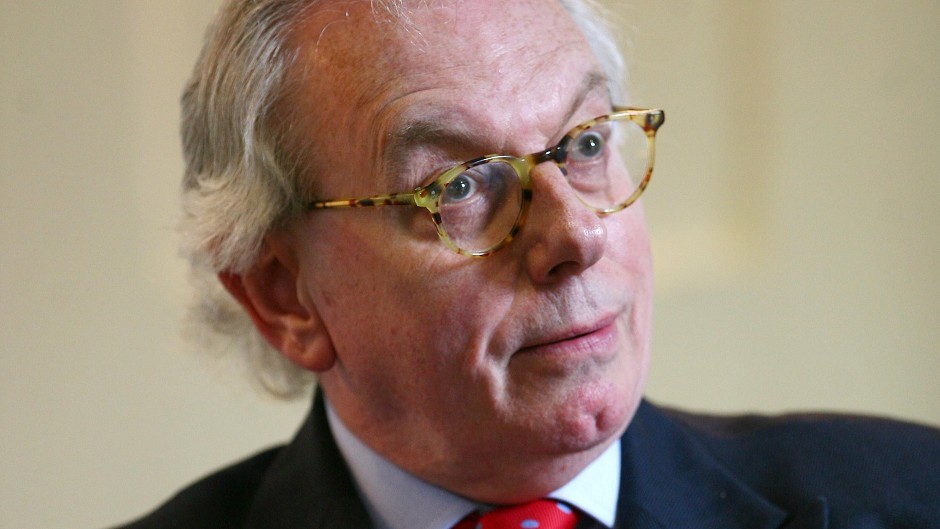 TV historian David Starkey has sparked outrage by claiming there were striking similarities between the SNP and the Nazis.
He claimed Nicola Sturgeon's colleagues and supporters blame the English for Scotland's ills in a similar way as Adolf Hitler's followers blamed the Jews for the plight of Germany in the 1930s and 1940s.
Mr Starkey said it was "worrying" and also compared the Saltire with the swastika which prompted the SNP to say he was "extraordinarily keen on parading his ignorance" and reducing himself to a "figure of fun".
East Renfrewshire MP Kirsten Oswald said the historian's comments were "irresponsible and deeply offensive" to the Jewish community and SNP supporters.
And Scottish Liberal Democrat leader Willie Rennie said the historian was making a "parody of himself" and in danger of morphing into divisive media personality Katie Hopkins.
Mr Starkey, 70, was asked about Nicola Sturgeon's party and the National Socialist German Workers' Party during a interview with the Sunday Times.
"What are the points of comparison?" asked Mr Starkey.
"Well, we have a political movement that has a single historic explanation for why your country is facing such terrible oppression, it's either Versailles or the Treaty of the Union.
"You have a particular group of people who are responsible for this; it is either the English or the Jews."
Mr Starkey, a Cambridge-educated Englishman, said the SNP and Nazis used a "twisted cross" as their symbols.
"You have a passionate belief in economic self-sufficiency: known by the Nazis as autarky and the Scots as oil," he added.
Mr Starkey also made comparisons between the kilt and lederhosen, the traditional dress in Bavaria, Germany.
"You have the propensity of your elderly and middle-aged male supporters to expose their knees," he said.
An SNP spokesman said the historian had insulted all Scots by likening the Saltire to the swastika.
"David Starkey has reduced himself to a figure of fun," he added.
"For someone whose livelihood is based on knowing things, he seems extraordinarily keen on parading his ignorance."
Ms Oswald claimed Mr Starkey had become little more than a "serial utterer of bile and bilge".
"'The independence movement in Scotland is entirely civic and peaceful – and last year's referendum was a celebration of democracy," she added.
"David Starkey – who has described Scotland as a 'feeble little country' in the past – has previously prompted outrage from the Glasgow Jewish Education Forum for similar comments, but it seems he has not yet got the message that there is no appetite for these unsavoury and absurd views."
Mr Rennie said: "David Starkey's ever more extreme remarks is making him a parody of himself.
"He is supposed to be a serious historian but the more he speaks the more he morphs into Katy Hopkins."
Following the backlash Mr Starkey said he was not sorry for making the remarks and claimed the SNP was a type of "virulently nationalist party" that had never been seen in Britain before.
In a TV interview, he said: "I'm not saying they're about to set up concentration camps, I'm not going to say we're going to see a Kristallnacht of English businesses in Edinburgh, of course we're not.
"But the resemblances are striking and are worrying.
"We've spent years fussing in Britain about completely minor fringe things like the BNP and whatever.
"They are nothing compared with the Scottish Nationalist Party, which has seized control of a whole country and is pushing this kind of radical agenda."
When reminded that the SNP won 56 of Scotland's 59 Westminster seats at the general election last month, Mr Starkey said: "Lots of people have voted for very unpleasant leaders, I shan't mention the word Hitler.
"Democracy doesn't always get it right."