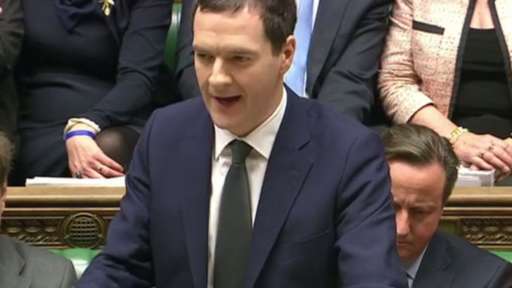 George Osborne has vowed that "economic and national security" will be at the heart of his plans for spending £4 trillion of taxpayers' money over the next five years.
The Chancellor has put boosting property ownership at the heart of the Spending Review, which is being unveiled alongside the Autumn Statement in the House of Commons.
He will pledge to "turn generation rent into generation buy" with plans for 400,000 new homes in England in the largest affordable housebuilding programme in more than 30 years.
But the Chancellor's statement will also detail some of the deepest cuts to public spending in recent memory, with police forces expected to be among the highest-profile losers.
Mr Osborne will set out how he intends to slice £20 billion from spending and £12 billion from welfare – as well as raising £5 billion in a crackdown on tax avoidance – to meet his commitment to achieve budget surplus by 2020.
He will reveal how he will soften the impact of planned cuts to tax credits, after the House of Lords threw out his proposal for £4.4 billion of reductions from April next year.
There is speculation he will phase the cuts in, or trim housing benefit to share the burden more widely.
Some experts believe he will be forced to admit he is set to breach the self-imposed cap on welfare spending – a move that would be highly embarrassing politically.
Briefing the Cabinet earlier, Mr Osborne said: "This Spending Review will deliver the economic and national security that provides the foundations for everything we want to support: opportunity for all, the aspirations of families, the strong country we want to build."
Labour leader Jeremy Corbyn called on the Chancellor to "listen" to concerns about his plans, saying he was hoping for a "U-turn on drastic cuts to police, tax credits and public services".
Writing in the Huffington Post, Liberal Democrat leader Tim Farron said that more than half of the cuts planned by Mr Osborne were "not necessary to get spending under control", but were "motivated by an ideological drive to shrink the state".
Mr Farron called for a halt to the tax credit cuts, £250 million of additional spending on mental health, investment in enterprise and new infrastructure and a proper analysis of the impact on the poorest households of any benefit and tax changes.
Mr Osborne will say that the settlement in his third spending review is about picking priorities, with the "crisis" in home ownership high on the list.
He is expected to say: "In the end, spending reviews like this come down to choices about what your priorities are. And I am clear: in this Spending Review, we choose housing. Above all, we choose homes that people can buy. For there is a crisis of home ownership in our country.
"We made a start in the last parliament and with schemes like Help to Buy, the number of first-time buyers rose by 60%.
"But frankly we need to do much more. Today we set out our bold plan to back families who aspire to buy their own home."
Measures include direct funding for developers and a change in planning rules to open up land for the creation of 200,000 new starter homes with a 20% discount for first-time buyers under 40. Some £2.3 billion has been earmarked for the properties, which will have a maximum value of £250,000 outside London and £450,000 in London.
Funding totalling £4 billion will go to housing associations, local authorities and the private sector to provide 135,000 Help to Buy shared ownership homes by 2021. The properties will be available to households earning less than £80,000 outside London and £90,000 inside the capital.
The Government will invest £200 million in 10,000 homes that will be available to rent at around 20% below the market rent to allow tenants to save for a deposit while they rent. The houses will be sold after five years, with the tenant given first refusal.
Around 8,000 specialist homes for older residents and people with disabilities will be built using £400 million of funding for housing associations and the private sector.
Police chiefs have warned about their ability to respond to a Paris-style attack if they are hit by further deep cuts to frontline policing, but the Home Office, alongside ministries such as Local Government, Justice, Energy and Culture, is expected to face budget reductions of 20%-30%.
The NHS in England has been promised an additional £3.8 billion for frontline services in 2016/17, while ministers have pledged to bring in a fairer funding formula for schools and the Government will continue to meet the United Nations target of spending 0.7% of GDP on international aid.
Higher-than-expected borrowing in October has led to predictions the Chancellor may miss his £69.5 billion deficit target for this year and be forced to downgrade the £10 billion surplus forecast for 2020.
Shadow housing minister John Healey said: "If hot air built homes, then Conservative ministers would have our housing crisis sorted.
"George Osborne's first act as Chancellor in 2010 was to slash housing investment by 60%, and his plans today could still mean 40% less to build the homes we need compared to the investment programme he inherited from Labour."