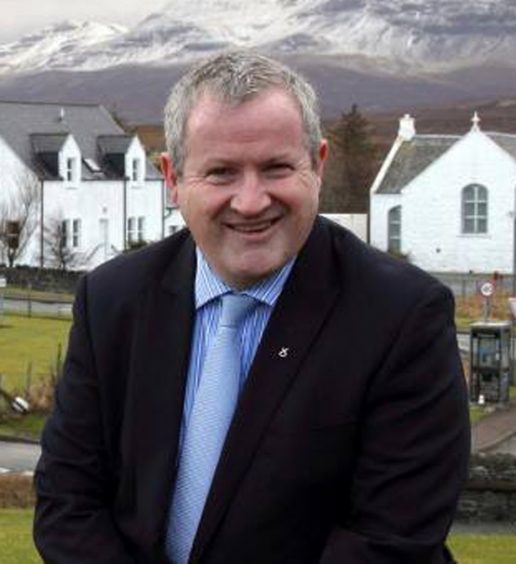 Ian Blackford has won the battle of the Highlanders to replace ousted Angus Robertson as SNP Westminster leader.
Hailed as the unity candidate, the Ross, Skye and Lochaber MP beat Drew Hendry in an election at a meeting of the group yesterday.
He also saw off Edinburgh MP Joanna Cherry in what became a three-way race after Tommy Sheppard withdrew from the contest.
Aberdeen North MP Kirsty Blackman was elected as deputy group leader.
Given that the SNP is the third biggest party in the Commons, Mr Blackford will have the opportunity to interrogate the prime minister at weekly prime minister's questions.
He said the hung parliament meant SNP MPs would have "more influence than ever before".
And he added: "SNP MPs will work hard to ensure Scotland has a seat at the Brexit negotiating table, and to protect our vital membership of the single market and customs union."
First Minister Nicola Sturgeon claimed Mr Blackford had "formidable professional and political experience".
The SNP leader added: "There can be no business-as-usual approach. The Tories must now listen to voters, reach out to all parties and devolved governments, and set a new course – ending austerity and building a cross-party, all-government approach to Brexit."
Mrs Blackman, who will support Mr Blackford, stepped down from the Commons Scottish affairs committee last year on the grounds it was becoming a "challenge" to spend more time away from Aberdeen.
But last night, she insisted she would have more control over her diary in her new role in terms of setting the times and locations of meetings.
She said: "I'm looking forward to getting our sleeves rolled up and getting stuck in."
Former Moray MP Mr Robertson, who remains SNP deputy leader, had held the top Westminster post for 10 years, but lost his seat to Conservative Douglas Ross last week in one of the most dramatic moments of election night.
His replacement, who has an extensive background in business, was first elected amid the party's 2015 landslide when he beat the late Charles Kennedy.
During his time in the Commons, Mr Blackford, a former investment banker, has served as the SNP's pensions spokesman.
He was also previously the party's treasurer, but was suspended in 2000 following a clash with Alex Salmond.
It was said to be for conduct "inimical to the interests of the party", but Mr Blackford claimed he had been forced out through "political cowardice" and considered legal action.