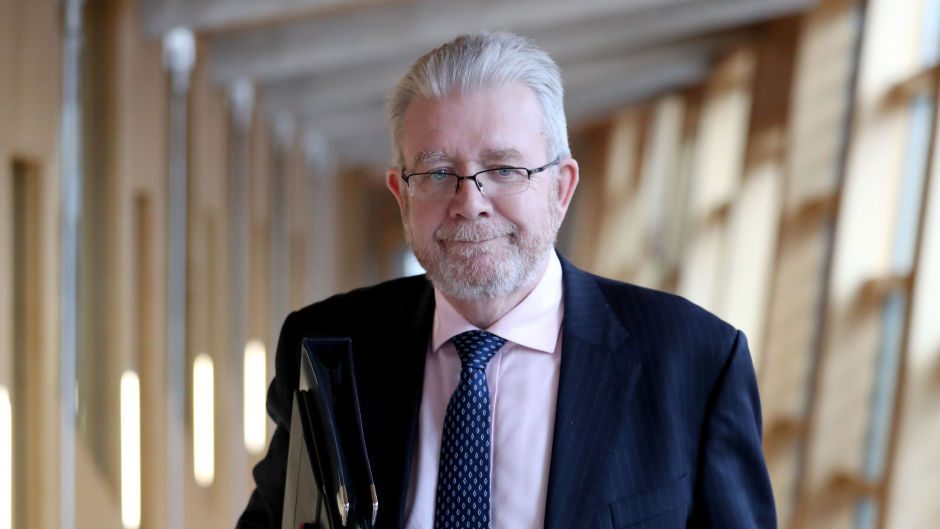 Scottish and Welsh ministers have put pressure on David Davis, telling him a no-deal Brexit would be "completely and utterly unacceptable" ahead of an eleventh-hour dinner with EU bosses in Brussels.
Brexit Secretary Mr Davis attended a morning meeting of the joint ministerial committee (JMC) between the devolved nations, alongside Theresa May's right-hand-man Damian Green, for further talks around the current impasse on whether 111 powers should be returned to Scotland directly or via Westminster after separation from the bloc.
Mr Davis and the Prime Minister later darted across the Channel for talks aimed at greasing the Brexit deadlock last night (Monday), which Downing Street insisted was planned but which had not been in the diary for the host, European Commission president Jean Claude Juncker.
Speaking after the JMC meeting in London, Scotland's Brexit minister Mike Russell said he and his Welsh counterparts had stressed how Mr Davis must not consider no-deal a viable option.
He said: "We were very, very clear to Mr Davis that, as he goes to Brussels, it would be impossible to imagine a no deal and that would be immensely damaging to Scotland, Wales and the rest of the UK.
"A no deal scenario remains something within the collective mind of the UK Government and it's important to say that would be disastrous to these islands.
"It was put to him very firmly this morning how that would be completely and utterly unacceptable."
Mr Russell added he was satisfied to have made a small step forward in agreeing "common principles" for repatriating powers post-Brexit, although the major block on whether that is direct or indirect remains.
Scottish Secretary David Mundell talked up progress and tried to quash allegations Westminster is preparing a power grab, which has already led to nearly 40 amendments to the EU withdrawal bill being tabled and is fuelling the possibility of the Scottish Parliament and Welsh Assembly refusing to give the bill legislative consent.
He said: "The position of the UK Government is we have a presumption of devolution and we want to see the maximum number of powers come to Holyrood.
"We believe the Scottish Parliament can be persuaded the EU Withdrawal Bill is the way forward and that is what I am focusing my energies on."
Mr Mundell also attempted to ease fears of a no deal Brexit, saying: "We're not planning, nor preparing, to have no deal — we want there to be a deal — but it would be wrong not to take steps to plan for that contingency."