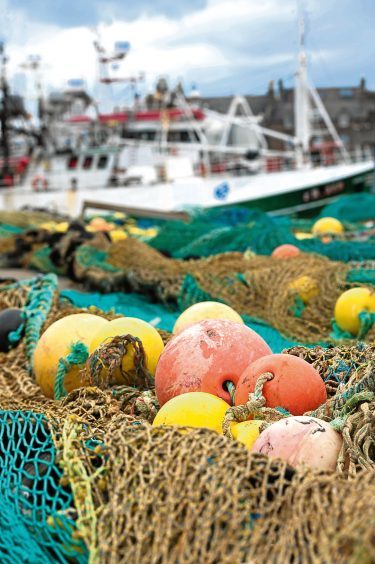 Prime Minister Theresa May has been told by her Scottish secretary that there can be no "leeway" or "compromise" on fishing powers in the final Brexit deal.
David Mundell revealed he had made it "very clear" to his Cabinet colleagues that there could be "no negotiation" on the issue.
But he stopped short of saying he would vote against a final package that does not protect the fleet – insisting he would not be "banding about threats" at the moment.
Mr Mundell and his Conservative colleagues have been under fire from opponents and fishing leaders since agreeing to extend the UK's membership of the hated Common Fisheries Policy (CFP) until the end of 2020.
The transition deal was announced last month but was branded a "betrayal" following promises from senior Tories that the country would leave next year.
Mr Mundell told the Press and Journal in Aberdeen yesterday that the "compromise" had left him "disappointed", but the Dumfriesshire, Clydesdale and Tweeddale MP insisted the sector would not become a bargaining chip in negotiations over a final settlement.
"I've been very clear with the prime minister, with (Brexit Secretary) David Davis, that the industry wanted to leave at the end of 2019," he said.
"But at the end of the day it became clear in the final part of the negotiation around the transition period that it wasn't going to be possible to say we want to keep everything the same except fishing, and that there was going to have to be some form of compromise from us in relation to that to ensure that the transition period came about.
"But that that could only be on the basis that there can be no doubt that we are leaving to Common Fisheries Policy on 1st January, 2021, and that there can be no negotiation about fishing as part of wider trade end state deal."
Asked if he would vote against his own government's Brexit deal if it did not protect the fleet, Mr Mundell said: "I'm very clear that the final deal can't have any compromise on that.
"But I'm not at the moment in the position of banding about threats about that.
"What I am in the position of is in making absolutely sure that that is the case.
"I've been very clear in the Cabinet, I've been very clear with the prime minister – there is no leeway on this issue.
"We are leaving the Common Fisheries Policy, we are becoming an independent coastal state, and we cannot have fishing issues form part of trade deals.
"Of course it is important that we consider access to markets for our fishing products, because we're not going to achieve anything if we simply lift the issues on catch, but have no market."
Last night, SNP Westminster leader Ian Blackford said: "I fear these remarks are going to be nothing more than hollow words because the Brexit secretary has already shown that he is prepared to trade the interests of the industry.
"The prime minister wasn't listening to Ruth Davidson and Michael Gove when they demanded we leave the CFP in 2019, so I'm not sure she is going to listen to David Mundell now.
"The Tories have  sold fishermen down the river ever since the entered the EU and now they have got us in the worst possible position of being in the CFP but without a say."