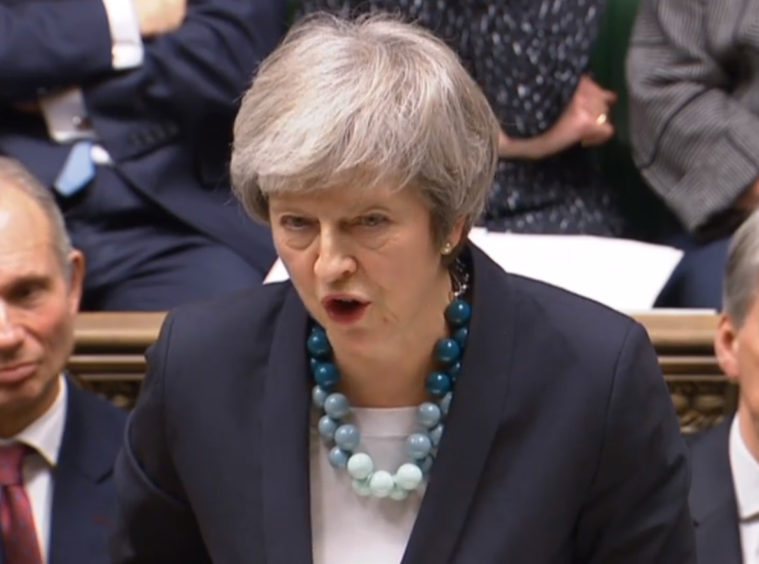 Theresa May has told MPs to "hold their nerve" as the UK enters the final stages of Brexit negotiations with the European Union.
The prime minister, in a statement to Parliament, said that talks with the EU were at a "crucial stage" and that she would need "some time" to get legally-binding changes to the controversial backstop for the Irish border.
Her remarks came in a typically stormy Commons session on Brexit in which SNP Westminster leader Ian Blackford faced the prospect of being thrown out of the chamber after shouting "liar" at the prime minister.
Mr Blackford later withdrew the remark "in courtesy" to Speaker John Bercow but only after a furious response from Tory MPs.
Prime minister has just taken eleven minutes to tell parliament she's achieved nothing in the two weeks since the last time she told us she's achieved nothing. #BrexitChaos

— Peter Grant MP (@PeterGrantMP) February 12, 2019
Mrs May ended her statement by promising to update MPs again on February 26 and, if she had not got a new deal by then, to give them a say on the next steps in non-binding votes.
She said: "We can deliver for the people and the communities that voted for change two-and-a-half years ago, and whose voices for too long have not been heard.
"We can honour the result of the referendum and we can set this country on course for the bright future that every part of this United Kingdom deserves."
Labour leader Jeremy Corbyn, responding, claimed Mrs May was "running down the clock" in order to "blackmail" MPs into voting for her deal for fear of leaving the EU without one.
He said: "This is an irresponsible act, she is playing for time and playing with people's jobs, our economic security and the future of our industry."
For the SNP, Mr Blackford accused Mrs May of living in a "parallel universe".
He said: "Here we are once again, a statement from the prime minister who's lost in a Brexit fantasy.
"We're 45 days from Scotland being dragged out of the European Union against our will; 45 days from economic catastrophe."
"Ultimately, Scotland will have a choice – an independent European nation or remaining part of an inward-looking UK.
"Scotland's voices must be respected, prime minister."