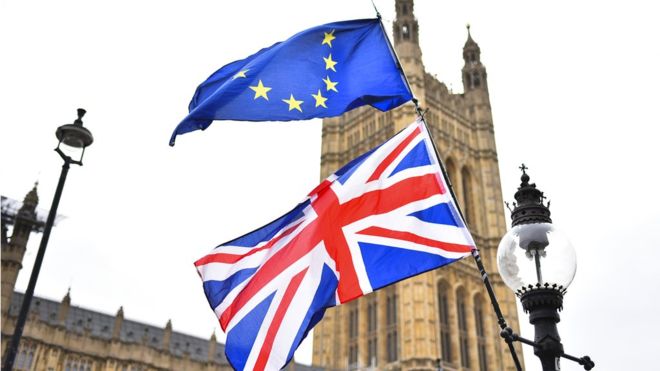 Brexit will cost Scotland the equivalent of almost 8,000 public sector jobs in health, education and policing, according to research by the SNP.
The publicly stated costs of preparing for Brexit currently stand at £4.2 billion – of which Scotland's share by population would be over £344 million.
This would be enough cash to train the equivalent of nearly 3,500 teachers, 2,400 nurses and over 1,800 police officers, the party has claimed.
CBI Scotland, meanwhile, has warned that a no-deal Brexit could result in a "multi-million-pound blow" to the Scottish economy.
And a report by Scotland's top economic adviser has warned that a no-deal could see GDP fall by 7% and place 100,000 jobs at risk — many of them in the Western Isles.
South Scotland SNP MSP Emma Harper said Brexit would be "disastrous" for Scotland.
"Instead of funding and investing in our public services with this money, the Scottish Government is being forced to mitigate for cuts, wasted funds and unprecedented damage to our economy caused by the Tories and Labour's sorry lack of opposition," she said.
"Westminster's shambolic handling of this Brexit bourach, and the unnecessary cost to Scotland, means that the case for having full control over our affairs is getting stronger by the day."
The warning came as the SNP's business spokesman Drew Hendry wrote to senior figures in each of the main political parties urging them to help prevent Scotland losing out on funding.
Mr Hendry, in a letter to Scottish Secretary David Mundell, shadow Scottish secretary Lesley Laird and the Lib Dem Scotland spokeswoman Christine Jardine, called on the parties to work together to ensure the government delivers like-for-like funding to replace EU development funds.
The Press and Journal reported earlier this month that northern Scotland would have benefited from more than £320 million in European Union funding over the next eight years had the UK not voted Leave.
Mr Hendry said: "Scotland has enjoyed huge investment in jobs, communities and infrastructure from European funds.
"It is vital that this investment continues like-for-like, and that the Scottish Government continues to oversee the funding so it meets Scotland's needs."