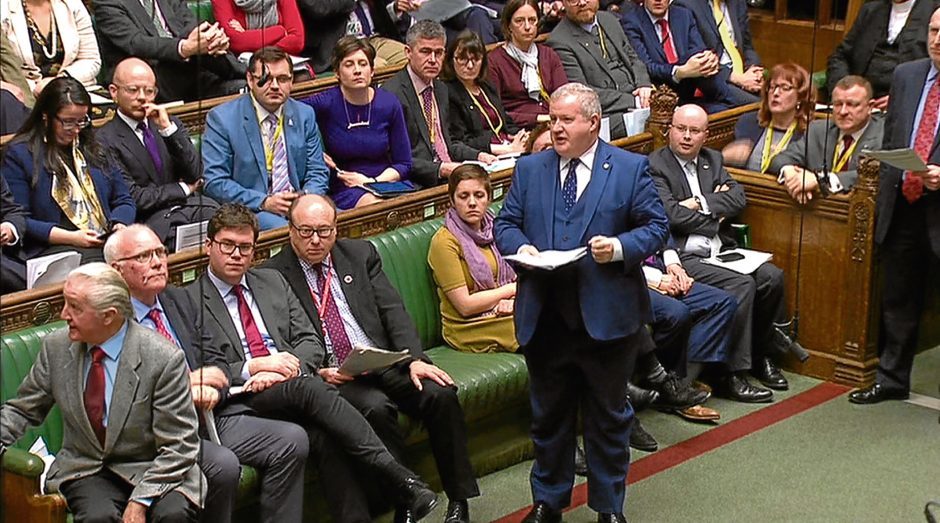 Ian Blackford has warned Scottish MPs that they will "not be forgiven" if they do not back moves to rule out a no-deal Brexit.
The SNP Westminster leader, speaking at prime minister's questions, said a no-deal could cost 100,000 jobs in Scotland and cause a recession worse than the 2008 financial crash.
A report by the Scottish Government's top economic adviser, published last week, revealed a no-deal Brexit could cause Scotland's GDP to fall by up to 7% and the UK Government's own no-deal analysis has stated that the Scottish economy would be more exposed in certain areas.
Mr Blackford said: "Parliament will not be bullied into a false choice of accepting her very bad deal or no-deal at all.
---
>> Keep up to date with the latest news with The P&J newsletter
---
"MPs from Scotland must now decide, will they stand up for Scotland or will they stand up with the extreme Brexiteers on the Tory benches? Scottish MPs can back the SNP or betray voters in Scotland."
Mr Blackford also told the Press and Journal that if MPs voted for an extension to Article 50 next month it would "create the opportunities" to allow for "a people's vote, which is a way out of this".
He said: "I believe a people's vote is a good way to move forward out of the situation we are in, we have got to create the circumstances of delivering a majority in the House of Commons and I believe it is possible that we can do that."
Theresa May responded to his calls for a second referendum in the commons by saying it would not "solve the problem".
She added: "He talks about betraying voters in Scotland, I'll tell him what's betrayed voters in Scotland, an SNP Scottish Government that has raised income tax so people in Scotland are paying more in income tax than anywhere else in the UK.
"An SNP Scottish Government that has broken its manifesto promise and raised the cap on annual council tax increases for homeowners and an SNP Scottish Government that means people are facing the prospect of an extra tax for parking their car at their workplace, all of that in a year when the Scottish Government's block grant from Westminster went up.
"The real people betraying the people of Scotland are the SNP Scottish Government.