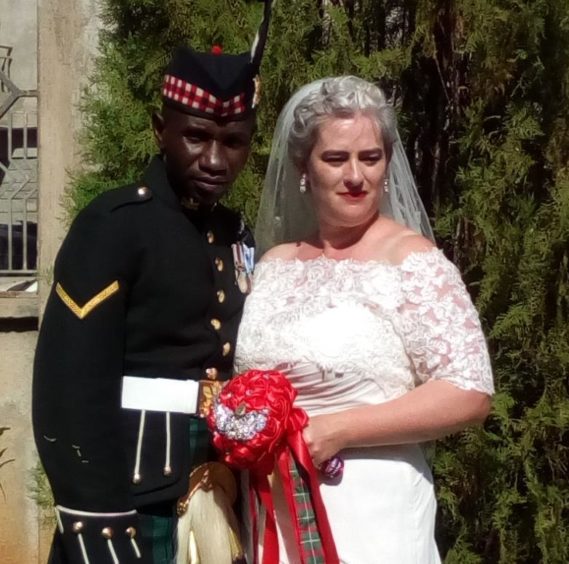 An Inverness family has begged the Home Office to "let our girl come home" after officials refused to grant their daughter a visa and "dragged their heels" over requests to review the decision.
Fort George soldier Denis Omondi has been desperately trying to secure the right paperwork for his 14-year-old girl Ann to move to Scotland from Kenya but has so far "hit a brick wall".
Lieutenant Corporal Omondi, who has been visiting Ann since 2012 when he first became aware that she was his child, was told last year that she would not be granted a visa as he had "not spent enough time with her".
---
>> Keep up to date with the latest news with The P&J newsletter
---
Inverness MP Drew Hendry, who has raised the case with the prime minister, home secretary and Scottish secretary, will again be raising the case in the Commons today.
He said: "The home secretary's office have apologised to me for the delay in the case but it's not good enough.
"Tuesday's adjournment debate will be a chance to raise Denis' case directly with the government and keep the pressure on them to take action and do the right thing.
Home Office blasted for suggesting Inverness family and MP are 'lying' over immigration case
"This is a straightforward case and should not be taking as long as it has, I will keep working to raise Denis' case and bring Ann home."
Lt Cpl Omondi is a British citizen who is originally from Kenya and has done tours of Afghanistan, Iraq and Cyprus during his eight years with the Black Watch.
Lt Cpl Omondi's wife Shelagh, 43, who works at the Highlanders' Museum, said it's been a "constant stress" for the family.
She said: "Ann is young and she is desperate to come over here, we just don't want to to disappoint her. We keep telling her that we are just sorting out the last bit of paperwork.
"There's no logical reason they could have for refusing her application, but then logic doesn't seem to come into these decisions.
"It seems to be a tick box exercise but no one knows what the tick boxes are.
"We understand there needs to be controlled immigration but we just wish they would make their decisions and reasons clearer."
Ann is currently at a boarding school in Kenya and stays with Lt Cpl Omondi's family during school holidays.
She added: "Denis' family do a great job, but they have their own lives too she needs to be here. We have a room ready for her, a bed and we even have Christmas presents ready as we thought she would have been here then.
"If I could say anything to the people making these decisions it would be let our girl come home."
The Home Office have said that they are in contact with the family about the case.