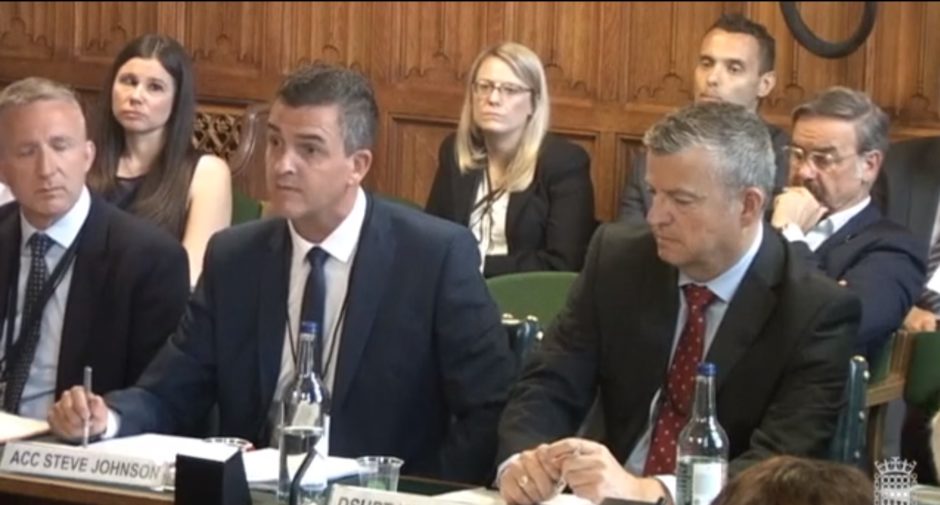 Punitive drug laws are pushing people towards criminality and harm, one of Scotland's most senior police officers has claimed.
Police Scotland's Assistant Chief Constable Steve Johnson likened the current system for handling drug users to a "hamster wheel" and questioned whether prosecution was delivering "good social justice".
Mr Johnson, appearing before the Scottish Affairs Committee, also revealed that drug related deaths in Scotland had almost doubled in three years, from 539 in 2015 to 1,067 in 2018.
He said: "It's just a matter of time, they come through the custody door, they get processed through the criminal justice system, go in through the sheriffs' courts, they go into prison.
"Of those people who come out, 11% die within the first month of having been released according to the statistics, but police officers get used to this carousel, this sense of hopelessness."
Mr Johnson welcomed the fact policing had been devolved and said under Home Office governance "valueless" statistics around arrests and prosecutions had been prioritised.
Pressed on the Home Office's approach to drug policy, Mr Johnson said it "feels very punitive" and said there was a "clear tension" between upholding the law as it stands and keeping with a police officer's first duty, to protect life.
He said: "The criminal justice process I think is probably deleterious, it's actually pushing people into a place where there is more harm.
"Whilst it might be statistically a criminal justice outcome, it doesn't seem to me to present a good social justice, in terms of that rehabilitation and putting people back out into society."
Professor Alex Stevens, who advises the UK Government on drug policy, told the committee that the Home Office's strategy of "social control and repression" around drug use was "crumbling".
Jim Duffy, a retired Strathclyde Police officer who now works for Law Enforcement Action Partnership UK, told the committee that the war on drugs was "completely lost and unwinnable".
He said: "We need a radical rethink and we need a change.
"We need to take it away from criminals, we need to take it away from the organised crime groups, we need to legalise and legislate, and control."