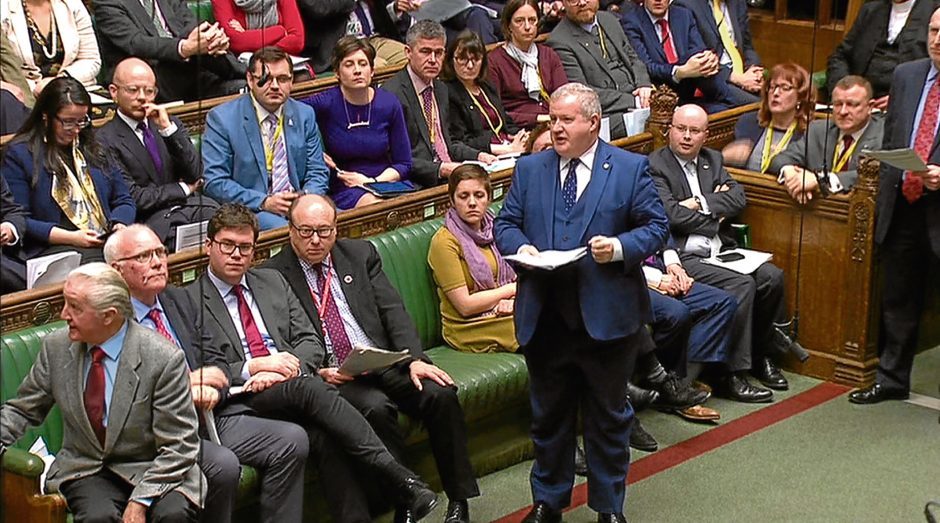 Theresa May's Conservatives have turned to the nationalist politics of Donald Trump, Ian Blackford claimed yesterday as he blasted the prime minister's record in office.
The SNP Westminster leader likened the "go home vans" ordered to drive around diverse areas of London while Mrs May was home secretary to tweets by President Trump this week in which he told four congresswomen to "go back".
Mr Blackford, speaking at prime minister's questions, said: "This week the prime minister finally did the right thing.
"When Donald Trump told women they should go home, she called it out as unacceptable.
"Let me be clear, Donald Trump's actions are textbook racism. They are repugnant and diplomatic politeness should never stop us from saying so.
"Will the prime minister now, on reflection, also take the opportunity to call out and condemn the racism of the go home van that she created in coalition government with the Liberal Democrats."
Mrs May replied: "I said at the time that was too blunt an instrument – but there is an important issue here, which is that the public expect us to have a fair immigration system that deals with those who are here illegally and that is what we need to do."
She added: "I have strongly condemned those comments made by President Trump."
Mr Blackford hit back saying the Tories "stay silent" on too many issues.
He said: "When the prime minister implemented the hostile environment policy her party stayed silent.
"When she delivered the racist go home vans the Tories remained silent.
"While the Tory Party shares more with the extremes of Donald Trump and Nigel Farage, is it any wonder Mr Speaker that Scotland looks on in horror?"
Mrs May replied: "The Conservative Party is a party for the whole of the UK and the only party in this House which is appealing to blatant nationalism is the party that wants to take Scotland out of the UK."
Aberdeen North MP Kirsty Blackman told Mrs May her legacy in office was one "to be ashamed of" and pointed to a BuzzFeed news article which revealed the UK Government had approved only 16 out of 326 applications made by children officially recognised as modern slavery victims who had requested discretionary leave to remain — an immigration status that can give people a temporary right to stay in the UK if they have suffered extreme hardship.
Ms Blackman said: "This cruel and callous hostile environment is the prime minister's legacy. Will she apologise or hang her head in shame?"
Mrs May said the government was "constantly looking at how to improve its response to modern slavery".