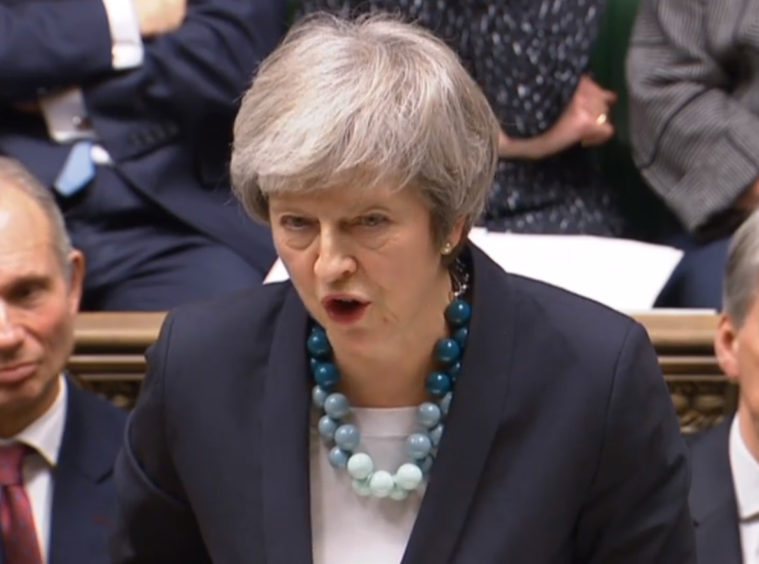 Theresa May has warned that the country is being pushed "down the wrong path" by "populist movements" intent on seeing the world through a prism of "us and them".
The prime minister, in a farewell speech, said she had "serious concerns" about the "coarsening" of politics on the domestic and international stage.
Mrs May did not name any particular group or politician, but the comments have been seen as a swipe at US President Donald Trump – who was accused of racism this week – and her likely successor Boris Johnson, who himself has been accused of using inappropriate language.
In a wide-ranging speech in central London, Mrs May urged politicians to find "common ground" over Brexit and other urgent international challenges, such as climate change, saying compromise should not be seen as a dirty word.
She said: "Today an inability to combine principles with pragmatism and make a compromise when required seems to have driven our whole political discourse down the wrong path.
"It has led to what is in effect a form of "absolutism" – one which believes that if you simply assert your view loud enough and long enough you will get your way in the end.
"Or that mobilising your own faction is more important than bringing others with you.
"This is coarsening our public debate."
Mrs May added: "This absolutism is not confined to British politics. It festers in politics all across the world.
"We see it in the rise of political parties on the far left and far right in Europe and beyond.
"And we see it in the increasingly adversarial nature of international relations, which some view as a zero sum game where one country can only gain if others lose and where power, unconstrained by rules, is the only currency of value.
"Populist movements have embraced the politics of division, identifying the enemies to blame for our problems and offering apparently easy answers."
On Brexit, she said that while the result of the 2016 referendum must be honoured, the process had been poisoned by a "winner takes all approach to leaving or remaining".
"Whatever path we take must be sustainable for the long term and that must mean some kind of compromise," she said.
Mrs May will stand down as Tory leader and prime minister next week.
She was forced to quit after failing, three times, to persuade MPs to back her Brexit deal with the EU.