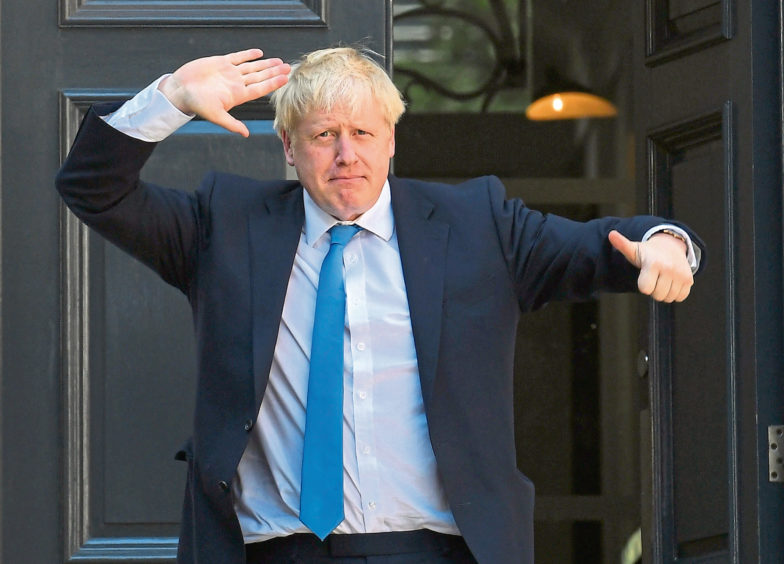 Boris Johnson is on course for a landslide victory after exit polling suggested the Conservatives could win their biggest majority since the Thatcher-era.
The main broadcasters' joint projection, published as the polls closed, indicated the Conservatives were on course to win 368 seats, 50 more than in 2017 and well clear of the 326 needed for outright victory.
According to the data, Labour was on track for its worst result in the modern era, securing 191 constituencies, down 71 on the party's showing two years ago.
Meanwhile, the poll suggested the SNP was on course to win 55 seats – just one short of their best ever showing in 2015.
For Liberal Democrats it was also shaping up to be a disappointing night, as the party was on course to take 13 seats.
If the numbers prove correct, it will have been a disaster for Jeremy Corbyn and the so-called "Remain alliance" whose reason for agreeing to hold the snap election was to put a block on Mr Johnson's Brexit plan.
The exit poll came after a the final week of what has largely been a tame campaign – with few gaffes and many stage-managed visits.
On Monday, Mr Johnson came under fire for his alleged lack of empathy when he pocketed a journalist's phone when asked to view a photograph of a four-year-old boy who was forced to sleep on a hospital floor.
The following day, however, Labour's campaign was rocked when a member of the shadow cabinet was revealed to have poured scorn on Mr Corbyn's election chances in a leaked recording.
A terror attack on London Bridge – which echoed a similar incident in the middle of the 2017 election – briefly disrupted the campaign, but quickly turned political as the Tories and Labour exchanged blows over how to deal with such threats.
The third General Election in less than five years has been largely dominated by the 2016 vote to leave the European Union – with Labour pledging to give voters another say in a second referendum, while the Tories have vowed to take the UK out of the EU next month.
The exit poll also followed a hectic final 24 hours of canvassing, in which the party leaders crisscrossed the country as the finish line approached.
Having given their all, the only thing that remained to do yesterday was to cast their votes and encourage their supporters to do the same.
First Minister Nicola Sturgeon was joined by her partner Peter Murrell in voting at Broomhouse Community Hall in Uddingston, South Lanarkshire.
Scottish Labour leader Richard Leonard voted at the Ralston Community Centre in Paisley, Renfrewshire, whole Scottish Greens co-leaders Patrick Harvie and Lorna Slater voted at polling stations in Glasgow and Edinburgh respectively.
Scottish Conservative leader Jackson Carlaw meanwhile faced accusations of voter fraud after posting a picture of himself online at a polling station in Clarkston Hall, East Renreshire having last month posted a picture of himself sending a postal vote. He later clarified that he was at the polling station as a proxy for two constituents.
South of the border, Mr Johnson was at Central Methodist Hall in Westminster at around 8.15am to cast his vote, bringing dog Dilyn along with him.
Mr Corbyn was greeted by a small number of supporters as he arrived to cast his vote in Islington – and a protester dressed as Sesame Street character Elmo.
Lib Dem leader Jo Swinson and her partner Duncan Hames were also out early to vote at a school in Glasgow.