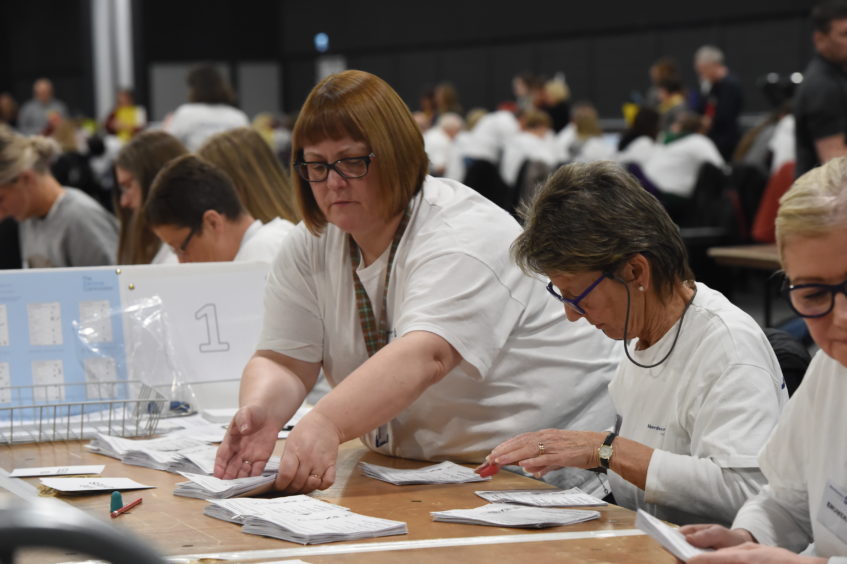 The Conservative candidate hoping to retain his West Aberdeenshire and Kincardine seat has said he's taking an exit poll showing an SNP surge across Scotland with "a huge pinch of salt".
Exit polls predict the nationalists will gain 20 seats in Scotland, while the Conservatives will secure a huge majority at Westminster.
Andrew Bowie, the Tory candidate who took the seat for his party from the SNP in 2017, said he expected a lot of seats in the north-east would be very tightly run affairs.
He told The Press And Journal: "This exit poll is like any other – it has to be taken with a huge pinch of salt."
"If you look at where the Scottish Conservatives took their seats in 2017, nearly all of them were incredibly marginal.
"So it's all in the margin of error. We might actually have a great night tonight, or we might not have such a good one.
"It's very early in proceedings and the only numbers that matter are the ones we find out at the end of the day that are being poured out on to the tables right now."
The West Aberdeenshire and Kincardine candidate said he had felt the Conservative vote had got out to polling stations today and had "a good feeling" in the feedback he had been given.
He added: "It's only a poll and I won't be drawn into supposition about what the exit poll means.
"I hope, at least in Scotland, we will prove this exit poll wrong."
SNP sources at the count at P&J Live in Aberdeen played down expectations as the results of the exit poll was announced.
One told The P&J that West Aberdeenshire and Kincardine candidate Fergus Mutch had run a "really good campaign" in what was expected by many to be a safe Tory seat.