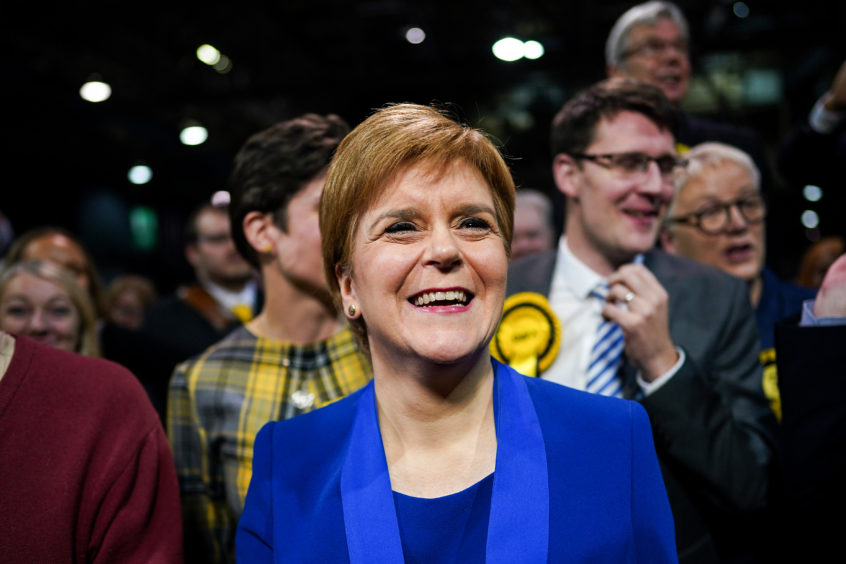 Nicola Sturgeon declared that Boris Johnson has "no right" to stand in the way of a second independence referendum as she hailed an "exceptionally good" election for the SNP.
The jubilant SNP leader said she would make a formal demand for another independence poll shortly as she celebrated a remarkable General Election which resulted in a convincing SNP victory in Scotland.
The Nationalists' surge resulted in Ms Sturgeon's party taking back many of the seats they lost two years ago on a difficult night for the Scottish Conservatives, Scottish Labour and the Lib Dems.
The Lib Dems lost their UK leader Jo Swinson, who was defeated by the SNP's Amy Callaghan in East Dunbartonshire by 149 votes.
A succession of successful SNP candidates claimed their victory was an endorsement of the SNP's plan for a second independence vote next  year.
But with the re-elected prime minister Boris Johnson holding firm against SNP calls for a poll, Scotland is bracing itself for yet another bitter battle over whether or not a vote will be held.
Ms Sturgeon said her referendum proposal had been endorsed by the Scottish people, adding it "remains my intention" to demand a Section 30 Order, required to transfer powers over referendums from Westminster to Holyrood, before Christmas.
When it was pointed out that Mr Johnson had the power to block a second vote, the first minister replied: "He has no right to stand in the way of that choice. This is about respecting mandates and respecting choice. Scotland cannot be kept in a Westminster system against its will."
The first signs of the SNP's triumph came when Margaret Ferrier regained the Rutherglen and Hamilton West seat she lost to Labour's Ged Killen two years ago.
The next constituency to fall to the Nationalists was Angus, where the Tory Kirstene Hair was defeated by Dave Doogan. That pattern continued as the SNP took seats from the pro-Union parties.
In East Lothian, Kenny MacAskill, the former SNP Justice Secretary who freed Lockerbie bomber Abdelbaset al Megrahi, returned to front line politics, beating Labour.
In the north-east, the SNP's Stephen Flynn took Aberdeen South from the Tories, while in Gordon Richard Thomson, Aberdeenshire Council's SNP group leader, narrowly defeated Tory Colin Clark – who famously ousted Alex Salmond in 2017.
But there was some good news for the Scottish Tories when Douglas Ross successfully defended Moray, David Duguid held Banff and Buchan and Andrew Bowie won West Aberdeenshire and Kincardine.
Other Tories to hold on were Alistair Jack in Dumfries and Galloway, David Mundell in Dumfriesshire and John Lamont in Berwickshire.
Neale Hanvey, an SNP candidate who was suspended over allegations he had made anti-Semitic posts on social media, managed to defeat Labour's shadow Scottish secretary Lesley Laird in Kirkcaldy and Cowdenbeath.
Ms Swinson blamed a "wave of nationalism" for her defeat, which was greeted with delight by Ms Sturgeon who was filmed by Sky News shaking her fists with joy.
A rare bit of bad news for the SNP came in North East Fife, where Stephen Gethins failed to hang on to his tiny majority of two and was beaten by Wendy Chamberlain of the Lib Dems.
The Lib Dems also held on to Edinburgh West.
Ian Murray, who retained Edinburgh South seat for Labour, blamed leader Jeremy Corbyn for the party's poor showing.
He tweeted: "Every door I knocked on, and my team and I spoke to 11,000 people, mentioned Corbyn. Not Brexit but Corbyn. I've been saying this for years. The outcome is that we've let the country down and we must change course and fast."
Scottish Labour leader Richard Leonard  described results for his party as "deeply disappointing".