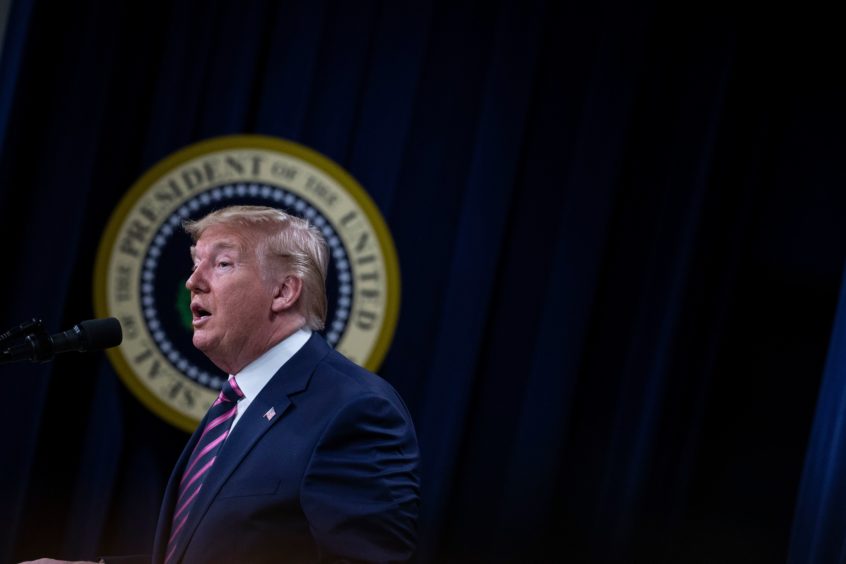 Boris Johnson has urged Donald Trump not to bomb cultural sites in Iran as the fallout from the US assassination of Ayatollah Ali Khamenei's most senior general continued.
The plea came after President Trump threatened to hit 52 "high-value" cultural sites in Iran as tensions escalated following the death of general Qasem Soleimani in a US drone strike in Iraq on Friday.
The prime minister's official spokesman pointed to the fact that cultural sites are protected under the terms of both the Hague Convention and Geneva Convention.
Asked whether Britain supports targeting cultural sites, the spokesman said: "There are international conventions in place to prevent the destruction of cultural heritage."
Mr Johnson also spoke to Iraqi prime minister Abdul-Mahdi yesterday to urge calm.
Iraqi MPs responded to the strike by passing a parliamentary resolution which called for an end to any foreign military presence in their country.
About 400 British troops are stationed in Iraq, while the US has 5,200.
Downing Street yesterday urged the Iraqi government to allow foreign troops to remain in the country to fight against the continued threat posed by IS.
The prime minister's spokesman said: "We urge the Iraqi government to ensure the coalition is able to continue our vital work countering this shared threat."
He added: "The prime minister spoke to prime minster Abdul Mehdi of Iraq this morning.
"The leaders discussed the need to deescalate tensions in the region following the death of Qasem Soleimani and agreed to work together to find a diplomatic way forward.
"The prime minister underlined the UK's unwavering commitment to Iraq's stability and sovereignty and emphasised the importance of the continued fight against the shared threat from Daesh."
Iran has so far responded by vowing revenge and announcing it will no longer abide by the restrictions in its 2015 nuclear deal.
The deal limited Iranian nuclear capacities in exchange for the lifting of economic sanctions.
Following the regime's proclamation, President Trump tweeted late on Sunday night: "Should Iran strike any US person or target, the United States will quickly and fully strike back and perhaps in a disproportionate manner."
Meanwhile, retired army officer Sir Simon Vincent Mayall warned yesterday that British troops serving in the Middle East could "possibly" be killed in retaliatory attacks.
The lieutenant general told BBC Radio 4's Today programme the US and UK were "joined at the hip" in Iraq and casualties could be shared if Iran strikes back.
The Ministry of Defence adviser said: "I don't think the British are any more vulnerable than the Americans in this case.
"But the Iranians are quite right. Because we're so closely joined in this, any attack on American assets will inevitably, possibly, lead to to British casualties as well."
Sir Simon said he expected British diplomats would be talking to their American counterparts on an "hourly basis" to discuss attempts to deescalate tensions.
In a swipe at President Trump's approach to the crisis, he said: "I think they will be encouraging officials to remind the President all the time that the best way to go forward is with allies and friends and to try and stop this escalatory talk over the Twittersphere."