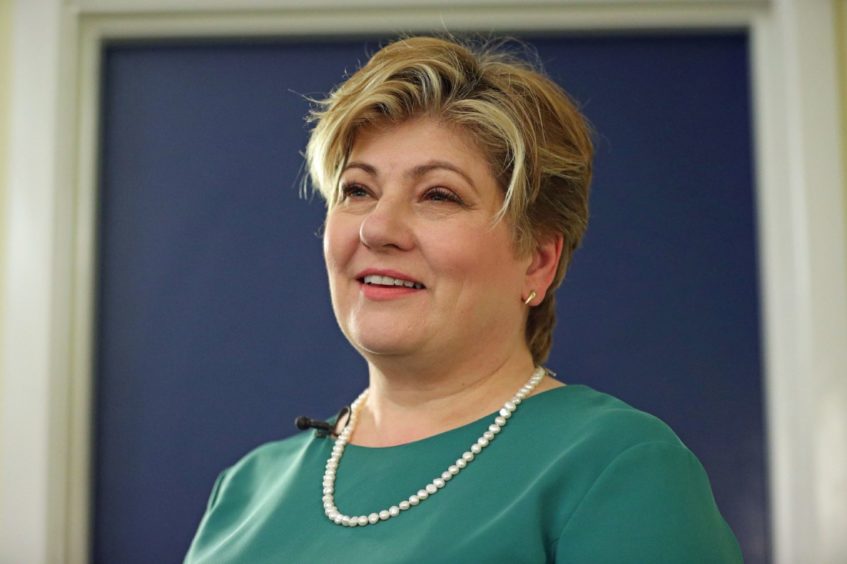 A Labour leadership candidate who apologised for saying she "hates the SNP" said she was left "frustrated" by how the party was failing Scottish people.
In this exclusive interview, shadow foreign secretary Emily Thornberry explained her comments as a frustration of being accused of talking Scotland "down" when trying to hold the party to account.
Ms Thornberry served at least three shadow cabinet positions during the "rebellion" against Jeremy Corbyn, and claims to know the game when it comes to intense scrutiny of Labour politicians from the country's media.
On Thursday, the shadow foreign secretary took to parliament during an urgent question to the government to apologise for comments she made about the SNP during a hustings event, including how she "hated" the party.
Emily Thornberry: "I hate the SNP. I hate the SNP. I think they're Tories wrapped up in nationalist clothing. I think they pretend to be on the Left."pic.twitter.com/5GfYxJGlTv

— Paul Hutcheon (@paulhutcheon) January 26, 2020
Ms Thornberry's apology was accepted by SNP politicians including senior Perth and North Perthshire MP Pete Wishart and Joanna Cherry QC.
During a brief visit to Dundee, Ms Thornberry said Labour politicians face more scrutiny than the Conservative government in Westminster and the SNP in Holyrood.
The potential party leader, who hopes to be the first woman MP to hold the position, said she would "chuck out" all the anti-semites who had joined the party, but stopped short of distancing herself from former leader Jeremy Corbyn.
She said the party was struggling in once-fortified Labour seats like Dundee East – where Labour came third behind the Tories – because the SNP "wrap" themselves in the "constitutional issue", which Labour has stumbled with in recent campaigns.
---
Q&A with Emily Thornberry in Dundee
Labour across Scotland dropped votes at the December election. How are you going to convince local members and people who might want to stand in future you are the right candidate for leader?
Emily Thornberry: "Labour is a party of devolution and part of that is we devolve authority to the Scottish party as well.
"I am not one of those English politicians who pontificates what the future is for the relationship is between England and Scotland.
"It is my job to listen and learn and that's what I do.
"Keeping close to Scottish Labour and listening to their views and understanding is something which I think is important.
"Now is a really challenging time for Scotland and what Scotland is going to be and Labour needs to think very carefully about what we think the next step ought to be, especially as the Scottish nationalists are saying there should be another referendum in 2020.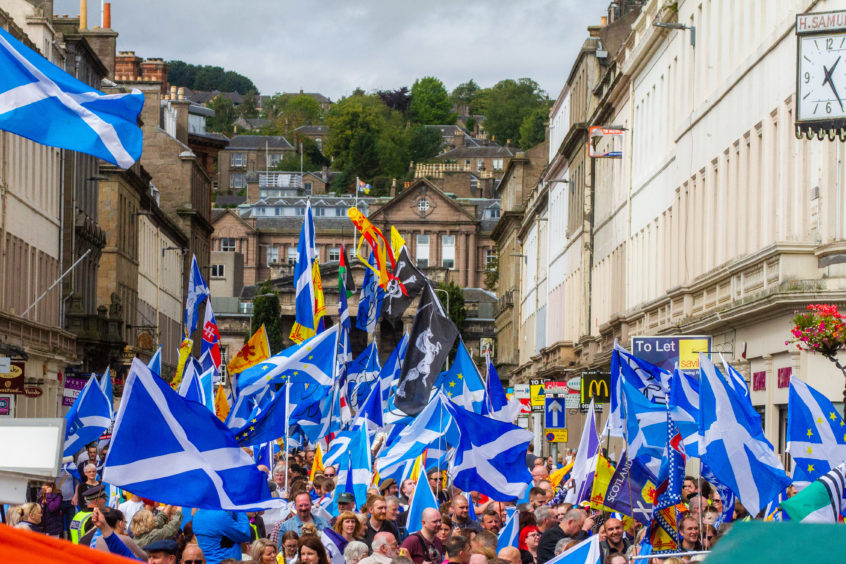 "What I am picking up from people is while Scottish Labour is absolutely behind the idea if the Scottish people want to change the way they are governed they must be allowed to do that. But having spoken to people nothing has fundamentally changed in the attitude to whether they should be independent or not.
"There are large demonstrations and a great deal of debate and although a great deal has changed since the referendum – which was supposed to be a once in a lifetime referendum – and nobody can pretend that a lot has not changed, the move in terms of public opinion that it should be independence has not particularly changed."
So you don't think the material change of leaving the EU has been met?
ET: "Listen, there have been major changes and what we need to do is work through what that then means.
"What does leaving the EU mean for Scotland and its relationship with the rest of the UK?  … People are very uncertain about the future and very concerned about what it means for Scotland to leave the EU and where that means we are going to go and we don't know what our continuing relationship is going to be.
"Boris Johnson wrapped himself up in a lie and said he would get Brexit done. He is not going to get Brexit done, it is not about whether Big Ben bongs or not.
"We need to get our continuing relationship resolved, we need to know if we will have a close relationship with security and culture.
"I know that people who support the Scottish Nationalist Party (sic) or support Labour or the Liberals or the Greens all believe we need to have a close relationship with the EU but we don't know what this government is going to negotiate.
"We are really worried, frankly, that since the general election we have had a whole month and what has Boris Johnson done in terms of beginning negotiations with the EU? We have had the 50p piece and whether Big Ben is going to bong and all this is superficial nonsense. We need to sit down and get on with negotiating properly what our continuing relationship is going to be.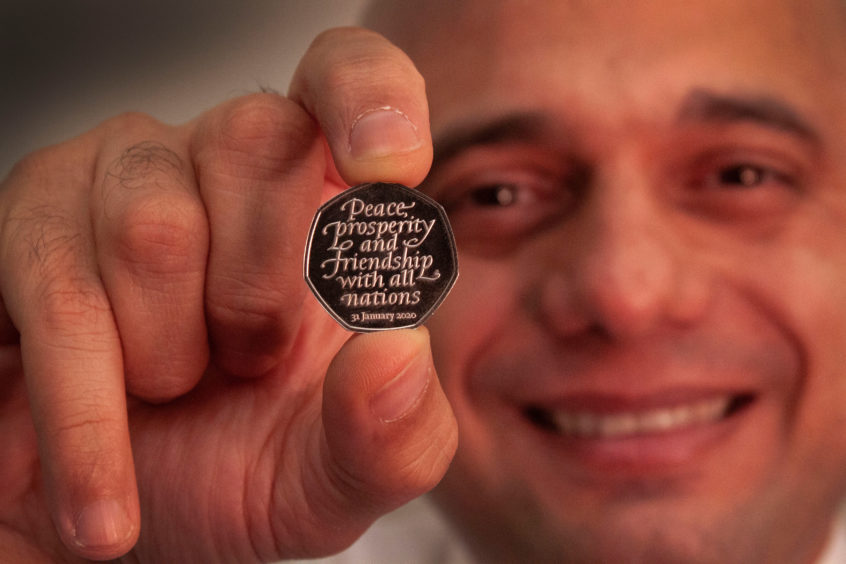 "My worry is if we get to the summer and we haven't done anything, we will get back into all the nonsense of no deal preparations again. If we end up at the end of this year and we really do leave, we stop the interim period and sail off into the mid-Atlantic with no deal."
Do you support an extension to the transition period?
ET: "First things first, get on with it. Get on with the negotiating and get on with establishing what our relationship with the EU is going to be and stop talking nonsense."
So you feel comfortable the government is going to be able to negotiate deals in the next couple of months?
ET: "Boris Johnson says he can get it done by the end of the year but I am extremely doubtful. Some people say 'oh it is easy we have been so close we will get a deal done easily' but he is playing the EU against the Americans who want us to change and move away from the EU.
"In the meantime Scotland is in shock, Labour is in shock. We have five years left of Tory government, how is this going to play out? The Scottish nationalists (sic) at this stage say let's have a referendum (but) we don't know what the referendum would be about because we don't know what the continuing relationship with Europe will be."
The SNP don't know what the referendum would be about?
ET: "In simple terms of course, but there are a whole load of questions I want to know the answers to.
"If the SNP say Scotland should become independent but be part of the EU, what does it mean? Will they go into the EU with the pound or the euro?
"And if, lets say they join the euro or their own currency does that mean there would be the funds available? These are questions which have not been answered."
Would you oppose a second referendum?
ET: "I think we need to see the result of the general election and particularly leaving the EU play out and then if the Scottish public want to have a second referendum and is it moving the way I don't think it is at the moment.
"But let's say Scottish opinion does move we have to have had a period of time in which it becomes clear what kind of relationship Scotland would have with Britain and Europe, which we cannot have the answers to right now. To me it doesn't make sense, at the moment.
"I just think these kind of hard questions I am asking are not answered at the moment.
"First of all public opinion needs to shift, which I don't think it has so far. Secondly we need to have had a period of time in which people can play things out.
Do you think the Scottish Government has a mandate to hold a referendum?
ET: "No. What I am saying is if we are going to have – if having had a once in a lifetime referendum we then decide there should be another one – then the best time to have that is when public opinion has shifted, which I don't think it has done; and secondly when these hard questions are able to be answered which with the best will in the world cannot be answered at the moment."
But you supported Jeremy Corbyn's plans for a second EU referendum, had Labour won in December?
ET: "Yes, but that is because the questions are answered. Come with me, what I am saying is you have a referendum – should we be in the EU or shouldn't we – we then have a number of years in which negotiations are supposed to be going ahead and when we get Boris Johnson's deal it will be a very long way away from what the public had in their head at the first referendum.
"What we wanted to be sure was this is what people wanted now they had seen the reality of it and have a confirmatory referendum. It is just logic. But for the Scottish nationalists to have (a referendum) this year, when there is such chaos, does not help to solve the problem. "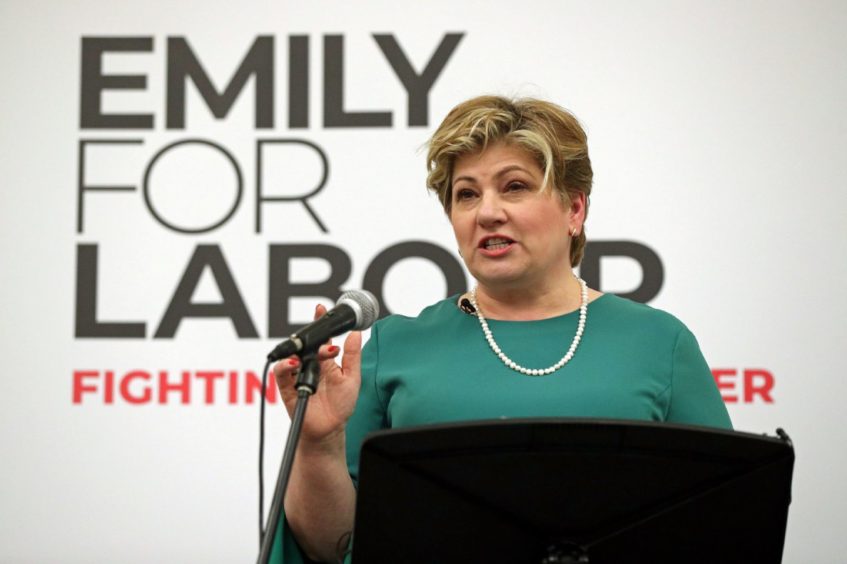 At the last election Labour came third, behind the Conservatives, in Dundee east. How worrying is it to you as a potential leader that in once strongholds like Dundee East, like in Fife, Labour are not even competing?
ET: "Of course, there is a worry. In Scotland there is always the constitutional issue and I think that part of the job of a political party is to hold the party of government to account.
"I think it is particularly difficult to hold the Scottish nationalists to account because so often…people will talk to me on the doorstep about how much we need change, which is interpreted by the nats as 'we need independence' but what people are talking about is things like ' I have been waiting too long for my cancer care. I am worried about my grandchildren's school is slipping backwards'."
But people in Dundee East are trusting the Tories more (to do that now than Labour.) That must be devastating to hear as a staunch Labour member?
ET: "What I am saying is in order to have a voice you not only need to put forward a programme but you need to also hold governments to account.
"When we try to hold the Scottish nationalists to account they seem to wrap themselves up in the cloak of 'but if only we were independent we would be fine' but so many things which I have raised are what the Scottish nationalists have being in power anyway in Holyrood.
"The question then is how do we make sure we have a proper voice north of the border?
"But always there is the constitutional issue we keep tripping over. On one hand we have Conservatives who are clear unequivocal unionists and nationalists who are unequivocal nationalists. Labour is trying to be thoughtful and think of a way through the middle and yes, we get squeezed."
I think we need to be a competent, proficient, professional party north and south of the border and art of that is having a leader who is clear and listens, who doesn't think she has all the answers but listens to people.
Holyrood 2021 would be the first big electoral test for you if you become leader. Do you fear Scottish Labour has not actually hit its rock bottom point yet and would you worry about being judged so quickly on another potential rout in the polls next May?
ET: "At the recent election we did not perform properly and part of that was the election became, effectively, a referendum dressed up as a general election.
"In England people were saying 'lets get Brexit done'. The Tories had three words while Labour had three and a half paragraphs on Brexit. Frankly it had a terrible effect north of the border, where people wanted to remain in the EU looked at Labour and said 'we don't know what Labour stands for'.
"There were mistakes made on what our approach would be but I think if we stick to our core values and what is in our hearts and we say what we mean and we mean what we say I think people will come back to Labour.
"I think we need to be a competent, proficient, professional party north and south of the border and art of that is having a leader who is clear and listens, who doesn't think she has all the answers but listens to people."
How do you distance yourself from the shambles which was December?
ET: "I don't want to distance myself from who we are as a party."
Would you want to distance yourself from the previous leadership?
ET: "Well, I supported Jeremy Corbyn throughout his time. After he was elected by the membership it was my duty – and I was proud to do so – to support Jeremy and make him the best leader he could be.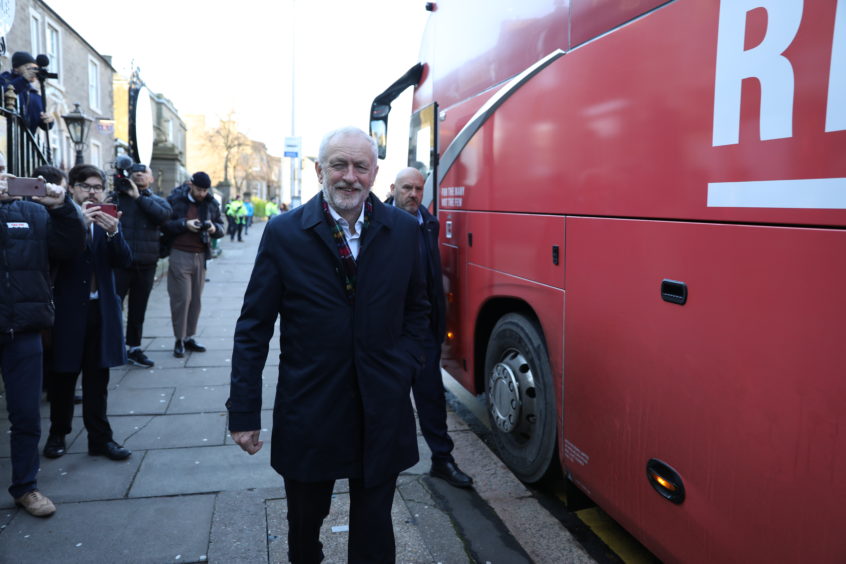 "There was some difficult times. There was a time during the rebellion I was at one point shadow foreign secretary and defence secretary, and then I was shadow foreign secretary and Brexit. I pulled my weight in getting us through the rebellion but my guiding light was the Labour Party belongs to its members, who wanted Jeremy Corbyn to be the leader and there was no question about that. It was my duty to support him completely.
"And Jeremy is now stepping down and what we need to have is a leader who is clear, forthright, strong, no problem making decisions and who will listen to people and not be afraid thinking one thing and come out thinking something else and once a decision has been made we get on with it."
How are you going to tackle the issue of anti-semitism in the party?
ET: "People felt if we couldn't deal with anti-semitism in our own party then how could we deal with transforming our industries in a green deal? It wouldn't matter how detailed our proposals were, they would look at us and say 'yeah, well you can't even deal with anti-semitism'.
"It was a test of proficiency and also something which attacked our soul and heart. We are an anti-racist party, the party of equality.
"For us to fall down, so there might be a minority in Britain who, rightly or wrongly and I think wrongly, felt they would not be safe if Labour was elected was an absolute shame. We have to deal with it.
"The new Labour leader will have a lot of political capital. People will be united behind her, she will be at the peak of her powers and at that stage you need to expend the capital in sorting out our issues with anti-semitism. We need to chuck people out. We cannot have anti-semites in our party, we just cannot have them."
You apologised for comments made about hating the SNP…
ET: "Yes."
December's election was a stark reminder things haven't healed since 2016 and there is a definite split in how people feel and act. MPs are still concerned about their safety. How will you as leader bring the country together?
ET: "Can I just say first off I shouldn't have said that. I don't hate members of the Scottish National Party or people who vote for them. I was expressing my frustration…that I feel the SNP are failing in Scotland and they are not delivering in the way they should.
"Whenever you raise these concerns the SNP start talking about independence. But also you feel if you criticise the Scottish Nationalist Party (sic) very quickly people step over and say 'you are talking Scotland down'.
A full apology from Emily Thornberry for her 'I hate the SNP' comment. Just made in the chamber. Good to see senior MPs put their hands up when they get the tone so badly wrong.

— Pete Wishart (@PeteWishart) January 30, 2020
"They are a political party and should be held to account the way any other party should be."
There are elements of the party who will say an attack on the SNP is talking Scotland down, but there are elements of the Labour Party who have adopted that too, blaming the media for certain things. Was the coverage too harsh in December? Or do you believe the media exists to scrutinise everyone?
ET: "I have many criticisms of the media, but in the end you know, we are where we are. This is the world we live in.
"An objective look at the print media on the whole would say Labour doesn't get as helpful coverage as the Conservatives. I think that must be right.
"There are a number of criticisms that can be made but it is the world we live in and we have to deal with that and make sure we don't run away from the media. If we feel we are not getting a fair crack at the whip in print we go live on TV, we don't run away.
"We make sure we have things to say. If we are seen to be running away then bad relationships will be set up.
"You have to brief the media in a way which is reliable and truthful and all these sorts of things and establish a relationship.
"They'll hit you round the head but then you get up and face them again. It is part of being a Labour politician, I am accepting we don't get a fair crack of the whip south of the border (compared to the Conservatives) and probably the Scottish nationalists north of the border, I suspect."