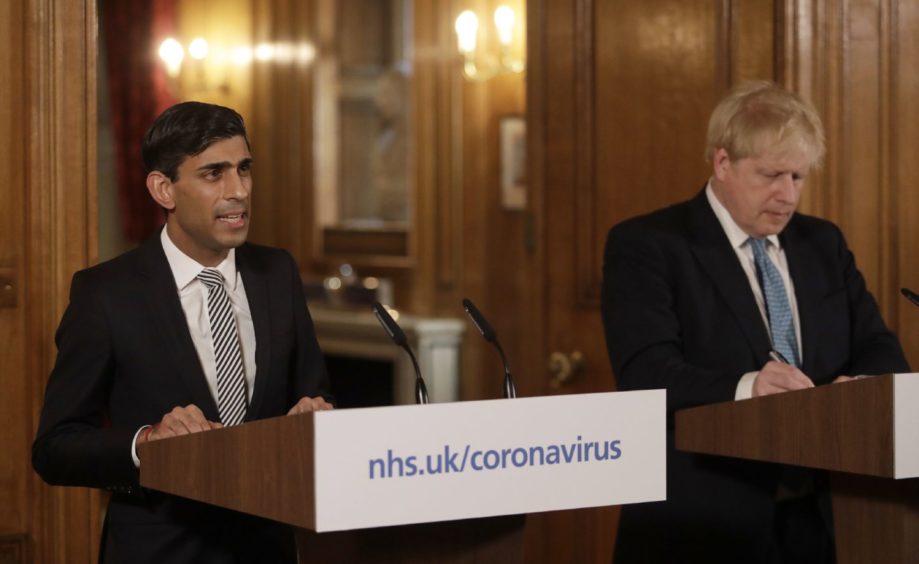 Britain is now "engaged in a war against the coronavirus", Boris Johnson said as the Treasury announced a £330 billion bailout to help struggling businesses and families.
Chancellor Rishi Sunak, appearing alongside the prime minister in Downing Street, said the country faced an "economic emergency" as he announced a package of measures the like of which haven't been seen since the the 2008 financial crash.
"Never in peacetime have we faced an economic fight like this one," Mr Sunak told reporters.
The £330bn package, which is the equivalent to 15% of GDP, will grant companies access finance, offer support to airlines, give a business rates holiday and help for small firms without insurance.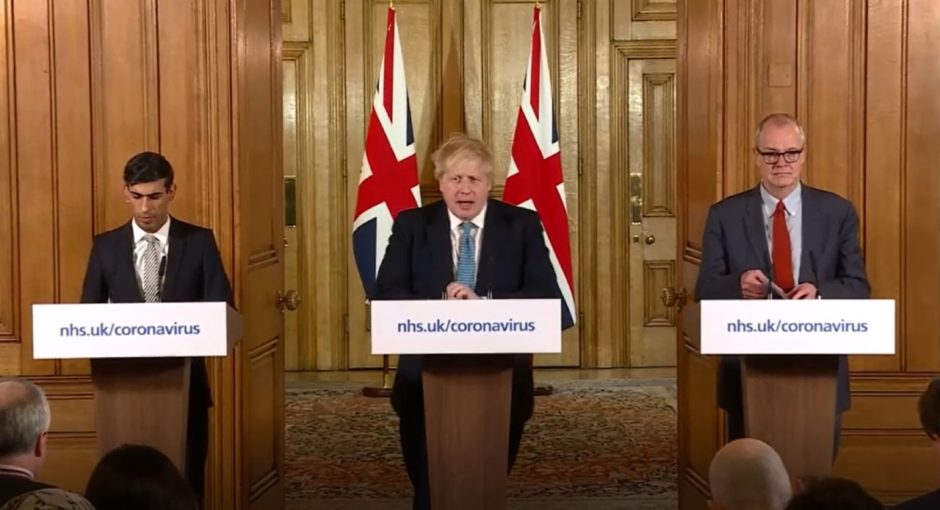 Mr Sunak said: "This is not a time for ideology and orthodoxy, this is a time to be bold, a time for courage.
"I want to reassure every British citizen this government will give you all the tools you need to get through this."
"That means any business who needs access to cash to pay their rent, their salaries, suppliers or purchase stock will be able to access a government-backed loan or credit on attractive terms and if demand is greater than the initial £330bn I'm making available today, I will go further and provide as much capacity as required.
"I said whatever it takes, and I meant it."
Mr Johnson echoed his Chancellor's words, adding: "We must act like a wartime government and do whatever it takes to support our economy.
"We support millions of businesses and tens of millions families and individuals through coming months.
"The Government must and will act with a profound sense of urgency."
The prime minister also warned that Covid-19 is so "dangerous" that without drastic action it will "overwhelm the NHS", as he warned that more "extreme measures" may be needed to protect lives in the future.
The Government's chief scientific adviser told MPs this afternoon that around 55,000 people in the UK could now have Covid-19.
"Never in peacetime have we faced an economic fight like this one."

Chancellor Rishi Sunak
Sir Patrick Vallance told MPs it is hoped the death toll can be kept to under 20,000 as he told of the huge amount of strain the health service will be under from Covid-19.
Meanwhile the Foreign and Commonwealth Office (FCO) advised British nationals to avoid all non-essential foreign travel.
The restrictions will be in place for 30 days initially but could be extended, the Foreign Secretary Dominic Raab told the House of Commons.
It is the first time the FCO has advised against foreign travel anywhere in the world.
"UK travellers abroad now face widespread international border restrictions and lockdowns in various countries. The speed and range of those measures across other countries is unprecedented," Mr Raab said in a statement.