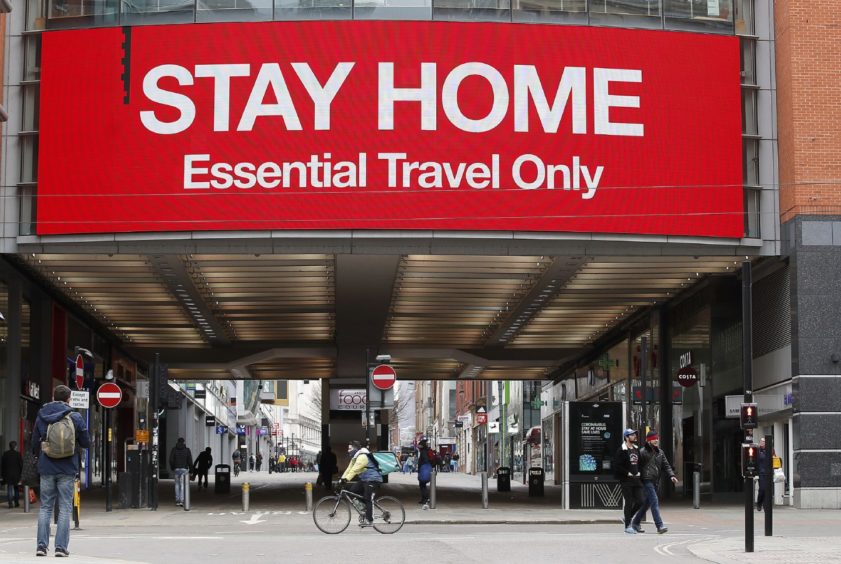 Britain's coronavirus lockdown will be reviewed by Downing Street next week, but officials have cautioned the public against thinking restrictive social distancing measures will be lifted.
The UK went into lockdown just over two weeks ago, with the promise from ministers that restrictions would be reviewed "in three weeks' time".
Foreign Secretary Dominic Raab appeared to pour cold water on the idea at last night's Downing Street press conference, however, saying "we're not at that stage yet".
Downing Street rowed back on the comment this afternoon, saying a review would, in fact, go ahead next week.
The prime minister's spokesman said: "I've always said you shouldn't necessarily assume it will be on a specific day, but around the three-week mark."
"We've always said we would make further announcements in three weeks and there's no change to that position", he added.
The lockdown and social distancing measures were introduced to "flatten the peak" of infections and hospital admissions.
Experts have warned it is still "too early" to tell whether those measures are working, hence the necessary continuation of restrictions.
Number 10 echoed that point today, the prime minister's spokesman saying: "It's too early to say, the focus now needs to be relentlessly upon stopping the transmission of this disease, while building capacity in the NHS, that is how we will save lives.
"We're at a critical time in our fight against the virus and need to stay at home, protect the NHS and save lives."
The spokesman also revealed that Boris Johnson remained "clinically stable and is responding to treatment".
Mr Johnson, 55, was admitted to St Thomas' Hospital in London with "persistent symptoms" on Sunday and moved to intensive care at 7pm Monday night after his condition deteriorated.
His spokesman said: "He continues to be cared for in the intensive care unit at St Thomas' Hospital. He is in good spirits."
We have been working rapidly to secure additional supplies, we have NHS ventilator orders in place with manufacturers around the world, including in the US."
Prime minister's spokesman
Asked if Mr Johnson was in touch with colleagues, the spokesman added: "He is not working in intensive care.
"He has the ability to contact those that he needs to, but is following the advice of his doctors at all times."
Asked about the condition of Mr Johnson's top adviser, Dominic Cummings, who is yet to return to Downing Street after developing coronavirus symptoms, the spokesman would only say that he "has been in contact" with Number 10.
Number 10 also faced questions over President Donald Trump's comments overnight, that the UK was "desperate" for ventilators.
Speaking at his daily White House briefing, Mr Trump said: "The UK called today and they wanted to know, would it be possible to get 200 and we're going to work it out, we've got to work it out.
"They wanted 200, they needed them desperately."
The prime minister's spokesman said the 200 represented orders that had already been placed, adding: "We have been working rapidly to secure additional supplies, we have NHS ventilator orders in place with manufacturers around the world, including in the US."