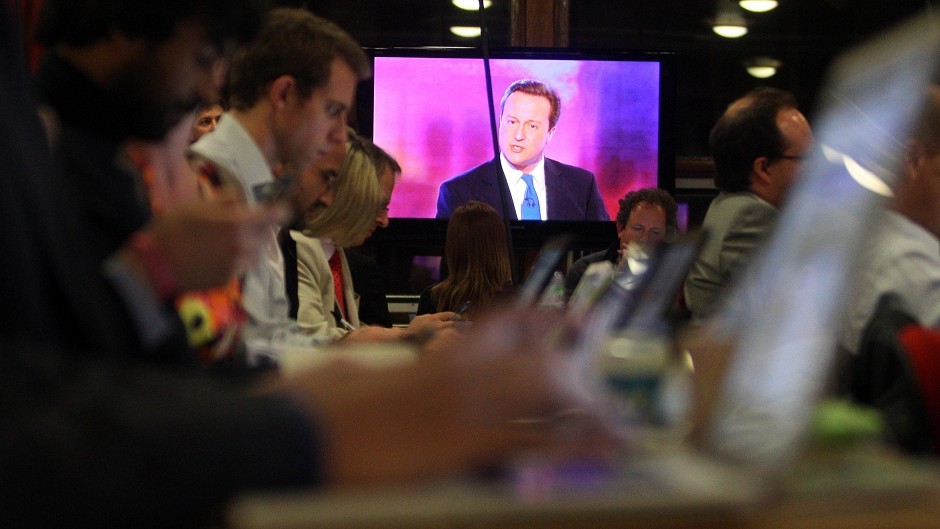 The SNP and the Greens could be included in the UK election television debates under new plans tabled by broadcasters yesterday.
The row over the format of the event took a fresh twist last night after it was proposed to allow seven parties to take part.
Prime Minister David Cameron had been branded "chicken" after insisting he would not sign up to the broadcasters original plan because it included UKIP but not the Greens.
But the television companies put a revised format on the table yesterday, including two debates featuring the Greens, UKIP, SNP and Plaid Cymru, as well as the Conservatives, Labour and the Liberal Democrats.
The third debate would remain between Mr Cameron and Labour leader Ed Miliband alone, as previously proposed.
The so-called 7-7-2 format was welcomed by the parties which were not initially included in the plans.
SNP Westminster leader Angus Robertson said: "If it is true that SNP leader Nicola Sturgeon will be included in UK-wide debates under the broadcasters' new proposals, it represents very welcome progress," he said.
"With a larger membership than the Lib Dems and UKIP combined, and more elected MPs than UKIP, the case for including the SNP in the televised debates is unanswerable."
Scottish Green MSP Alison Johnstone said: "It would appear common sense has prevailed among the UK-wide broadcasters.
"We have an incredibly engaged electorate who deserve to hear a range of views ahead of an election that will be unlike any other."
Peter Robinson, leader of Northern Ireland's Democratic Unionist Party, said he would be writing to the broadcasters to ask why his party was not included despite having more MPs than the SNP, Paid and the Greens.
Asked if the new proposals would secure Mr Cameron's participation, a Conservative source said: "Further discussions are planned and we will obviously look at any new proposals presented by broadcasters."
A Labour source said: "We said we'd let the broadcasters decide who is included and we will accept that."