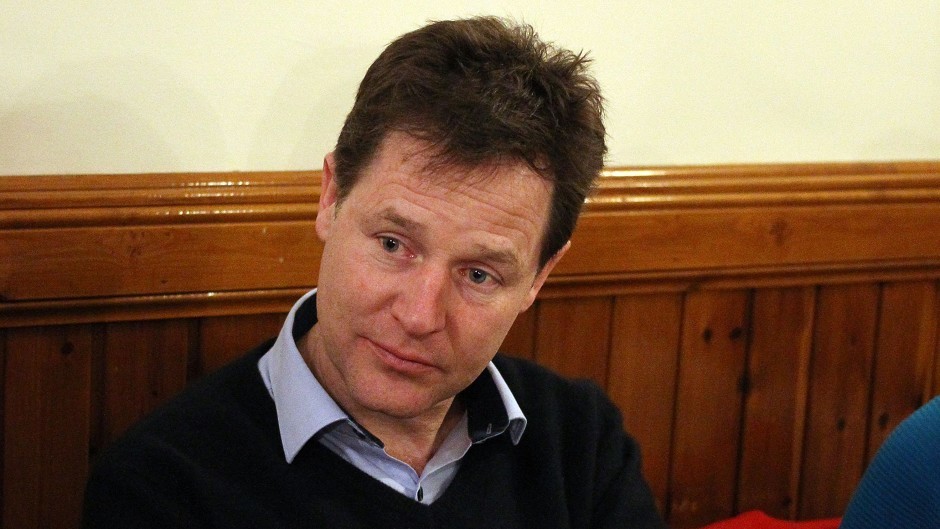 Nick Clegg has poured cold water on the prospect of a "rainbow coalition" of several parties – branding it a "messy" way to govern.
He insisted a Gordon Brown-led proposal in 2010 for a progressive alliance featuring Labour, the Liberal Democrats, SNP and other small parties would not have worked, and should also be off the table now.
The remarks by the Lib Dem leader were significant, as almost all polls predict a hung parliament next month, and many pundits suggest Labour and the Tories may need more than one partner.
Recalling the coalition talks in 2010, Mr Clegg said: "Mr Brown was sort of very adamant that he thought that one could create a sort of rainbow coalition of lots and lots of different, a sort of smorgasbord of, different parties.
"I do remember saying, I just don't think that's going to work.
"I still don't think that's going to work and that might be actually more of a relevant question after May 7.
"I think this idea that you have a government with a whole array of single issue parties all pulling this way and that, I think it's a recipe for insomnia as votes will be strung out night after night after night in the House of Commons.
"But it's also a recipe for a messy way of governing the country."
Mr Clegg said the presence of seven leaders in last night's election TV debate was an indication of the likelihood that no party would win an outright majority in 2015.
Pressed on whether he would prefer a deal with Labour or the Tories, Mr Clegg said: "I don't think that my whims or wishes or my feelings or my likes or dislikes about this or that other party leader – they are literally completely irrelevant.
"The only thing that is relevant is what are the cards that are dealt to us by millions of people doing this wonderful thing, putting a simple cross next to somebody's name in a ballot box on May 7. They will tell us what combination is possible."