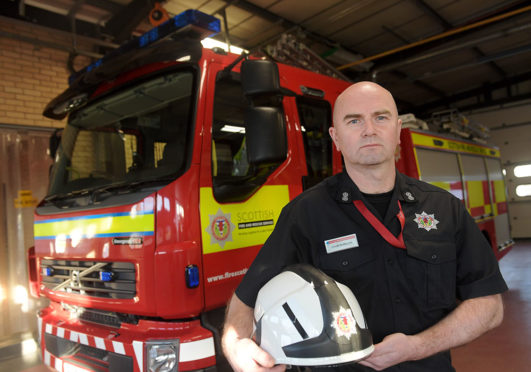 More than 200 house fires in the north of Scotland were caused by smoking in the last three years – a figure that firefighters want to see dramatically reduced.
That's why Watch Manager Colin McMillan, who works at the Fire Investigation Unit in Dyce, Aberdeenshire, is urging smokers to take their cigarettes outside.
With more than 20 years' experience in fighting fires, Colin has spent the last four months with the Scottish Fire and Rescue Service investigating the causes, and has seen the catastrophic damage and loss of lives caused by smoking.
He said: "As a fire investigator, we see the devastation after the fire, which you don't see as a firefighter. We see what's happened to a property or individuals in the property.
"The biggest surprise to me when I started as a fire investigator was how methodical and scientific you have to be during the fire investigations. It is all about problem solving.
Colin joined the fire service in 1997, as a retained firefighter before becoming full-time in 2002. For the last six years he was based at the Perth Training Centre, responsible for training new recruits, before achieving his ambition to be a fire investigator.
He said: "If there is a fatality or if the incident commander is not sure about the origin of the fire or the cause, then we attend. I am committed to this role and the challenges it brings.
"I need new challenges so that's why I applied for the fire investigation post. I felt I wanted to push myself after six years as a trainer. It is a really interesting job."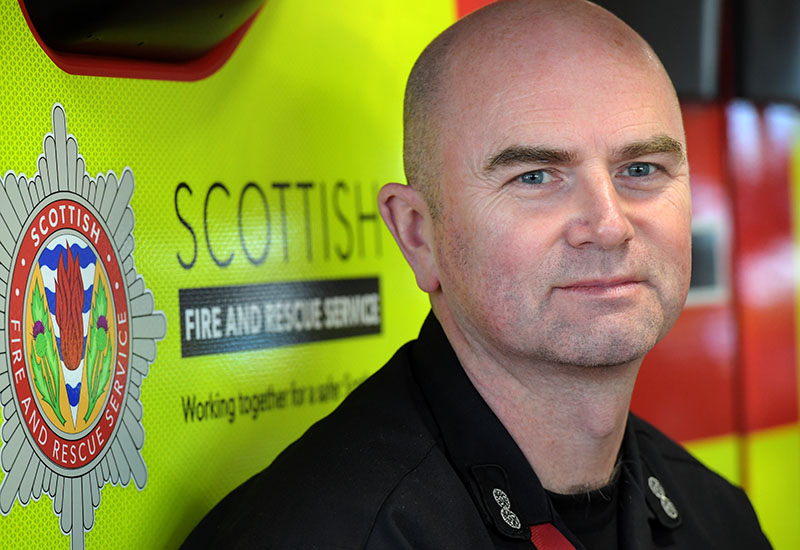 "During a fire investigation, we look at all the possible causes and rule them out one-by-one.
"As a firefighter when you enter a building on fire you go in trusting your training, your instincts and your colleagues. You are constantly looking around the room on fire, asking where is it, how has it developed, while trying to put it out with the minimum amount of water.
"The heat inside a burning building can be anything from 250 degrees Celsius when we are on our knees, to 1,000 degrees C at ceiling height. The visibility really depends on what is on fire. More often than not we work in zero visibility, you cannot see your hand in front of your face."
More than half of the fires Colin has either attended or investigated are caused by smoking, something that can be "prevented by simple measures", he added.
"With our free Home Fire Safety Visits, we will come out and give free fire safety advice. We are not trying to tell people how to live their lives, we just want to advise people what they should do.
"The worst incident I have ever attended was a fire caused by smoking. An old lady was sitting in her lounge chair smoking, and she fell asleep with the lit cigarette. She dropped it down the side of the chair, and succumbed to smoke inhalation.
"If you don't have a working alarm to warn you if a fire breaks out then breathing in the smoke can be fatal.  In many cases it is the smoke that kills people.
"Incidents like this stick in your mind. It is not just the family or friends who are affected; it's also the fire crews. Over the last five years more than half of dwelling fire fatalities in Scotland were aged 60 and over. And smoking is the number one cause."
Since the smoking ban was introduced in Scotland 12 years ago, people's smoking habits have changed in public places – something Colin wants to see extended to the home.
He added: "Everyone goes outside now, so we are asking when you smoke at home, go outside to smoke too, especially if you are tired, have been drinking alcohol or taking medication.
"We also advise that you shouldn't smoke in a chair or bed.
"By smoking outside you remove the risk of falling asleep with a lit cigarette and you remove the risk of passive smoking for other people in your home. A dropped cigarette can smoulder for hours.  Taking it outside removes that risk."
Over the past three years across Aberdeen, Aberdeenshire, Angus, Dundee, Perth & Kinross, the Highlands, Orkney and Shetland Islands, there have been 57 casualties in house fires caused by smoking.
The Aberdeenshire fire investigator hopes this number is at its peak and will decline, as he and his colleagues continue to spread the fire prevention message.
He urged: "If you have a smoke alarm, check it is working, and if it isn't, then call us for a Home Fire Safety Visit and we will fit one free of charge.
"I hope folk will take this advice and won't smoke in their home, especially if they have children or a young family. If you are aged 60 or over, or have a friend, relative or neighbour who could be at risk, don't hesitate to contact us for a Home Fire Safety Visit.
"Perhaps people feel they don't want to bother us, but we belong to the community and prevention is one of our biggest aims. We do not attend as many fires as we used to, because our prevention message seems to be working."
To register for a Home Fire Safety Visit:
Call the SFRS freephone number: 0800 0731 999
Text 'FIRE' to 80800 from your mobile phone
Visit www.firescotland.gov.uk to find the number of your local fire station, or complete an online form.
How to prevent fire in you, or someone in your home, smokes:
Don't smoke in your armchair or on the sofa if you've been drinking alcohol or you're feeling sleepy.
 If you do feel sleepy, smoke outside or standing up at a window or outside door.
Never smoke in bed.
Make sure smoke alarms and smoke detectors are installed and working – check yours weekly.
Always make sure your cigarette is put out correctly.
Pour water on cigar and cigarette ends before putting them in a bin.
Never leave a lit cigarette, cigar or pipe unattended.