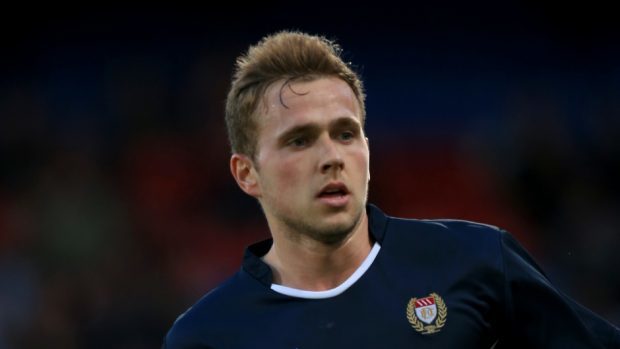 Aberdeen's new signing Greg Stewart believes Dons manager Derek McInnes was right to avoid the crazy world of the English Championship.
Birmingham City forward Stewart completed a season-long move to the Dons yesterday and the former Dundee player returns north of the border with a point to prove after his own dream move to England turned sour.
Stewart moved from Dundee to St Andrews in a £500,000 move last summer but started only six games in the English Championship.
The 27-year-old believes his own experience at Birmingham last season highlights the pressure managers in the Championship are under to win promotion to the lucrative English Premier League.
Stewart played under three managers during his season at the Blues, having been signed by Gary Rowett, who was replaced by Gianfranco Zola last December. But the Italian was sacked in April and replaced by Harry Redknapp, who helped the club avoid demotion to League One on the final day of the season.
Stewart reckons McInnes was wise to think twice about moving to Sunderland after being offered the job at the Stadium of Light a fortnight ago.
Stewart said: "We won the game the night before at home to Ipswich and were three points off third and we went into training the following morning and Gary Rowett was sacked and we were like 'What's going on here?'.
"It's a crazy world. Our manager Derek McInnes could have left a few weeks ago but he didn't want to leave and I'm delighted he's here because I'd like to work under him.
"He could have done well in England and still be out of a job. We were doing well at Birmingham and were in the play-offs when the manager was sacked.
"You could also go there for the money but he didn't feel it was the right move. I watched him last season when I was down south and Aberdeen were brilliant, so it was always a place I felt I'd like to go if it didn't work out at Birmingham.
"I didn't play as much as thought I would have at Birmingham and three managers in one season didn't help either.
"There were a lot of changes – a change of formation and we didn't play wingers. When Gianfranco Zola came in he didn't play wingers and I struggled to get in squads.
"I actually started the first three games under Zola but I got injured going into January and he signed his own players and by the time I came back he had changed to 3-5-2 and didn't play wingers.
"I struggled after that because he couldn't fit me in. He was trying to get me to play left wing back and that didn't go too well.
"You get ups and downs in football and hopefully I can learn from that and show what I've got. I've not even thought beyond this season.
"I just want to get fit, get games, get my match sharpness back and prove a point to myself because last season was so disappointing."
Stewart hopes to rediscover the form he enjoyed in his two seasons at Dundee when he was shortlisted for the PFA Scotland player of the year award in 2015 and 2016.
After being a bit-part player at Birmingham, Stewart is relishing the prospect of regular football at Pittodrie.
He said: "I want to prove a point to myself. I was frustrated not to get a run of games. It's always difficult when you go to a team doing well.
"I struggled to get in at the start but I came off the bench a few times and felt I was contributing but then I'd find myself out of the team.
"When you go to a new club it's important to score quickly and the longer you go without getting a goal you probably think about it more.
"I'm obviously disappointed I didn't score or create more chances like I know I can. I didn't have that many chances so it was frustrating.
"I kept believing in what I'm good at and working hard as that paid off when I was at Dundee and I'll keep trying to do that and see what happens.
"I kept reading that different clubs wanted me but I don't know how far they got to agreeing anything with Birmingham and Aberdeen were the only club I really got the chance to speak to.
"I don't see why we can't do as well as we did last season. Celtic were unbelievable and didn't lose a game. It will be hard to top that but I don't see why we can't improve."