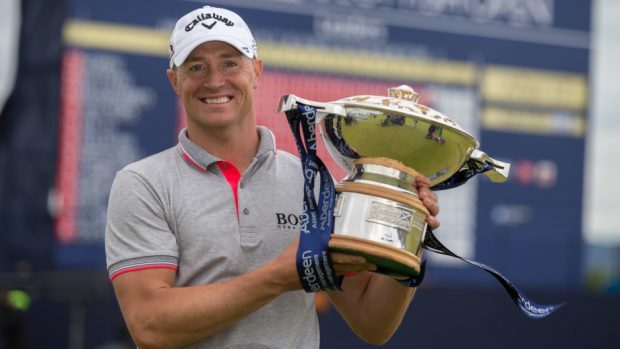 Defending Aberdeen Asset Management Scottish Open champion Alex Noren can still scarcely believe the whirlwind 12 months he has enjoyed since triumphing at Castle Stuart.
The Swede finished a shot ahead of Englishman Tyrrell Hatton at the Inverness links last July – and went on to add three more titles before the end of the year with success at the European Masters, the British Masters and the Nedbank Golf Challenge.
The world number nine has already chalked up another big victory this year at the BMW PGA Championship at Wentworth ahead of this week's title defence.
He said: "A win helps the next one and then you get double the confidence after the next one.
"I haven't played well in every tournament since the Scottish Open last year but I now know that I don't have to hit every shot well.
"I am a bit kinder to myself and take the bad shots a little easier.
"All of a sudden you are under par when before you would have put too much pressure on yourself to make birdies.
"It was very nice to win the Scottish Open. It was my biggest win at that stage and it gave me a lot of confidence.
"It means a lot when you pull off a win. It gives you ease down the stretch because you know you have that win in you."
After winning nine European Tour titles, Noren feels he is ready to take the next step in his career by contending for one of golf's main four events.
His best finish to date is a tied ninth placing at the 2012 Open at Royal Lytham and St Annes but it is surely only a matter of time before the Swede gets closer to making his major breakthrough.
He said: "I haven't played as well as I would have wanted in the majors.
"I have had some better finishes at the World Golf Championships.
"It's easy to fly under the radar when you haven't played well everywhere.
"I haven't always been the most confident and I'm still not the most confident on the golf course.
"I play with players who I'm really impressed with and that makes me want to improve aspects of my own game.
"I have always relied on my putting and I don't want that to always be the case.
"The distance players like Dustin Johnson hit it off the tee plays such a big part in today's golf.
"If I hit a good one it's around 300 yards whereas they are hitting it 320, 330 or 340.
"That is something I want to improve.
"I played with Thomas Pieters in France and if he hits a good one it is 340 yards and with accuracy. That is very impressive."