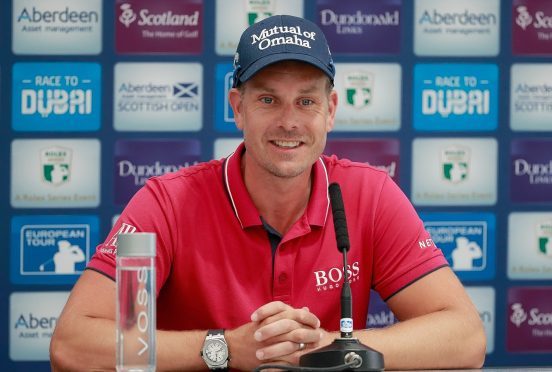 Open champion Henrik Stenson intends to watch the footage of his dramatic victory at Royal Troon last year as he prepares to defend the Claret Jug at Royal Birkdale next week.
The Gothenburg golfer became the first Swede to win the Open in an epic final-round tussle with Phil Mickelson 12 months ago.
He birdied four of his final five holes to win his maiden major with a record score of 20 under par.
The 41-year-old, who tees off at 8.30am in the first round of the Aberdeen Asset Management Scottish Open at Dundonald Links this morning, will watch the highlights of his greatest victory one more time in a bid to get the competitive juices flowing for next week.
He said: "I sat down after the FedEx Cup last year and watched the final round.
"I fast-forwarded a little bit when the other guys were playing but I watched all of my shots.
"I lived the moment but it is different to watch it back.
"I know where to find the tape if I ever need a bit of inspiration.
"Maybe this isn't a bad week to take it out and look at what happened last year.
"But I guess I have a bit of a perfectionist on one of my shoulders as I can still pick flaws in that final round.
"It was an amazing round given the circumstances but that is the beauty of this game.
"You are never done. You don't reach that level of completion and you can always be better."
Mickelson, the man Stenson defeated on the final day at Royal Troon, is a notable absentee at Dundonald this week.
The American, who won the Scottish Open at Castle Stuart in 2013, opted against adding this year's event to his schedule because he said it was "too much to learn a new course" ahead of the Open championship.
Stenson said: "That's a difficult one and everyone's different in that aspect.
"I can see where he's coming from out of a convenience standpoint. It's certainly easier to come back to one that you've played before and you don't have to spend all that time learning a new golf course the week before going to play a big championship.
"At the same time, I'm sure while you're here in Scotland, you want to move it around and give people a chance to come watch us play at different venues and different parts of Scotland.
"It's more work learning a new golf course. I had my caddie Gareth come up to Dundonald last Thursday because we were going to be busy at Birkdale on Monday and Tuesday.
"I'm just hoping that he's done a good job for me because the only time I saw the course was in the pro-am.
"Normally that's not enough to learn a new golf course so it could make it a little bit more difficult."
Stenson admitted he has struggled to cope with the demands that have accompanied his Open championship success as he prepares to hand back the trophy.
He added: "It has been a challenge at times.
"It's like before and after having kids. When you have kids, your life changes and you can't believe what you did with all the time you had before you had children.
"I don't know what I did with my time before I had the Claret Jug in my possession and I kind of treat it like my baby, as well.
"It's been a busy year but I don't want to sit here and complain about it.
"That's certainly not the way we look at it."​