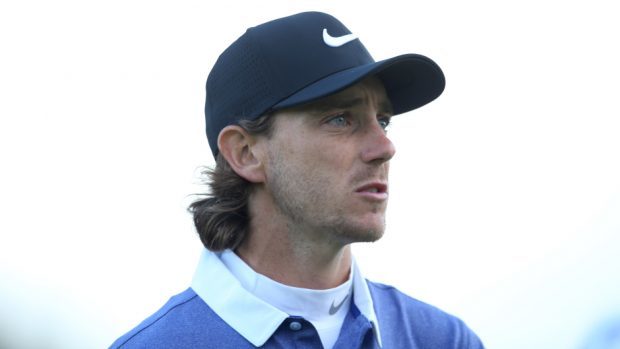 Local boy done good Tommy Fleetwood insists he is not feeling any extra pressure ahead of this week's Open championship in his hometown.
If this week's major was being staged at St Andrews or Muirfield, Fleetwood would still be considered one of the leading British contenders for the Claret Jug given his superb recent form.
But the fact the 146th Open championship is taking place at Royal Birkdale in Fleetwood's hometown of Southport has only heightened the level of expectation on the 26-year-old.
Many golfers would struggle to deal with the extra attention Fleetwood is receiving this week but the world number 14, who has already won twice this year, is revelling in the spotlight.
He said: "This week is going to be an experience I'll never forget.
"It's a massive privilege and very rare to be playing a tournament so close to home, and it being the British Open. It's going to be a great week for me no matter what.
"I'll have the most support I've ever had in my life, from people I've grown up with to my friends and family but I don't feel extra pressure from that.
"Obviously, it's going to be different and something I've never experienced before but it will be great to have so many people out there rooting for you."
As a boy, Fleetwood and his father would occasionally sneak on to Royal Birkdale via a gap in the fence at the fifth hole.
The Englishman won't have to resort to such underhand tactics this week when he tees off at 10.09am on Thursday alongside US Open champion Brooks Koepka and world number two Hideki Matsuyama.
He said: "I might have bunked on and hit the odd shot but that was about as far as it goes. It's very cool that I'm playing in the Open at a course I crept on now and again.
"Southport is up there with St Andrews as a golfing town.
"There are so many great golf courses but growing up Royal Birkdale wasn't a course that I would play on.
"I've played it a few times with mates. You might get on once a year and have a game.
"If you ask anybody playing this week that's been here before they'll say it's one of the best courses in the world, very arguably the best Open venue.
"If you live five minutes away, you're going to try to get on when you can."
Fleetwood has missed the cut on all three of his previous Open appearances but a fourth-place finish at last month's US Open has given the Englishman the belief he can contend for a major.
There will be plenty backing the Southport golfer to end England's 25-year wait for a winner since Nick Faldo's success at Muirfield in 1992.
Fleetwood added: "I'd much rather be in this position where people might be talking about me as a contender than turning up and being a no show.
"Recent results have clearly made people talk about me as having a chance.
"This is the Open and there are so many things that go into it from the luck of the draw to the conditions.
"But I have thought about winning the Open since I was five-years-old so thinking about it for another few days isn't going to make any difference."