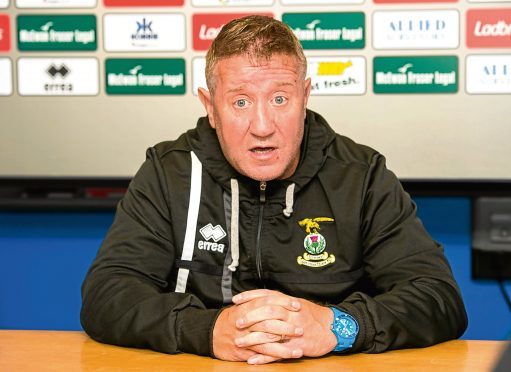 Caley Thistle manager John Robertson is hopeful long-term injury absentee Felitciano Zschusschen could be available for selection before the turn of the year.
Holland-born Zschusschen, who represents the Curacao national team, has suffered several injury setbacks since joining Caley Jags in the summer from German side Fc Saarbrucken, with his last appearance coming in the 5-1 defeat against Dunfermline on August 12.
Robertson hopes there could finally be light at the end of the tunnel for the 25-year-old, and he said: "Felitciano has not had any luck whatsoever. He came back early from the Gold Cup in the summer and got injured very early – he ripped a groin muscle and was out for a while.
"He came back and then immediately had a bang on the knee within two days of training and damaged his meniscus, and he has been out since then.
"He also had a throat infection which forced him to go to hospital.
"The lad has not had much luck at all but he is training. He's not back with the group yet though, it will be another two or three weeks before he's available."
Robertson will attempt to try and build up Zschusschen's match-fitness but accepts that could prove difficult, adding: "Not being involved in the under-20s league makes it hard for players to come in and hit the ground running.
"Normally we pick up games against Highland League clubs but they've had games postponed all over the place and they're rearranging them as quickly as possible for midweeks, which means we will struggle to get these guys fit.
"That's the aspect people forget when you drop a division, and given our location it's very difficult to pick up matches to keep fringe players fit."
Caley Thistle's top scorer is attacker Connor Bell on six goals in all competitions, however Robertson is satisfied with the distribution of goals around the team, adding: "People have maybe bemoaned the fact we don't have an out-and-out striker who is scoring goals like Gavin Reilly or others like that.
"What we have done as a team is spread the goals about. Of our backline, I think only Coll Donaldson who came into the team recently is the only one who hasn't scored.
"Most of the midfield players have scored apart from Joe Chalmers and all the forwards have scored at some stage apart from Jake Mulraney.
"Whilst it would be great to have someone sitting on 12 or 15 goals, if you add everybody up we've spread the goals about. It's not been as bad as it could have been."