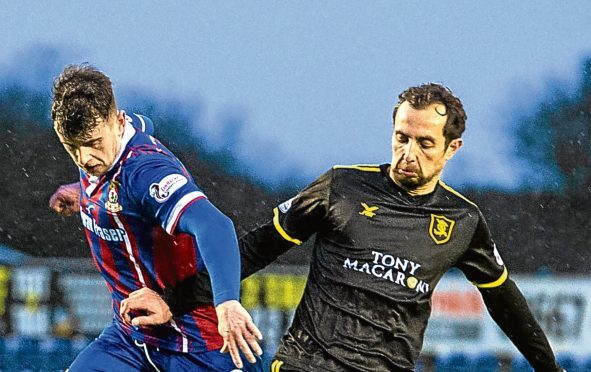 After opening his goalscoring account for Caley Thistle in midweek Jake Mulraney hopes to round off a perfect week by passing his driving test, and nobody would be happier to see him succeed than fellow Dubliner Aaron Doran.
Mulraney ended a wait of more than 18 months for his first Inverness goal on Tuesday night, when he found the net in a 4-1 victory against Falkirk.
Fellow winger Doran has kept close track of Mulraney's progress, with the pair having grown up in the same suburb of Dublin, and he even had a part to play in convincing previous manager Richie Foran to sign Mulraney from QPR in 2016.
Mulraney, who could feature again in today's Championship match against Queen of the South, is due to sit his driving test in the coming days and a pass would come as relief to Doran, who has helped to provide the 21-year-old with tuition at the wheel.
Doran said: "We are different ages, but he lived around the corner from me. We are close now, we are good mates. I'm trying to help him with his driving as I think he has his test coming up in a few days.
"It could be a big week for him, scoring goals and hopefully passing his test.
"I passed mine when I was 23 which was pretty late. I don't think the lads from Dublin grasp the driving quickly.
"It would have been four years ago when I first played against him and we played a five-a-side tournament a couple of years ago.
"Richie was actually asking me about him before we signed him as I think he had watched clips of him and could see he had a lot of potential.
"I told him he was tricky – although I told him not to sign him in case he tried to take my place.
"We both live in Drimnagh in Dublin, and we both played for the same team, Crumlin United.
"I'm a few years older than him but I did know him before he came here. He was very tricky even back then."
Mulraney spent time on trial with Hearts last month and although the Tynecastle side have made no move to sign him, Doran feels a move to a higher level is not beyond the Republic of Ireland under-21 international if he continues to impress.
Doran added: "Jake has so much pace. At the start of the season people were talking about him just needing to find the end product, but the other night he got two assists and a goal.
"It's probably frustrating going so many games without a goal. People were probably getting on his back a bit.
"It was an unbelievable finish, and hopefully that's him now, and he can kick on and continue scoring and making goals.
"I think he is a confidence player. If people are getting on his back, telling him he hasn't scored in so long, we like to joke about it but I think it would have been in the back of his mind.
"Now that's off him as he's scored. If he can continue doing that it will surely benefit us.
"Someone with that much pace is going to attract other teams. Now he's putting the end product on the end of it, I'm sure there will be more suitors.
"Speaking to him, he just wants to impress here. He wants to show teams that he's good enough and that's what he is doing at the moment. Hopefully he can keep doing it."