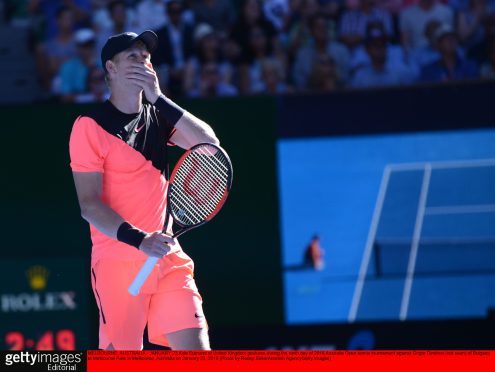 British number two Kyle Edmund's impressive run at the Australian Open has ended after he fell to a straight sets victory to Marin Cilic.
Edmund will be guaranteed a spot in the world's top 30 after his semi-final defeat to the world number six, 6-2 7-6 (7-4) 6-2.
Former US Open champion Cilic will become the first Croatian to contest the Australian Open final, where he will play either Roger Federer or Hyeon Chung.
Cilic v Edmund updates as it happened:
___________________________________________
GAME, SET AND MATCH CILIC
Cilic wins 6-2 7-6 6-2
Edmund keeps battling but his 29-year-old has ground him down and after giving him the runaround to set up match point, Edmund sends a forehand into the net to seal a straight sets victory for the Croat.

*Cilic 5-2 7-6 6-2 Edmund
Cilic will serve for the match after an Edmund shot drifts long. An incredible run to the semi-final but it looks like it's been one match too many for Kedders.

Cilic 4-2 7-6 6-2 Edmund*
Edmund is looking weary as an early break for 2-1 in the third set has the sixth seed in the driving seat.

SECOND SET CILIC
Cilic 7-6 6-2 Edmund*
Cilic takes the tiebreak 7-4. Edmund fought off one set point at 6-3 but a Cilic winner down the line as the big Croat roars his approval.

It'll take a massive effort for Edmund to reach Sunday's final now. He has never come down from two sets to love down before.

TIEBREAK
Cilic 6-6 6-2 Edmund
We're into a tiebreak. Crucial few points coming up.

*Cilic 5-5 6-2 Edmund
Edmund is hanging in there as Cilic fires long to level the set at 5-5. Could we be heading for a tiebreak?

*Cilic 4-4 6-2 Edmund
Edmund is hitting well here and is playing with plenty of confidence. A couple of big forehands and another big serve gets him level once again.

Cilic 4-3 6-2 Edmund*
Still on serve as Cilic edges ahead.

*Cilic 2-2 6-2 Edmund
There looks like trouble ahead as Edmund falls behind 15-30 and misses his first serve. But an ace and some Cilic errors brings Edmund back level in this set.

Cilic 2-1 6-2 Edmund*
A solid hold from Edmund restores some confidence but Cilic fires back one of his own with help from some more big serves.

Cilic 1-0 6-2 Edmund*
Cilic holds to love as Edmund calls an injury timeout. It's not clear what the injury is however although after five punishing matches in 30+ degrees, it's hardly surprising that he's feeling the strain.

FIRST SET CILIC
*Cilic 6-2 Edmund
A first ace for Edmund keeps him in the game but Cilic works up a first set point with some solid play and seals it with a ferocious cross-court forehand.

Edmund's task against the world number six just got a little bit tougher.
Cilic 5-2 Edmund*
Kedders, as he's known to friends, fights back to take Cilic to deuce but a netted backhand and a long forehand means he will serve to stay in the first set.

*Cilic 4-2 Edmund
Cilic brings up his first two break chances of the match. A long return wastes the first but Edmund sends a backhand wide to give Cilic the match's first break.

Cilic 3-2 Edmund*
Still on serve in the early stages as Cilic rattles through another service game. The early nerves seem to be evaporating as the Croat steps it up a gear with a booming ace to hold.
 
*Cilic 1-1 Edmund Edmund sees an early opportunity with two break points slip through his fingers as the big-serving Croat fires down two big serves to get back to deuce and then see out the game.

A nervy opening service game from Edmund saw him begin with a double fault and follow it up with a disputed foot fault. But the young Brit regains his composure to hold and get on the board.

* - denotes next to serve