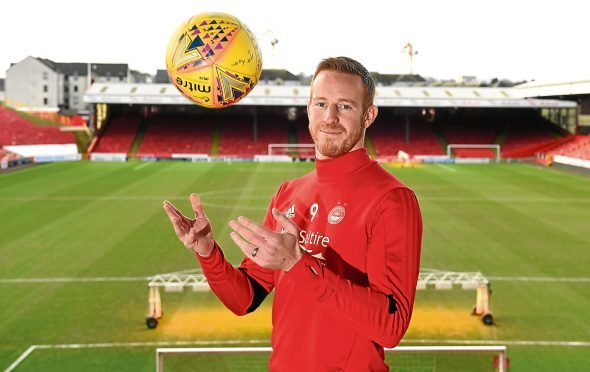 Aberdeen forward Adam Rooney is adamant the opening goal in last Saturday's 3-1 win against Kilmarnock was his – because Scott McKenna has had enough headlines.
McKenna was credited with the goal by many but Rooney claims he deserves the credit for bundling the ball over the line.
Dons defender McKenna – who has been the subject of three rejected bids by English Championship side Hull City this month – later fired home a spectacular 40-yard effort and Rooney is happy for him to continue taking aim from there, as long as he keeps getting the tap-ins.
Rooney said: "The first goal was mine. McKenna has had enough praise for his 40-yarder so I'm claiming it. He can get the credit for that but it wasn't over the line when I hit it. It's definitely my goal, so we will leave him to score the screamers and I'll take the ones from a yard.
"That's my distance, although I'm sure the club will want him to get it because it probably adds another half a million to his value.
"I said the other week that Gary Mackay-Steven's goal against St Mirren was probably the best I've seen in a game I've played in but I think Scott's was even better. It was some strike. I doubt I could do that. I'm more like Kris Boyd hitting them off the backside and watching them go in. I don't think I could even kick the ball from the distance McKenna scored from. It's far too far out for me to be thinking of shooting.
"He actually did it in training a few months back. He smacked one from 35 to 40 yards and the lads were all thinking 'what is he doing?' but it went right into the top corner. Since then everyone has just assumed it was a fluke but he's clearly got an ability for it – although he better not try it every time he gets the ball now."
Rooney will be out to add to his eight goals when the Dons visit Ross County tonight.
Rooney added: "County will be confident of getting away from the bottom.
"I have been there myself – in my first season at Inverness we were at the bottom and all you can do is keep working and hope it turns.
"I know Jim O'Brien from the Ireland under-21s – he is a cracking player. I remember him as a tricky winger but now you see him sitting as a deep midfielder so he's adapted his game. He is comfortable on the ball and he moves it well so he's a big player for them."